When it comes to global warming, many of us scan the headlines, turn off extra lights and mentally scold the big corporate polluters. We think of climate change as a nebulous threat, one that lurks in the future.
Outdoors writer and adventurer Michael Lanza believes otherwise.
Lanza is the author of "Before They're Gone: A Family's Year-Long Quest to Explore America's Most Endangered National Parks" (Beacon, $24.95).
Also the Northwest editor of Backpacker Magazine and creator of TheBigOutside.com, Lanza conceived of the book after three decades of exploring and reporting on nature.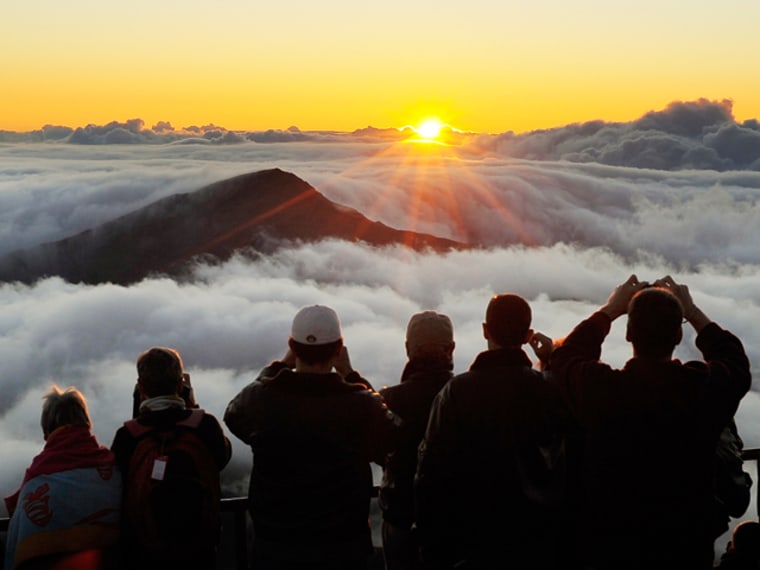 Video: America's most-visited monuments
Through reviewing research, interviewing dozens of scientists, and witnessing changes himself, he believes climate change could wreak havoc on the places he loves not generations down the road, but in his own children's lifetime.
So with 7-year-old Alex, 9-year-old Nate and his wife, Penny Beach, as his constant trail companions, Lanza set out to backpack, ski and kayak through 11 national parks. Over a year's time, they hiked 135 miles in eight parks, sea kayaked and canoed about 65 miles in the Everglades and Glacier Bay, and cross-country skied about 15 miles in Yellowstone.
"We think of climate change as being a century from now; it's comfortable to think of it that way," Lanza said. "But much of the fallout is already underway."
In his book, he includes scientific data that document warmer winters, drier summers, melting ice, rising sea levels and diseased plant life -- clear signs, scientists say, pointing to climate change.
One stark example is in Glacier National Park, where 150 glaciers in 1850 have dwindled to 27 today. By 2020, they are largely predicted to be gone, according to scientists such as Dan Fagre, who has studied glaciers for two decades and runs the Glacier Field Station of the U.S. Geological Survey Northern Rocky Mountain Science Center on the outskirts of Glacier National Park.
"At Glacier National Park, the changes (due to climate change) include shrinking glaciers and smaller snowpacks that are melting earlier in the spring," Fagre told TODAY.com via e-mail. "Michael Lanza has chronicled many of these impacts from a first-hand perspective with his family, adding a personal element to the results of our research on climate change and national parks."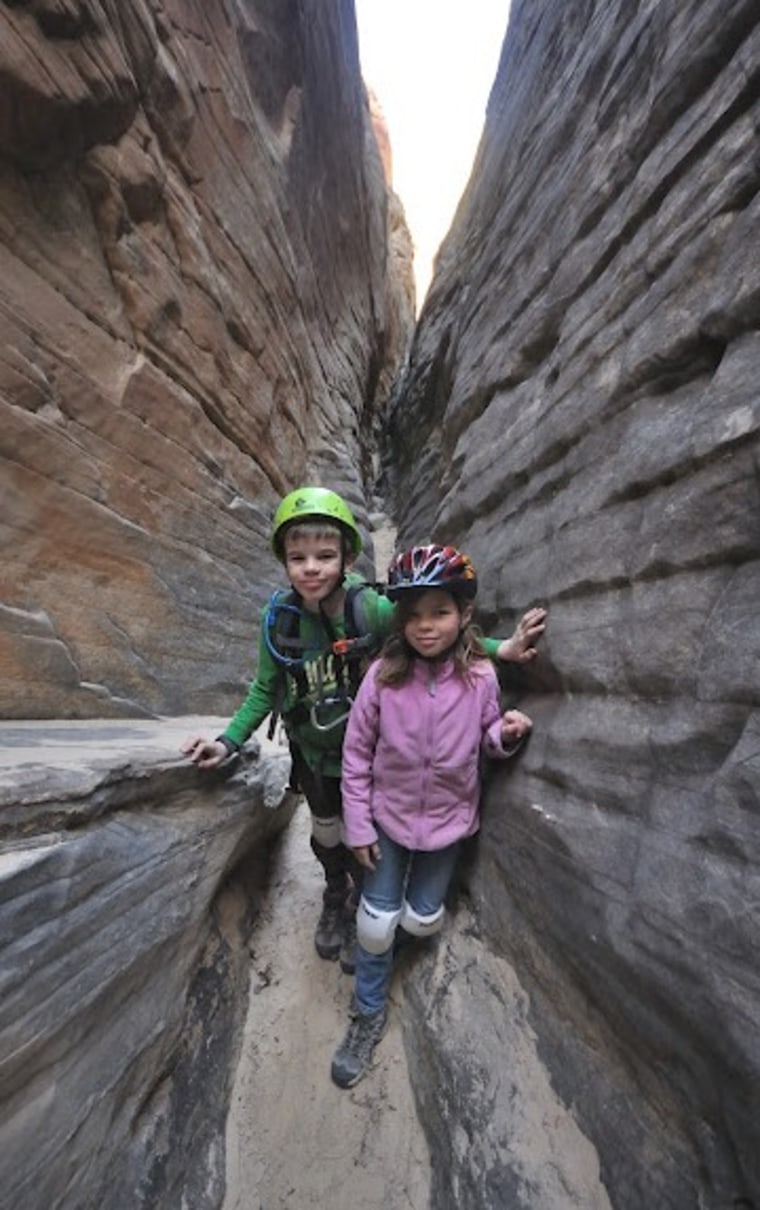 Lanza documents how climate change is already resulting in diseased forests and glacier loss in Alaska's Glacier Bay and Washington's Mount Rainier National Park; droughts that have dried up streams and springs in the Grand Canyon; damage to trees, fish and small mammals in Yellowstone; and rising seas that threaten the Florida Everglades.
Though much of the research portends significant changes for our parks, sprinkled throughout are Alex's and Nate's colorful observations, optimistic outlooks and a love of nature that can only come from having parents who have shared it with them.
These are not wimpy kids. In the Grand Canyon, they hiked 10 miles along the flat Tonto Trail, capping off the four-day, 29-mile-backpacking trip with a grueling 8-mile, 4,000-foot climb up the South Kaibab Trail, all the while clutching their stuffed dolphin and panda.
It was in this park that Lanza experienced his scariest moment of the year-long adventure: guiding his daughter Alex over a snowy, foot-wide ledge above a drop-off of hundreds of feet:
"So I smile and wink at Alex and tell her to 'take small steps and go slow.' She nods and winks back -- we have an understanding. We shuffle forward. With my free hand, I clutch scrawny plants tenuously rooted to cracks in the crumbly cliff face. A minute crawls past like an epoch…"
Luckily, dad and daughter make it safely around the icy ledge. But it's this -- and encounters with bears and alligators as well as tender parent-child moments -- that make it an informative, heartwarming and, at times, heart-stopping read.
Lanza, who says he likes to consider himself an optimist, allows that this would be a much different book without his kids enlivening the pages.
"If I had just done the trips with my wife and the climate change back story, the issue might be more depressing," he said. "But this is about a family's wonderful experiences in these incomparable places.
"You realize that yes, our parks will not be the same – they are changing irreversibly and that should be a lesson to us to go visit now and reduce our energy consumption each day. But they are still magical places and will continue to be magical in many ways."
Many scientists in the book are similarly realistic and somewhat hopeful about the future of the nation's parks.
Leonard Pearlstine, landscape ecologist with Everglades National Park, acknowledges that while the most immediate and visible impacts to the park will be from rising sea levels -- the first casualties predicted to be sea turtle rookeries on vulnerable beaches -- restoration efforts could prove helpful.
"Successful restoration of freshwater flows to the southern and coastal Everglades is a primary management goal of the park," Pearlstine told TODAY.com. "And it's more important than ever for maintaining resilient ecosystems in the face of changing climate."
Colleen McBrinn, a freelance writer in Portland, Ore., strives to maintain an active lifestyle of outdoor sports and travel with two wee ones in tow.
Related stories