Two bodies and only two survivors have been recovered from a central Italian ski resort hotel buried under an avalanche of snow triggered by earthquakes, the government said Thursday night.
Authorities continued to battle atrocious weather conditions as they tried to reach Hotel Rigopiano in the town of Farindola, on Gran Sasso mountain in the central region of Abruzzo. The national newspaper La Repubblica described the scene as "a natural paradise transformed into a frosty white hell."
"There are many dead," Antonio Crocetta, a member of the the Abruzzo mountain rescue team, told the Italian news agency ANSA.
Mario Mazzocca, undersecretary of the Abruzzo region civil protection agency, told RAI, Italy's national public broadcaster, that 34 people were at the site when the avalanche hit Wednesday. The national civil protection agency confirmed late Thursday that two survivors and two bodies had been found, leaving as many as 30 other people still unaccounted for.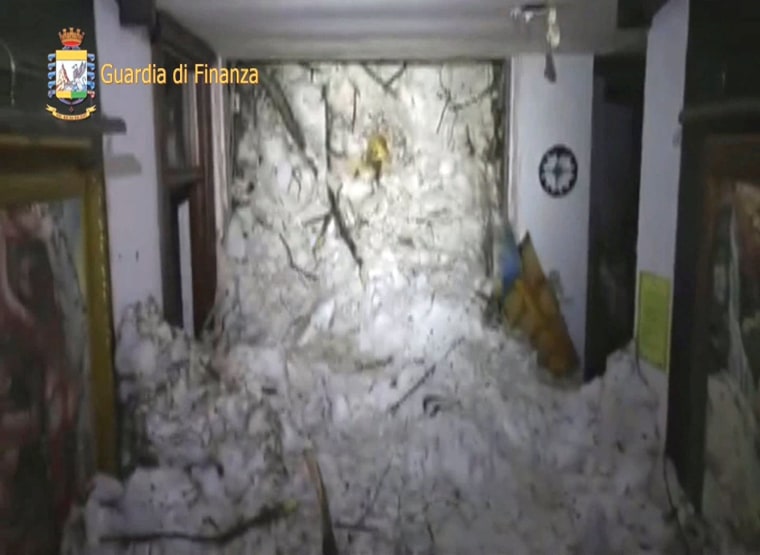 "The hopes of finding people alive are reduced by the hour," Ilario Lacchetta, the mayor of Farindola, said late Thursday.
The two survivors were saved because they were outside the hotel at the time, authorities said. One of them, Giampaolo Parete, 38, a restaurant cook, said his wife and two children were among the missing.
Quintino Marcella, owner of the restaurant where Parete works, said in an interview on Italian TV that Parete and his family were on vacation when Parete called him via WhatsApp in a panic.
"He told me, 'There's been an avalanche. The hotel is gone — gone, buried.'"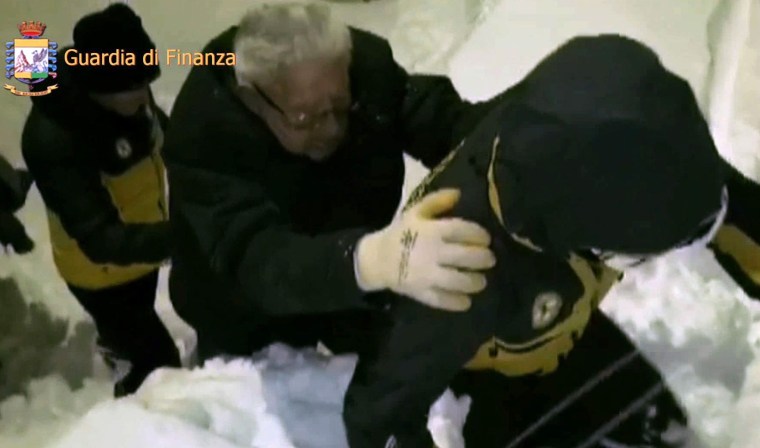 Marcella said Parete told him he was outside when the avalanche hit because he'd gone to his car to get some medicine for his wife.
Alberto Albano, head of the emergency room at the nearby Pescara hospital, told NBC News that Parete was suffering from hypothermia but was stable.
The civil protection agency said overnight that it dispatched a team of 20 rescuers, including seven firefighters, two mountain rescue teams and six ambulances. They reached the scene at 4:30 a.m. Thursday (10:30 p.m. Wednesday ET) to find the retreat buried under huge piles of snow and debris.
Local media pictures showed rescuers with shovels digging through a wall of snow, and at least one man being led through the cleared path. Mounds of debris appeared to have smashed through a hotel wall into the lobby.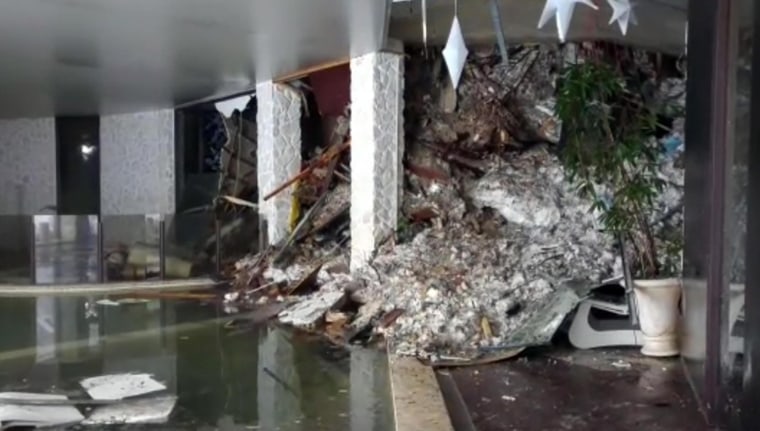 The buried hotel was just one of several rescues underway in a region that has been pummeled by more than three feet of snow in recent days.
The area has been shaken by dozens of aftershocks since a major quake last August that killed nearly 300 people and ruined buildings in historic towns and hamlets.
Related: Italian Earthquakes: A Tragedy Hundreds of Millions of Years in the Making
Four strong temblors struck Wednesday morning, adding to problems caused by cold weather and winter storms. The first, with a preliminary magnitude of 5.3, hit Montereale about 10:25 a.m. (5:25 a.m. ET), according to the U.S. Geological Survey. Throughout Wednesday, seismologists registered more than 100 aftershocks.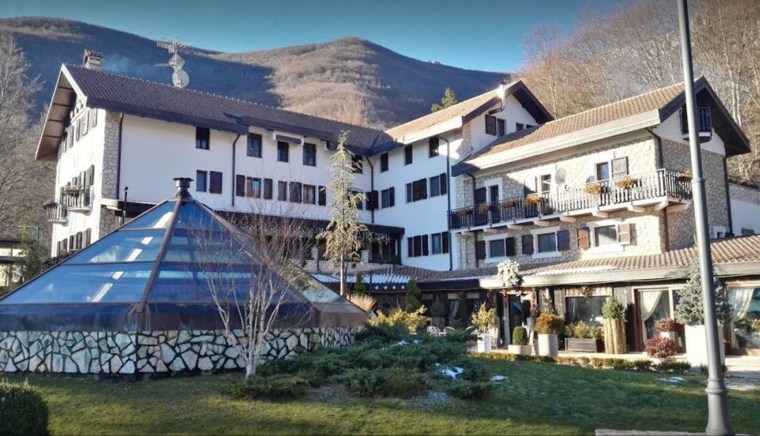 Fabrizio Curcio, head of the civil protection agency, said the rescue effort had to proceed slowly because continuing aftershocks meant "there is the possibility of further collapses."
The three-story Hotel Rigopiano, which is billed as a four-star luxury retreat, features more than 40 rooms, a spa and a thermal pool. The last tweet on its official account was a message from Wednesday: "Because of bad weather the phone lines are down!"
Video shot by rescue teams showed huge piles of filthy snow and debris piled up inside corridors, stairwells and an indoor pool area, having slammed through the outer walls of the building. The largest wall of snow shown was in the pool area, where plastic lounge chairs were flipped on their sides and Christmas decorations still dangled from the ceiling.
The bar area appeared flooded, with nearby cracked skylights covered with snow outside.
In Rome, more than 100 miles away, the subway system was closed for several hours Wednesday as a precaution following the quakes.
Maurizio Pelosi, mayor of Capitagno, near the epicenter of Wednesday's quakes, said many roads had been blocked by the snow even before the temblors.