ZAPORIZHZHIA, Ukraine — Each night Natalya would check off her small calendar: another day survived underground and under Russian fire.
Natalya, 50, took shelter at the Azovstal steel plant in Mariupol on March 11 with her elderly mother and small dog. They joined hundreds of other civilians trying to avoid Russian strikes on the city.
At times, the bombardment of the plant, now the last stand of Ukrainian fighters in a city that has been taken over by the Russian military, was so intense she would feel explosions every five to 10 minutes.
"We expected to die at any minute," said Natalya, who declined to give her last name, fearing for the safety of her sons, one of whom she believes was captured by Russian forces and another who is fighting at the plant. "We were trying to joke, to talk. This helped us get through it."
Natalya left the plant on Sunday, May 1, feeling the fresh air on her face for the first time since she entered. She was part of a group of more than 150 civilians who Ukrainian officials said reached safety Tuesday in Zaporizhzhia, 145 miles northwest of Mariupol. They stepped off buses looking exhausted, hungry and relieved.
Outnumbered by the press and aid agency staff, the new arrivals, around 20 of whom were children, were handed water and led to a tent where hot food awaited them.
Some like Natalya had been trapped at the steel plant for months, believing that it was one of the safer places in the city and would be spared from Russian attacks.
She described a situation where many of the people in the plant had been wounded and lay on the ground with no access to medicine. 
"I don't know how the doctors are able to help them," she said. "I know they're badly wounded."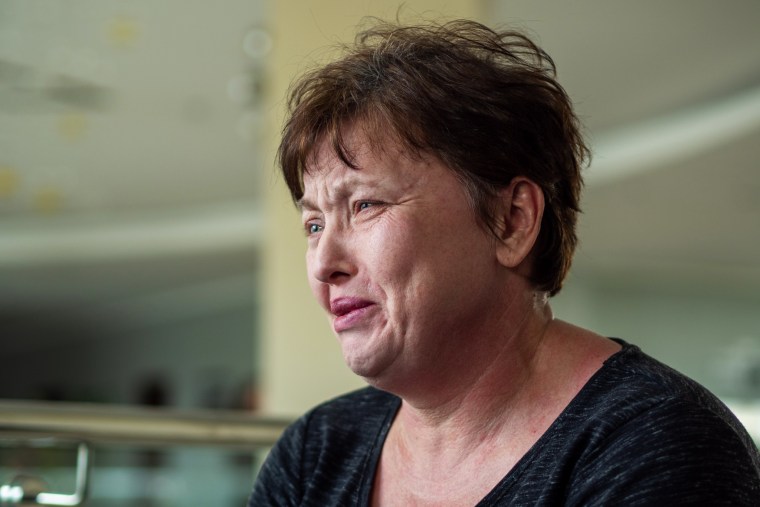 Russia offered her money and an apartment in Russia or to stay in Mariupol and rebuild, but she declined and left the plant on Sunday as part of the group allowed to evacuate.
After weeks of failed rescue efforts, a steady flow of civilians has left the city in recent days and busloads of people — including those evacuated from the Azovstal plant — have arrived in the relative safety of Zaporizhzhia.
Despite the relief of the evacuees to be out of the plant and in a safe city, many were still burdened with concern for family left behind.
"I'm very worried about my husband, very much, because he is defending our Mariupol," said Oksana Maidenyuk, 40, who left Mariupol with her two sons. "I wish the military would leave and my husband would be with me."
Maidenyuk and other evacuees told of their escape from the sprawling plant in the eastern part of the port city, where Mariupol's last defenders are holding out against Russian forces.
The rest of the city has been overtaken by the Russian military, which blocked the plant and bombed it for weeks until a temporary cease-fire was reached with the U.N. to evacuate civilians like Maidenyuk.
Mariupol is a strategically important city in southeastern Ukraine that borders the Azov Sea. Early in the invasion, Russian forces made it a focus of their campaign and encircled it. Residents faced regular strikes, dwindling food supplies and no electricity, heat or water.
Divided into groups of 15 as they left the plant, evacuees described how they were then loaded onto buses and driven from the site to another area where Russian forces stripped them to look for nationalist tattoos, then took photos and fingerprints.
Red Cross officials gave few details on how Russia and Ukraine agreed on the evacuations from the plant, with a spokesman calling it a "very delicate operation."
"It's a progressive trust-building exercise, which is important as our role as neutral intermediary," said Red Cross spokesman Chris Hanger. "We wish we would have gotten more civilians out."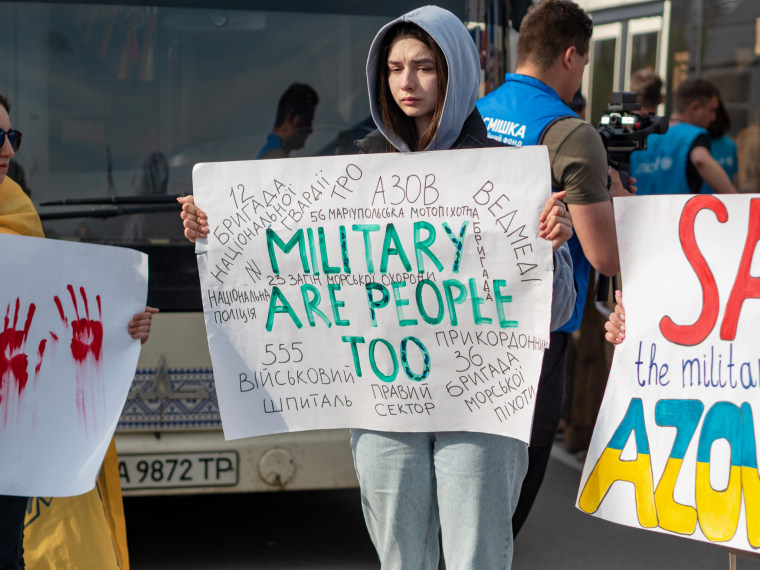 Some of the evacuees from Azovstal spent the night in a hotel in Zaporizhzhia, waking up to a big breakfast and then interviews with Ukraine's intelligence and security service.
Maidenyuk, who spent two months at the plant, didn't know where she and her sons would go now that they have left their hometown. 
In recent days, the plant has come under sustained Russian fire, according to soldiers there as well as Ukrainian officials. Russia has denied that its forces are storming the plant.
With around 200 civilians still in the plant, according to Mariupol's mayor, aid agencies as well as Ukraine's government are still working to secure further evacuations.
"This is not a victory yet," Ukrainian President Volodymyr Zelenskyy said Tuesday night, hailing the evacuations. "But this is already a result."