KABUL, Afghanistan — A teacher has received death threats from his own relatives as he battles to stop the ancient tradition of families giving away virgin daughters to settle disputes.
Khan Wali Adil has been camped out for more than three weeks in front of Afghanistan's parliamentary compound to protest the practice of "baad."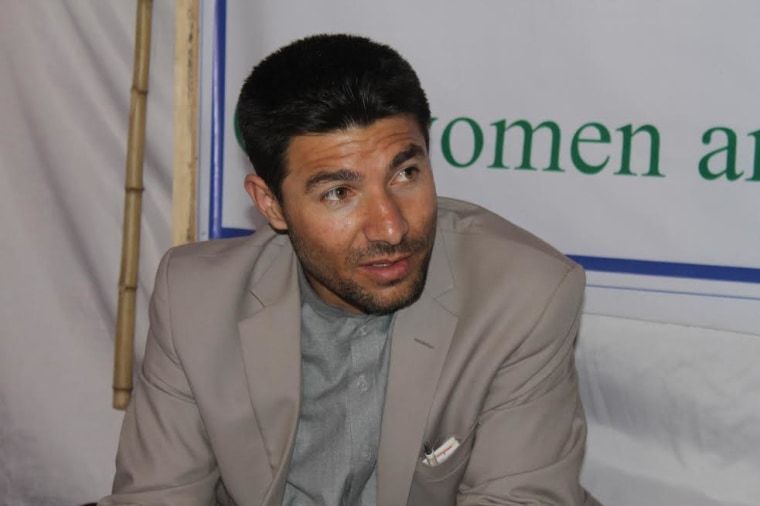 The 24-year-old is urging lawmakers to pass women's rights legislation that would explicitly outlaw baad — which the U.N. has called "pervasive" but is most common among ethnic Pashtuns. The proposed law has been blocked by conservatives for years.
"Men sell their sisters and daughters under the name of marriage without their consent," said the clean-shaven Adil, sitting in a tent erected against the wall of parliament in downtown Kabul.
"Those girls do not live a dignified life as somebody's wife, rather as a slave of the whole family," he added. "They are treated like animals."
Some of the girls and women say they have been beaten and abused. In some instances they are killed or take their own lives.
A 22-year-old victim of baad from the country's eastern Parwan province told NBC News how she was given to a man his late 40s — who was already married with eight children.
The woman, who is not being named for her own safety, found herself used as a bargaining chip after her brother accidentally shot a man from their village over a land dispute.
"I will never ever forgive my family for doing this to me"
"His family only agreed to make peace with our family if our family gave them two girls for marriage," she said.
They eventually agreed that one girl would suffice — "and that unlucky one was me," she added. "My father came to me and cried, [saying] that if I do not agree my brother will be killed."
The woman said that her life was so depressing that if she did not have two daughters she would have killed herself.
"I do not have a life here," she said. "I am still treated as an enemy and if anything goes wrong they blame me. And everyone in the family, including my stepsons, beat me."
She added: "I will never ever forgive my family for doing this to me. I had high hopes for my future — I wanted to become a doctor. [Now] it will never happen."
Young children are often swept up in the practice.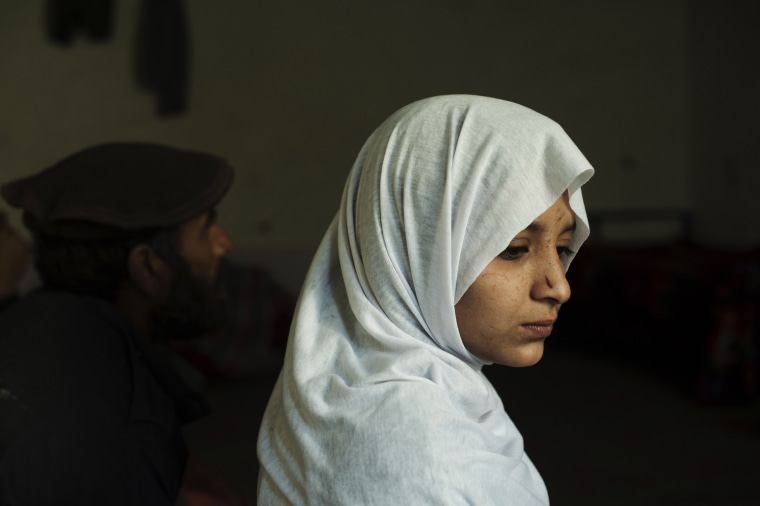 Shakila was just 8 when a group of armed men burst into her home in Asadabad in eastern Kunar province and dragged her away, according to The New York Times. Shakila and her cousin were taken because one of her uncles had run away with the wife of a village strongman.
"They put us in a dark room with stone walls; it was dirty and they kept beating us with sticks and saying, 'Your uncle ran away with our wife and dishonored us, and we will beat you in retaliation,'" she told the newspaper. The pair were among the lucky few and eventually escaped.
Adil's protest comes from similarly cruel experiences of this practice.
He hails from rural Paktia province, the conservative ethnic Pashtun heartland, where clan and tradition usually trump modernizing ideas.
Two of his sisters — one only aged 12 — were given away to resolve a dispute. His family also has received two woman in a similar but separate incident.
"It is contrary to Islam and humanity," Adil said.
Related: Afghan Women Being Killed, Raped 'Much More Than Before'
Local religious leaders were not stepping in to halt the practice and were even helping perpetuate it by officiating sham marriages, according to Adil.
This drove him to his campaign to try to push parliament to pass the Law on the Elimination of Violence Against Women, known as EVAW.
The bill proposes to expand the list of abuses against woman that would be illegal under Afghan law. Passed by an executive order from the then President Hamid Karzai in 2009, the legislation has since languished in parliament, held up by loud opposition.
"This law would break up the family in the collective sense and destroy society," prominent conservative lawmaker Nazir Ahmad Hanafi told parliament in 2013, according to the Arman-e Milli newspaper.
Part of Hanafi's objection centered around a part of the bill that would see men jailed for marrying more than one woman — something he suggested would have implications for his fellow legislators.
"Those of you who have two wives would have to serve six months in prison, and those of you who have three wives would have to serve two six-month prison terms. Oh brothers!" he told them.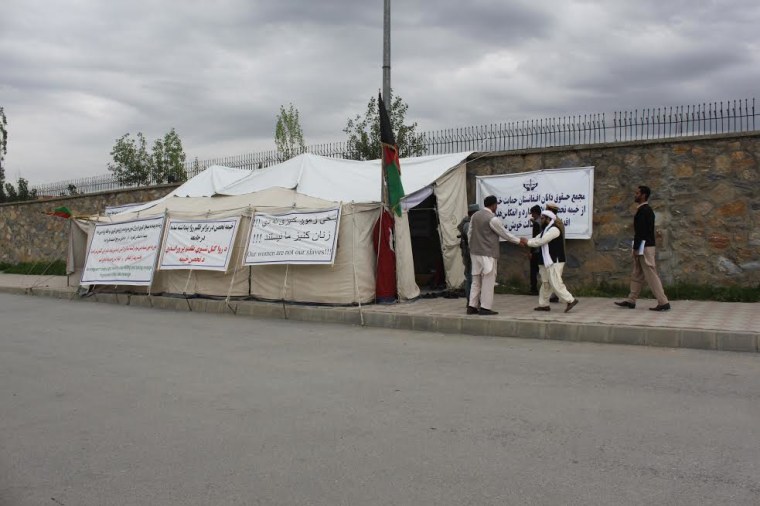 That's not to say Adil's protest has not earned the support of religious figures.
Mohammad Salim Hassani, a Shiite cleric backing the campaign, said baad encourages "the culture of immunity" among rural communities.
"Everyone is responsible for his or her own deeds," he said. "You cannot punish a girl for life because of somebody else' crimes. These girls who are given as baad suffer for life because of their fathers' or brothers' crimes."
Hassani said Adil's protest was all the more admirable because it would have been far easier to go along with the culture in which he grew up.
"He could have had several wives for free but he refused, and that no small thing," he said.
Human rights campaigner Ali Reza, 23, agreed.
"It is easy to be an activist in a city like Kabul," the student said. "But for someone like Adil — who comes from a rural area like Paktia where these practices are rampant — to be able to stand up to these kinds of practices is a new phenomenon."
"We have a long way to go and it cannot be fixed soon or easily"
He added: "What he is doing is no smaller than a revolution."
Adil's campaign has picked up steam on social media, reaching people like 23-year-old university student Nahid Ahmadi. She was so inspired by the teacher, she traveled to his tent to meet him.
"I could not stop crying," Ahmadi said of their meeting. "The majority of the women in rural areas are treated merely as things not as humans."
Although Adil appears to be providing people with hope that change can be achieved, he is still battling against powerful forces in the conservative country once ruled by the Taliban — a militant group which retains substantial support and controls parts of the country.
"I am really hopeful things change for better," said Metra Mehran, head of the Civil and Liberal Initiative for Peace, a non-governmental organization that works with women and young people.
"We have a long way to go and it cannot be fixed soon or easily," she said. "It requires a generational change and long-term fight."