More than 100 people were killed and scores more were wounded when a suicide bomber hit a crowded Baghdad shopping area Sunday, the third mass murder believed to have been perpetrated by Islamic extremists in a matter of days.
The blast hit the Karada district of Baghdad shortly after midnight, when the area was packed with residents who had gone out after breaking their Ramadan fasts.
ISIS claimed responsibility for the attack and said it had deliberately targeted Shiite Muslims, according to The Associated Press.
The carnage came at the end of a bloody week of attacks that have been tied to ISIS. A bombing Tuesday of an airport in Istanbul, Turkey, which killed 45 people, is suspected to have been orchestrated by an ISIS affiliate based in Central Asia.
Then, Friday, gunmen in Bangladesh attacked a Dhaka restaurant, eventually killing two police officers and 20 hostages. ISIS claimed responsibility for the attack.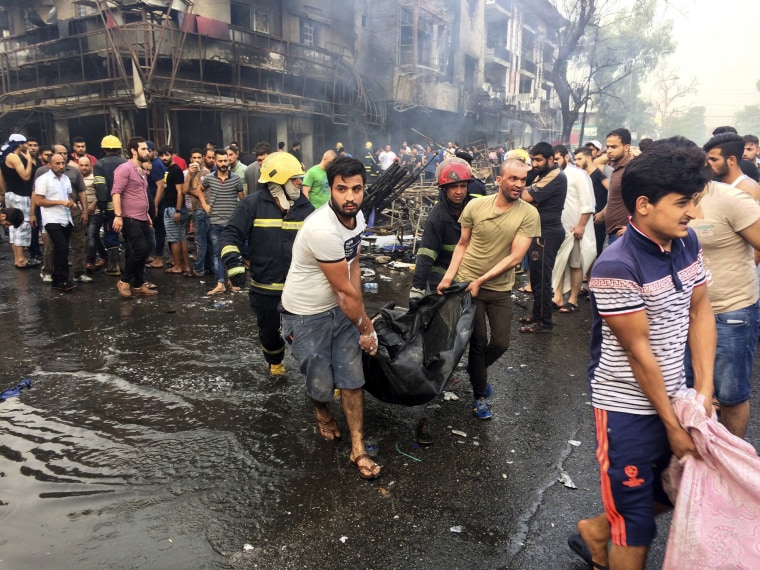 Photos: Baghdad Blast Kills Scores in Busy Market
Video from the scene in Baghdad showed smoke rising from charred buildings and ambulances with sirens wailing.
Mohammed Al-Rubaiy of Baghdad governate's security committee told NBC News that 167 people were killed and 185 were injured. Several children and women were among the dead.
Other reports put the death toll around 120; conflicting casualty counts are common in the immediate aftermath of an attack in Iraq. The government had no official casualty count Sunday.
"Suddenly, a huge explosion took place on the other side of the street where I left my family," said Muhammed Majeed Muhammed, 39, a government employee who was at the market with his wife and their two children.
Related: U.S., Iraq Target Alleged ISIS Convoy
"I thought, 'I have lost them,'" Muhammed told NBC News. "Fire and smoke were [so] heavy that it was very hard for me to open my eyes and search carefully."
Then his cellphone rang, and it was his wife. She and the children were OK.
"I cannot describe what I witnessed yesterday," Muhammed said. "I've been through many difficult situations before but this is the worst.
"The first shop I went was burned, and three men inside died," he said. "Women, children and men died and burned. It is the worst nightmare I've ever seen in my life."
The high toll made it the deadliest attack in the capital this year, and it comes after Iraqi forces managed to recapture Fallujah from ISIS last month. U.N. statistics estimate that 2,735 civilians were killed in Iraq in the first six months of 2016.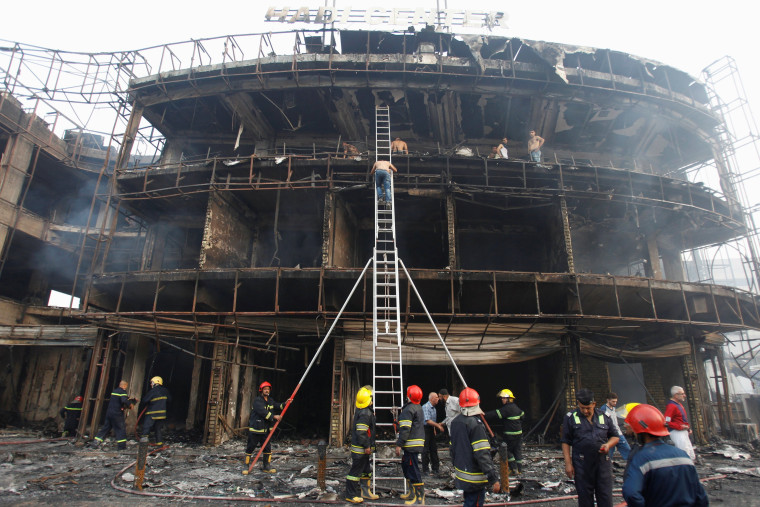 Jan Kubis, the U.N. envoy for Iraq, said the attack was a "heinous" attempt by ISIS to avenge losses on the battlefield.
"This is a cowardly and heinous act of unparalleled proportions, to target peaceful civilians in the closing days of the holy month of Ramadan," Kubis said in a statement. "This shows [ISIS'] wanton intentions to kill, maim and demoralize."
The White House released a statement expressing unity with the Iraqi people:
The United States strongly condemns ISIL's heinous terrorist attacks in Baghdad last night that killed over 100 people, including families gathering to break their Ramadan fast and those joining millions around the world in watching the Euro Cup. We remain united with the Iraqi people and government in our combined efforts to destroy ISIL. These attacks only strengthen our resolve to support Iraqi security forces as they continue to take back territory from ISIL, just as we continue to intensify our efforts to root out ISIL's terrorist network and leaders.
Karim Sami, a 35-year-old street vendor, expressed frustration with the government's failure to secure the capital in wake of the Fallujah victory.
"We are in a state of war, and these places are targeted. The security can't focus on the war [against ISIS] and forget Baghdad," Sami told the AP.
Hours after the bombing, Iraqi Prime Minister Haider al-Abadi — who had ordered the offensive on Fallujah — visited the site of the blast.
Video uploaded to social media showed an angry crowd shouting at his convoy and pelting it with stones.