Bain, Bain just won't go away. In fact, as President Obama's campaign has revved up its attacks on Governor Mitt Romney's record at Bain, it's sparking more and more interest among Americans. To the right is a trend graph measuring how often people searched "Bain Capital" on Google. Its popularity has spiked in the past week.
The Google data also breaks down the top states where people have been searching for "Bain Capital." Not surprisingly, six of the top ten states are swing states, where the President's campaign has focused its television attack ads.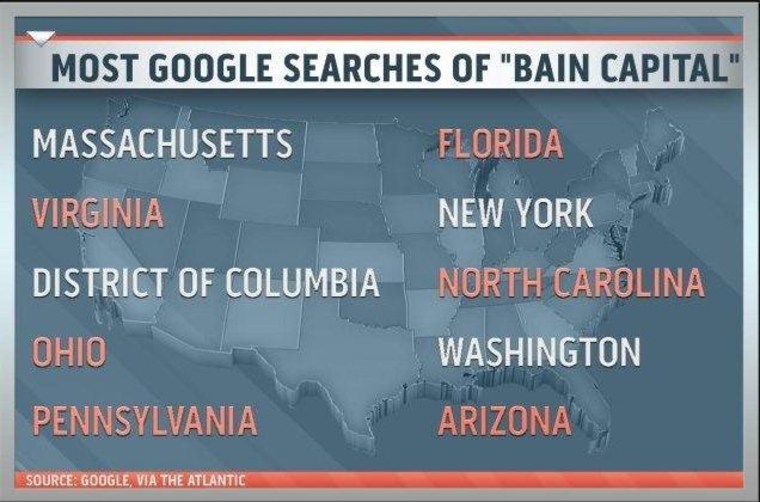 Romney has yet to find a response that sticks, or resonates enough for the President's campaign to stop its full court press on his experience at Bain. Today Romney told the National Review Online that he doesn't worry about what is said from "day to day." He said he believes "people will recognize that I was instrumental in helping build a very successful business that employed a lot of people, and that our business was able to invest in other people's dreams, many of which were successful." For that to happen, Romney may need to push back more forcefully, which Republicans have been urging him to do. One of the latest ads from the Obama campaign, for instance, is a devastating indictment of Romney as a repeat offender of outsourcing. Will the Romney campaign find an effective response to the President's criticism of his business record, or are we in for a Bain-soaked summer and fall?