UNITED NATIONS — Taking the world stage for the last time as secretary-general, Ban Ki-moon unleashed years of pent-up anger at leaders who keep "feeding the war machine" in Syria, violate human rights and prevent aid deliveries to starving people.
The U.N. chief told presidents, prime ministers, monarchs and ministers at the opening of General Assembly's annual ministerial meeting Tuesday that "powerful patrons" on both sides in the years-long Syrian conflict "have blood on their hands."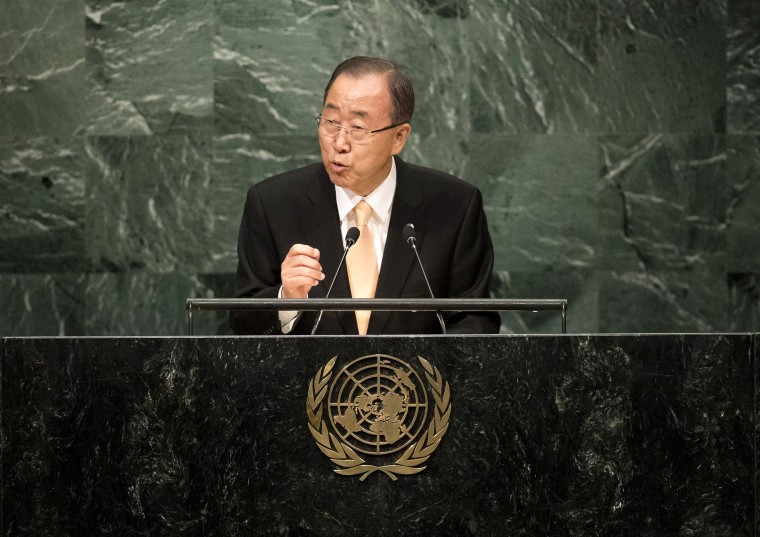 "Present in this hall today are representatives of governments that have ignored, facilitated, funded, participated in or even planned and carried out atrocities inflicted by all sides of the Syria conflict against Syrian civilians," he said.
"Many groups have killed innocent civilians — none more so than the government of Syria, which continues to barrel bomb neighborhoods and systematically torture thousands of detainees," he added.
Ban, whose term ends on December 31, accused South Sudan's feuding leaders of betraying their people. He said "in too many places, we see leaders rewriting constitutions, manipulating elections and taking other desperate steps to cling to power."
Looking back on his nearly 10 years at the helm of the United Nations, Ban cited the rise of "people power" with mobile phones that now blanket the world, reductions in poverty, political transition in Myanmar and the Colombia cease-fire agreement.
He said he was proud that UN Women was established under his watch and drew loud applause when he declared: "I am proud to call myself a feminist."
But the focus of his annual state of the world report was on the myriad problems on the global agenda — and the leaders who fail to tackle them.
He listed a host of "grave security threats" — fighting in Yemen, Libya, Iraq, Afghanistan and the Sahel and the Israeli-Palestinian conflict where "the prospects for a two-state solution are being lowered by the day."
He also ticked off other issues — extremists who push people "into camps of 'us' and 'them'," mistrust that divides citizens from their leaders, and problems resulting from climate change.