/ Source: Associated Press
BANGKOK — Up to 75 percent of the security cameras were broken along the getaway route taken by the main suspect in last week's deadly Bangkok bombing, Thailand's police chief said Monday, revealing a major obstacle to an investigation that has only fuzzy images of the still-unidentified man.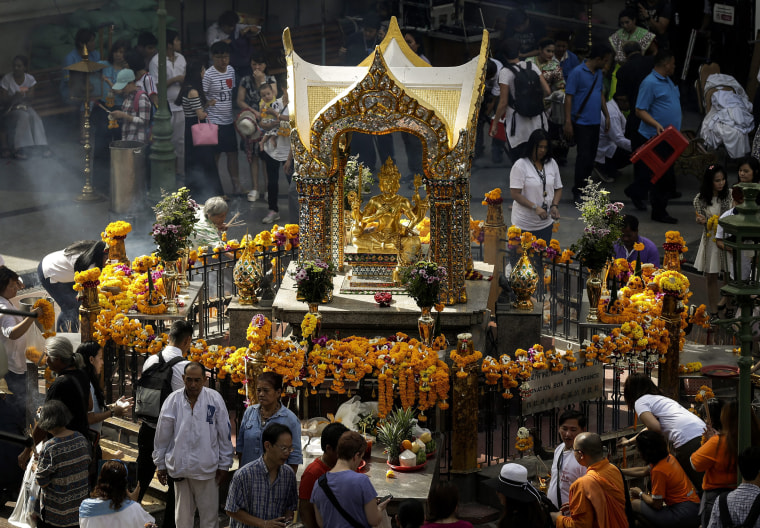 Investigators are trying to "put pieces of the puzzle together" but have had to use their imagination to fill holes left by cameras that failed to record his movements, said national police chief Somyot Poompanmoung, openly frustrated as he spoke to reporters one week after the blast.
"For example, the perpetrator was driving away — escaping — and there are [surveillance] cameras following him. Sometimes there were 20 cameras on the street but only five worked," Somyot said. "Fifteen were broken, for whatever reason, they didn't work."
"The footage jumps around from one camera to another, and for the missing parts police have had to use their imagination," he said. "We've had to waste time connecting the dots."
Another challenge is that investigators lack sophisticated equipment like police use on the popular TV crime series "CSI" to render blurry video clear, he said.
"Have you seen CSI?" Somyot asked reporters. "We don't have those things."
One week after last Monday's bombing at the capital's revered Erawan Shrine, which left 20 people dead and more than 120 injured, police appeared no closer to tracking down suspects or determining a motive for the attack.
Police have faced criticism for sending mixed messages and stating theories as if they were fact, only to later retract them.
Somyot said Monday that investigators were still trying to determine the suspect's nationality and whereabouts.
Asked if the suspect was still in Thailand, Somyot said, "I don't know."
Police have tried to chase a report that after the suspect got off the motorcycle at the park, he went into a nearby hospital and changed into a grey T-shirt, Somyot said.
"We went to see if this is true and checked the CCTV cameras at Chulalungkorn Hospital. But we found that all the cameras were broken," he said, laughing nervously, and asking for understanding because police had been working nonstop and were tired.