BANGKOK, Thailand — A Bangkok shrine where 22 people were killed in a bombing this week reopened Wednesday morning as police sought a young suspect wearing a yellow T-shirt.
He was captured on surveillance video leaving a backpack on a bench at the scene, investigators said as a second explosive device was thrown from a bridge in the Thai capital. It wasn't immediately clear whether the two blasts were related.
The shrine, which is popular with tourists, reopened Wednesday, but it was visited mainly by journalists. Lt. Gen. Prawut Thavornsiri, deputy chief of the Royal Thai Police, told NBC News that tourists in the city should not panic but need to "be vigilant."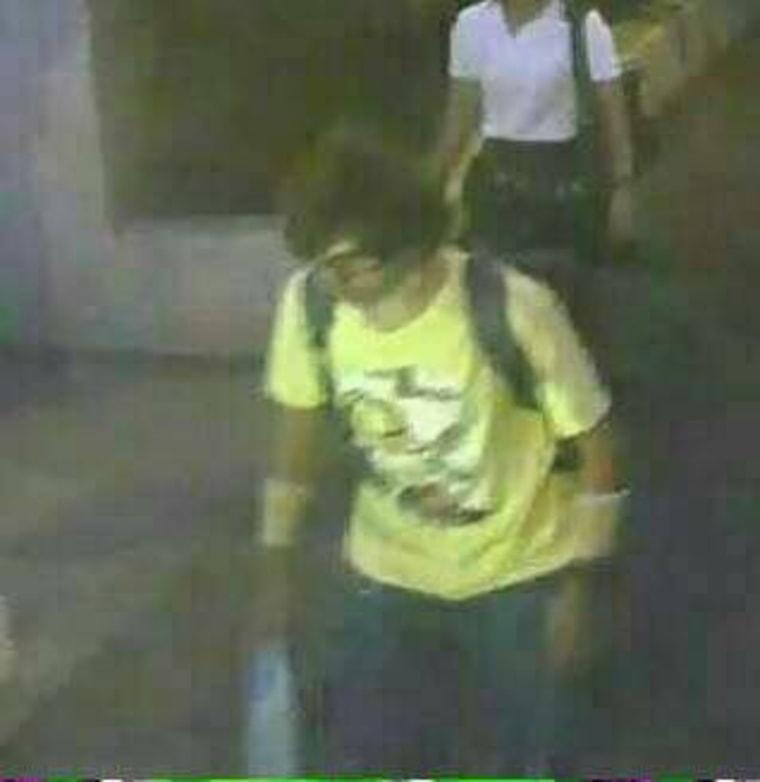 Prawut said the suspect left a backpack near the shrine three minutes before a huge explosion tore through the area during Monday night's rush hour.
A British woman living in Hong Kong was among at least nine foreigners who were killed. Witnesses described a scene of horror after the blast scattered body parts, blasted windows and burned motorcycles to the metal.
"It was like a meat market," said Marko Cunningham, a paramedic working with a Bangkok ambulance service, who said the blast left a 6-foot-wide crater.
Thai Prime Minister Prayut Chan-ocha promised in a televised address to bring those responsible for the "heinous" crime to justice, calling it "the worst incident that has ever happened in Thailand."
"It is apparent that there are active individuals or groups that harbor the intention to damage Thailand," he said, adding that the perpetrators appeared to be intent on "damaging the economy and tourism."
Photo Gallery: Bomb Rocks Popular Bangkok Shrine
Meanwhile, an unidentified man threw a small explosive from a ferry pier often used by tourists in central Bangkok on Tuesday, but it fell into the water and caused no injuries, police said, according to Reuters.
The U.S. State Department said Monday that authorities in Thailand were investigating and hadn't requested assistance from U.S. officials so far.
Less than 24 hours after the rush-hour blast, some tour operators to Thailand were already reporting cancellations, and Hong Kong issued a "red alert" advisory warning against non-essential travel.
"This will have an impact on tourism," Finance Minister Sommai Phasee told reporters. "But it's difficult to estimate the impact on GDP because we are in the off-season now. We will have to wait until October for a clearer impact. We are praying that tourists will forget about this incident by then."