DHAKA, Bangladesh — Twenty foreigners, including a U.S. citizen, were killed by six heavily armed militants at an upscale restaurant in the diplomatic quarter of Dhaka early Saturday. The hours-long siege was eventually ended by Bangladeshi forces, officials said.
Sharp weapons were used to kill the victims, with local media reporting that some were beheaded.
Among those killed were three students with ties to American colleges: Emory University in Georgia, and the University of California, Berkeley.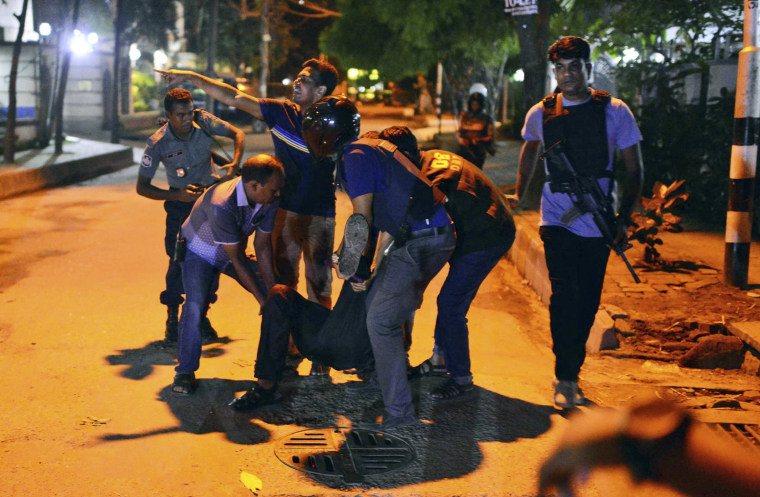 Abinta Kabir, a rising sophomore at Emory University's campus in Oxford, Georgia, was killed in the attack, the school said in a statement. Kabir, who lived in Miami, was in Dhaka visiting family and friends.
The State Department said Saturday that a U.S. citizen was "among those senselessly murdered in this attack," but did not identify the citizen. It was not immediately clear whether it was Kabir.
A second Emory student also died, the school said. Faraaz Hossain, from Dhaka, graduated from Emory's Oxford College this year and was preparing to start at the university's business school in the fall.
Photos: Security Forces Respond to Hostage Crisis in Bangladesh
"The Emory community mourns this tragic and senseless loss of two members of our university family. Our thoughts and prayers go out on behalf of Faraaz and Abinta and their families and friends for strength and peace at this unspeakably sad time," said a post on Emory's Facebook page.
Another student, 19-year-old Tarushi Jain of India, was also killed, according to tweets from Indian Exterior Minister Sushma Swaraj. Jain, who went to high school at the American International School of Dhaka, had been attending the University of California, Berkeley.
"I have spoken to her father Shri Sanjeev Jain and conveyed our deepest condolences. The country is with them in this hour of grief," Swaraj tweeted.
Jain had been in Dhaka for an internship with Eastern Bank Limited since last month, according to UC Berkeley. She planned on majoring in economics in college, the school said. Her father is a textile merchant based in Dhaka.
Nine Italians were also killed in the attack, Italy's foreign minister said, and one Italian was missing.
There were also seven Japanese citizens killed, Japan's Chief Cabinet Secretary Yoshihide Suga said Saturday. The five men and two women were consultants with the non-governmental Japan International Cooperation Agency.
"That innocent lives were taken away by this cruel and inhumane act of terrorism, we cannot but feel the strongest of indignation. Whatever the reason, terrorism cannot be forgiven and we firmly denounce it," Suga said.
Related: Gunmen Kill 4 Officers, Take Dozens Hostage in Bangladesh
Thirteen other foreign captives were rescued by paramilitary forces, who killed all the attackers, Brigadier General Nayeem Ashfaq Chowdhury told reporters. Some police officers were also killed.
Gunmen shouting "Allahu Akbar" stormed the popular Holey Artisan Bakery in the Gulshan district on Friday night during the Ramadan holy month.
ISIS claimed responsibility for the atrocity, according to terror research firms Flashpoint Intelligence and Site Intelligence Group. The Amaq news agency, affiliated with ISIS, also posted photos purportedly showing hostages' bodies. NBC News has not verified the claim.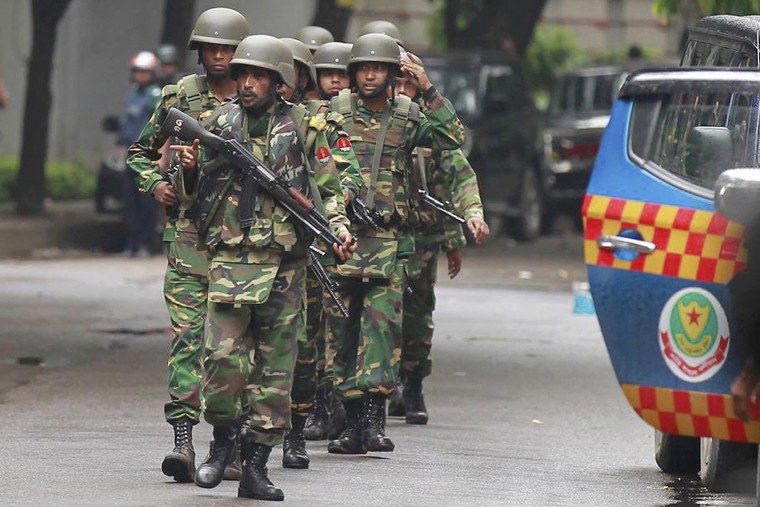 The nine Italians killed were named by the Italian foreign ministry as Adele Puglisi; Marco Tondat; Claudia Maria D'Antona; Nadia Benedetti; Vincenzo D'Allestro; Maria Rivoli; Cristian Rossi; Claudio Cappelli; and Simona Monti.
Gunfire was heard as troops moved to end the standoff more than 10 hours after the attack began. Journalists were not allowed near the scene.
"We heard gunfire open, it continued for about 10 minutes — very loud, rapid gunfire, multiple explosions," Maimuna Ahmad, who lives near the restaurant, told MSNBC. The gunfire was then sporadic and stopped, she said. Other blasts were later heard, but it was unsure what caused them.
At least four security personnel were killed responding to the attack, a senior police official, Assistant Superintendent Fazle-e-Elahi, told NBC News.
Fazle-e-Elahi said most of the police casualties occurred when one hostage escaped, and as officers rushed to help him, a grenade was tossed at them from a balcony. The dead included the assistant police commissioner, he said.
He described the assailants as "heavily armed and equipped" and "tactically sound."
"The attackers are not identified. They were shouting 'Allah Akbar' when they entered the restaurant," Fazle-e-Elahi said.
A doctor at a nearby hospital told NBC News that six of the wounded were in critical condition.
Sumon Reza, a kitchen staffer who escaped the attack, told reporters that the gunmen were armed with firearms and bombs as they bombarded the restaurant.
The bakery by day and popular restaurant at night is just a 15-minute walk from the American Embassy.
State Department spokesman John Kirby said all of the Americans under the diplomatic chief of mission in Dhaka are accounted for.
Security in Dhaka has been stepped up since last year following an ISIS-claimed attack during a Shiite Muslim holiday, when one person was killed and dozens of others were hurt.
Itrat Saeed, who is friends with the manager of the bakery that was attacked, described the restaurant as popular with foreigners. Saeed's friend who runs the restaurant posted on Facebook that he is safe, Saeed said.
"Another friend's daughter is in there," Saeed said. "We haven't heard from her."