NEW DELHI — Islamic extremists in Bangladesh hurled homemade bombs and engaged in a gunbattle with police guarding a large Eid prayer service at the end of the holy Muslim month Thursday morning.
Two officers, a woman and one suspected militant were killed, while at least 12 other people were injured, officials said.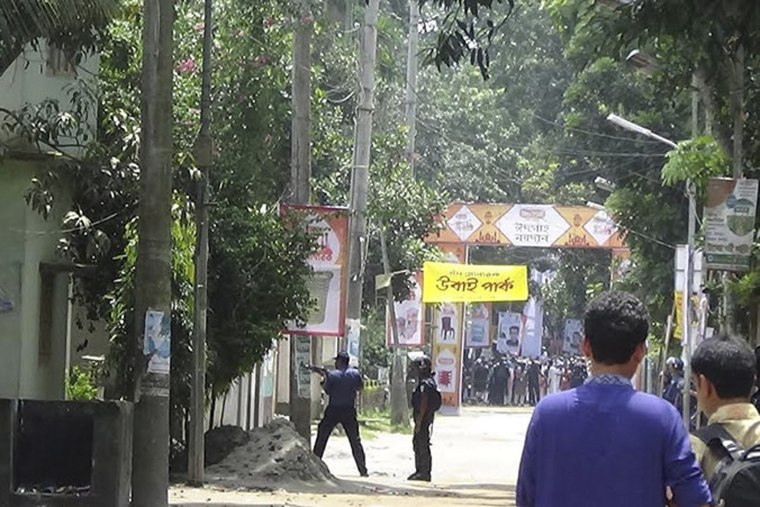 At least one of the bombs exploded during the prayer attended by hundreds of thousands of people at the sprawling Sholakia grounds in the district of Kishoreganj, about 60 miles north of the capital of Dhaka. The grounds hold the country's largest open-air gatherings for the Muslim holiday of Eid-al-Fitr, marking the end of the fasting month of Ramadan.
After the blast killed two officers, police fired on the attackers and killed one of them, Assistant Superintendent Tofazzal Hossain said. A female bystander was also killed in the crossfire. More than a dozen other people were injured with gunshot or bomb shrapnel wounds, including two in critical condition, he said.
Police cordoned off the area and searched the devotees as well as nearby houses for suspects in hiding, said resident Shafiqul Islam, who was among those offering Eid prayers.
The violence comes just days after a deadly hostage crisis in which 28 people were killed, including 20 hostages, two police and six of the attackers. Most of the hostages slain during the attack on a Dhaka restaurant were foreign — raising international concerns about escalating extremist violence in Bangladesh.
There was no immediate claim of responsibility for Thursday's attack, but the government insisted it was carried out by domestic militants fighting to destabilize Prime Minister Sheikh Hasina's secular government and establish Islamic rule in the Muslim-majority nation.
The country's information minister said the target of the attack was the police convoy patrolling the religious gathering.
"It is a totally political move. They are out to destabilize the government. It is a political attack to oust and topple the secular government of Sheikh Hasina," Minister Hasanul Haq Inu told Indian broadcaster CNN-News 18.