BERLIN — During his final overseas trip as president, Barack Obama spent Thursday in the city where a speech elevated him to rock-star status in Europe back in 2008.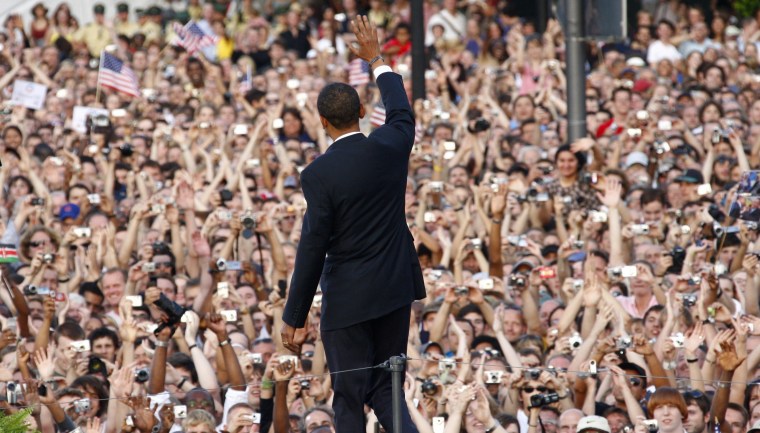 Obama was just 46 years old and was sporting much less gray hair in July that year, when some 200,000 people showed up to watch his speech in Berlin.
It was the kind of hysteria usually reserved for musicians and movie stars, with some Berliners hanging off lampposts to catch a glimpse of the then-Democratic nominee.
"The walls between races and tribes, natives and immigrants, Christian and Muslim and Jew cannot stand," Obama told the rapturous audience. "These now are the walls we must tear down."
"Most Germans would feel that if we had more Barack Obama that wouldn't be so bad"
The reception represented a country keen to improve faded relations with the U.S. after George W. Bush's presidency and the Iraq War.
However, for many Germans, that carnival atmosphere in July 2008 proved something of a false dawn. To Obama's critics, the walls that he spoke of are even higher today.
"A nonexistent dialogue between the Muslim and the Western world, the Middle East conflict and an underlying feeling that Obama left Europe alone with the refugee crisis are just a few examples of failed policies," said Julian Reichelt, website editor-in-chief of Bild, Germany's largest-selling national newspaper.
Reichelt spoke with NBC News after writing a commentary for Bild in which he said the world was facing a "foreign policy rubble-field" left by the outgoing president.
"Since Obama gave up defending his red lines, chemical weapons are being used nearly every day in Syria and Russian tanks have moved closer to Europe's borders," he said. The "red line" was Obama's pledge of military action if Syrian President Bashar al-Assad used chemical weapons, something he later decided against.
After high expectations, a disillusioned air fell over Obama's second term in Germany.
The reception during his visit in 2013 had been far more somber than the heady days of 2008.
Germans were upset that Guantanamo Bay had not yet been shuttered, the war on terror was dragging on, and that the National Security Agency was allegedly spying on senior officials, including tapping the cellphone of German leader Angela Merkel.
Related: 'American Psycho': Foreign Papers React to Trump Win
Obama will now have to accept that he will be measured by this track record, despite his continuing popularity abroad.
On the flipside, the victory of Donald Trump — who has very negative ratings across Europe — has sparked a degree of Obama-nostalgia among Germans.
"As a person, as a president, he has been an inspiring figure," said Wolfgang Ischinger, former German ambassador to Washington and current head of the Munich Security Conference, an annual nonprofit event. "Most Germans would feel that if we had more Barack Obama that wouldn't be so bad."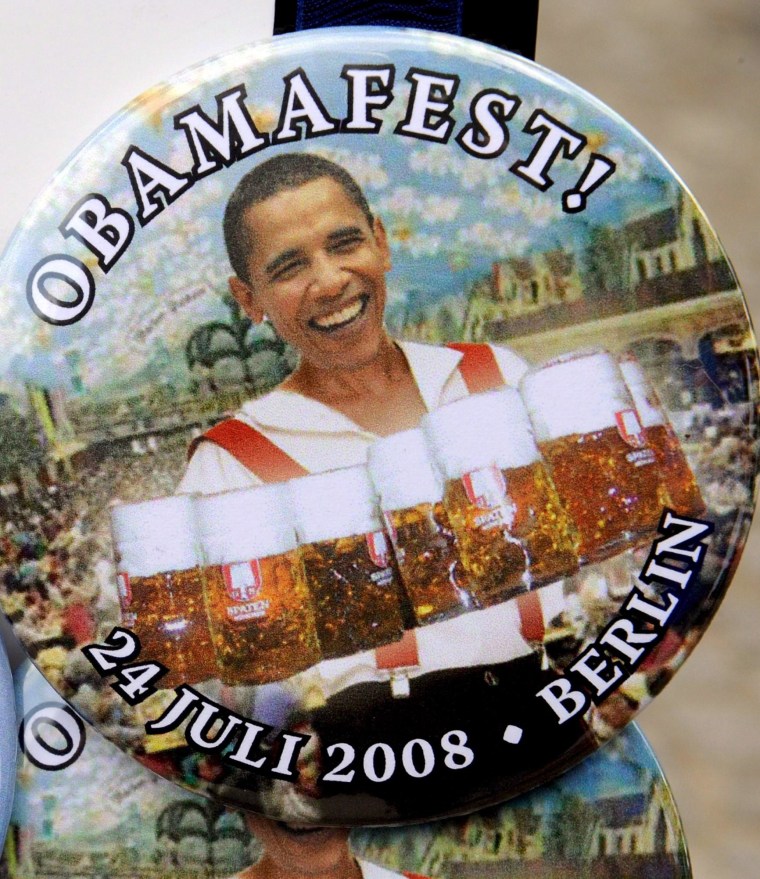 "He is a luminous figure, who can still trigger the feeling of hope among many people," Reichelt added.
During his Berlin meetings with Merkel and other European leaders this week, Obama will have to do some wound-licking. The European public and many politicians are still in shock that they will now have to deal with Trump, a wildly unpopular figure and an unknown quantity on the political stage.
During his previous visit to Germany in April, Obama delivered a landmark speech, in which he stressed the importance of transatlantic ties and also warned Europe to combat rising nationalism, which America itself is now facing under the leadership of Donald Trump.
Since Trump's win, Obama's visit to Germany — and, before it, Greece — has gained a different meaning.
He is challenging Trump to reassure his European partners that making "America great again" will include a close cooperation with his European allies and continued commitment to NATO.
"Germans know practically zero about Donald Trump," Ischinger said. "What would that mean for us? He has said certain things that make us worried."
Leaders in Europe had hoped that Obama's final trip would center around the war in Syria, the standoff with Russia, the migrant crisis and transatlantic trade partnerships.
Instead, questions about Trump are likely to dominate the proceedings.
"We certainly expect that the election will be the primary topic on people's minds everywhere we go," Ben Rhodes, Obama's deputy national security adviser, told reporters.
Obama is not scheduled to deliver a speech in the German capital and will likely not have a direct encounter with ordinary Germans.
Instead, his stop in Berlin will reflect his strong ties to chancellor Merkel, who he has said has probably been his "closest [international] partner." After meeting Thursday, they will hold a joint press conference at 11 a.m. ET before dining together.
While the two leaders will be looking back at their joint efforts of recent years, they will also "exchange views on the future of the transatlantic relations," a German government spokesman said.
Despite the German media calling the U.S. election a "dirty mud-campaign" and labeling Trump's presidency "apocalypse now," Germans are seeking assurance from Obama that the world is not facing an era of isolationism, according to experts.
"What we are looking for is calmness, is support, is solidarity, is mainstream consistency," said Ischinger, who has also invited Trump to present his "vision" before policymakers at the upcoming Munich Security Conference in February. "Germans don't like experiments, they are status-quo lovers."