The Barcelona district where a van slammed into pedestrians Thursday, killing 13 and injuring more than 100 others, is a tourist magnet and features one of Europe's most famed boulevards.
The plane tree-lined main street is known as La Rambla, although the sections of the strip and the warren of winding side streets are collectively called Las Ramblas — which is derived from the Arabic word for sand. Before its development, the area was a dry river bed.
Las Ramblas cuts through Spain's second-largest city, stretching for nearly a mile from its landmark center to the sea at Port Vell. The streets — with restaurants, cafes, shops and street performers — teem with crowds on a summer afternoon.
Natalie Camacho, who works at a hotel restaurant near La Rambla, said she had already left her job around 5 p.m. local time before the incident occurred.
"Normally, that area is a crowded area because of the tourists," Camacho said. "It's a main place to connect with everyone and places in Barcelona."
But the attack led police to close off the street and metro stations, she said.
Spanish authorities tweeted that Thursday's incident was a "terrorism attack." They warned people to stay away from the district, particularly Plaza de Cataluna, a large square that had once been the geographic center of the city in the early 20th century before Barcelona exploded with modern sprawl.
The area brims with upscale hotels and 18th century buildings, and Las Ramblas itself divides the old city with the popular neighborhood of El Raval, which is known for its nightlife and diverse immigrant communities.
Related: Vehicle Strikes Pedestrians, Causing Fatalities and Injuries
Las Ramblas also is home to former monasteries and convents, art museums, the opera house Gran Teatre del Liceu, and La Boqueria indoor market.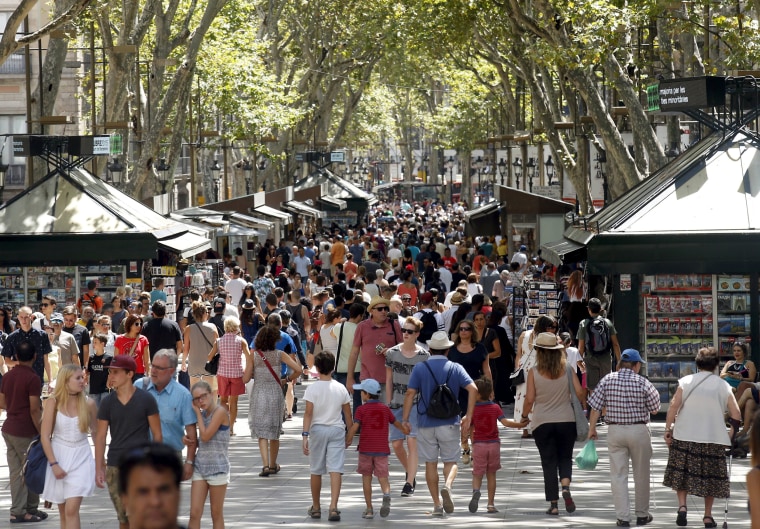 The city itself is in the midst of La Festa Major de Gracia, a festival that coincided with Tuesday's public holiday in Spain known as Assumption Day.
After previous car-ramming attacks in European cities such as Nice, France, and Berlin, Camacho said it didn't surprise her that something so terrifying could occur in Barcelona, which reportedly draws more than 11 million tourists each year.
"I'm not thinking [about it] every day, but yes, that crossed my mind," she added.