Witnesses to the Barcelona terror attack and its chaotic aftermath described terrified people screaming and running for their lives after a van plowed through a bustling pedestrian plaza.
The attack in the tourist district of Las Ramblas killed at least 13 people and injured more than 100 others, sparking mass panic.
"There was this tidal wave of people screaming and running towards us," said Susan McLean, a cybersecurity expert from Australia who was in the area on vacation. "People just heaved around the corner, screaming in Spanish. We had no idea what was going on."
McLean, a former police officer, said she instantly knew what had happened — terrorism.
"The fear on their faces — I just knew," she told NBC News.
She ran into a women's clothing store, where some 100 other people were hiding. There were hundreds of people holed up in every store on that street, she said.
Related: Las Ramblas, Where Attack Occurred, Teems With Tourists
Jack Davey, a singer from Los Angeles, California, who was in Barcelona with her family, described being pulled into and locked down in a shop.
Every so often over the course of 30 minutes, Davey and her 5-year-old son, Tripper, would quietly emerge from the shop to check on the street. But then another melee would erupt and they would have to head back inside.
Davey met two other American families, including one that was close to the scene when the crash happened. "They were sitting right there and they saw everything," she said. "They said [the van] crashed into the market and killed everyone.
"They were inconsolable," she said.
After another 30 minutes, Davey and her family made a run to their car. As they drove away, they saw someone dead in the street.
"It was mass chaos," she said.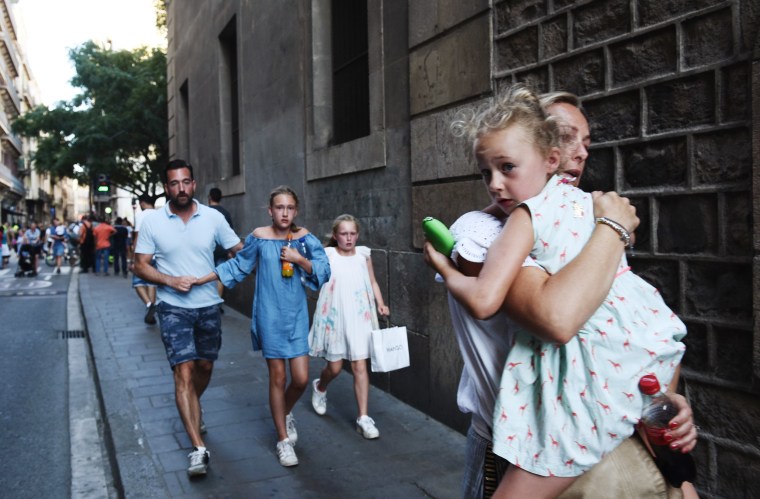 Photos: Pedestrians Flee After Van Rams Into Crowd
"My son said, 'I told you we should have never left California.'"
Carlos Tena Gallardo, 34, recalled seeing a child lying on the ground who he believed was dead.
"My heart is torn. My soul is torn," said Gallardo, who was born and raised in Barcelona.
Gallardo always thought his city was safe. But now, he said, he will never go back to Las Ramblas.
Pablo Morante, 17, who shot video of police vehicles racing by, said he was on a bus when he suddenly saw throngs of people rushing down the street.
The van seemed to be trying to "hit as many people as possible," said Morante, who also was born and raised in Barcelona.
He said police boarded the bus and told everyone to get off — and to stay away from Las Ramblas.
"We were all scared. So many people were running in every direction, and there were a lot of police cars and police with guns," Morante said in a phone interview.
"I never thought I would be in an attack," he said.