President Bashar Assad has traveled to Moscow in his first known trip abroad since the war broke out in Syria in 2011 to meet his strongest ally Russian leader Vladimir Putin, Syrian and Russian media reported Wednesday.
A statement posted on the Syrian presidency's official Facebook page said Assad met with Putin on Tuesday to discuss the continuation of the military operations against terrorism in Syria. The aim of the military operation is to eradicate terrorism that is obstructing a political solution, the statement said.
The post included a photo of Assad with a wide smile shaking hands with Putin. Russian television showed footage of Putin and Russia's foreign and defense ministers meeting with Assad and his adviser.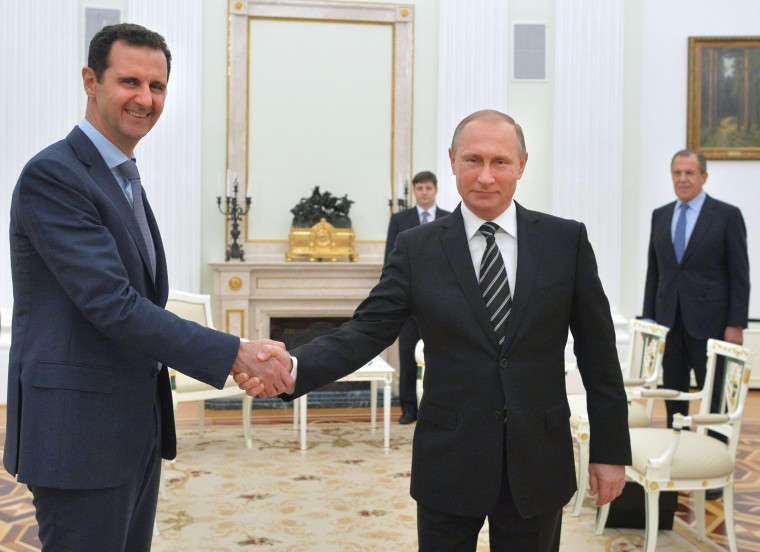 Assad thanked Putin for his military support, according to a transcript of their meeting published on the Kremlin website.
"I would like to express enormous gratitude to the whole leadership of the Russian Federation and to the Russian people for the help they are giving Syria," the transcript quoted Assad as saying. "Thank you for standing up for the unity of Syria, and its independence. Those political steps that have been taken by the Russian Federation since the start of the crisis have not allowed events in Syria to develop following a tragic scenario."
Related: Russian Strikes Bring 'Massive Destruction,' Syrians Say
Putin thanked Assad for "accepting our invitation and coming to Moscow despite a tragic situation in your country."
Syria's conflict began in March 2011 after the government reacted with a violent crackdown to largely peaceful protests against Assad's rule. The protests gradually became an armed insurgency and a civil war that has killed a quarter of a million people in the past five years.
Russia has airstrikes against insurgents in Syria on Sept. 30, saying it is fighting terrorism. Critics and the U.S. say the Moscow military intervention helps props up Assad and is likely to fan the violence.