PARIS — One hundred years since the United States entered World War I, Bastille Day 2017 was supposed to not only celebrate France's national day, but also honor the historical cooperation between Paris and Washington.
The attendance of President Donald Trump may change all that.
Trump is set to join Friday's national holiday celebrations, which mark the storming of the royal fortress of Bastille in 1789 that was a key turning point in the French Revolution.
He was invited last month by French President Emmanuel Macron, a leader more than 30 years his junior who has criticized Trump on various issues.
Despite this invitation, anti-Trump protesters have promised to give the U.S. president a less-than-cordial greeting when he touches down for France's most important national holiday.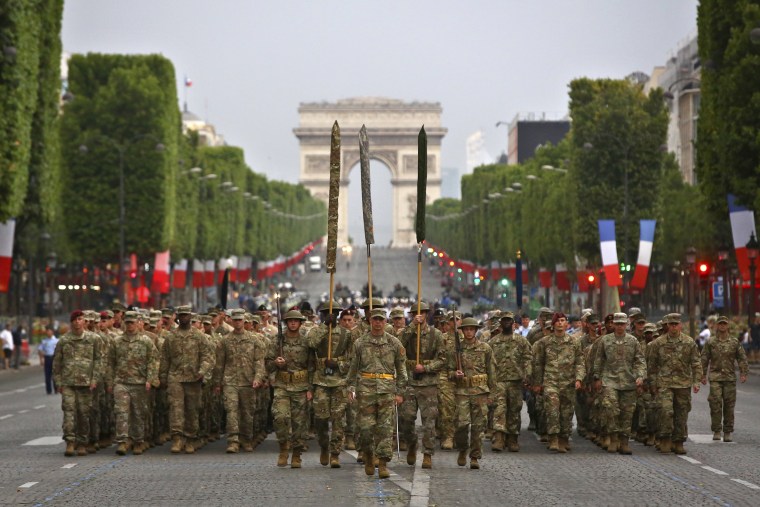 Activists from the "Paris Against Trump" group announced a series of events Monday designed to let Trump know he wasn't welcome.
On the eve of the holiday, which the French simply call "14 juillet," there will be a "No Trump Zone" featuring music and dancing in the Place de la Republique, one of the largest and most prominent squares in the capital.
"Trump is not welcome in Paris," said the event's Facebook page. "We are opposed to his positions on the climate crisis, his international politics against migrants, his sexist speeches and behavior, his Islamophobia and racist remarks, his military plans around the world and his neo-liberalism and capitalism."
On Bastille Day itself, there will be a march titled "Don't Let Your Guard Down Against Trump" that starts from the Place de Clichy.
According to organizers, "an American contingent" will be part of the demonstrations.
The U.S. president should be no stranger to Europeans protesting his visits. During the G-20 summit in Hamburg, Germany, last week, there were violent clashes between demonstrators and police.
Many of the protesters singled out Trump as the object of their disquiet.
Trump is unpopular across most of Europe. In France, 86 percent of people have "no confidence" in him to do the right thing when it comes to world affairs, according to a study by the Pew Research Center last month.
During Bastille Day, French activists also pledged to protest against their own leader, with one of the demonstrations titled "Macron and His Social War."
Although Macron was an economic adviser to France's former socialist president, Francois Hollande, his critics on the left have condemned his centrist agenda, which includes relaxing his country's labor laws, cutting taxes for businesses and curbing public spending.
Bastille Day, as it's known in English-speaking countries, is a colossal military parade that has been carried out since 1880. This year, it will involve 1,200 personnel, 211 vehicles, 341 horseback riders and 63 aircraft.
The day ends with a spectacular fireworks display at the Eiffel Tower.
Security will be high at the event, with France still under a state of emergency following the terrorist attack by ISIS militants in Nov. 2015 that left 130 people dead.
On last year's Bastille Day, 86 people died when a terrorist drove a truck through holiday crowds who had just watched a firework display in the southern French city of Nice.
And earlier this month, a 23-year-old man was charged with threatening to assassinate Macron during the parade in Paris.
This year's event comes 100 years after American troops landed in France and helped turn the tide of World War I.
To commemorate this milestone, the event will include 200 troops from the U.S. Army, Navy and Air Force marching alongside thousands of their French counterparts.
These will include members of the U.S. Army's 1st Infantry Division, which was founded in 1917. U.S. planes will also fly alongside French aircraft in the annual fly-past.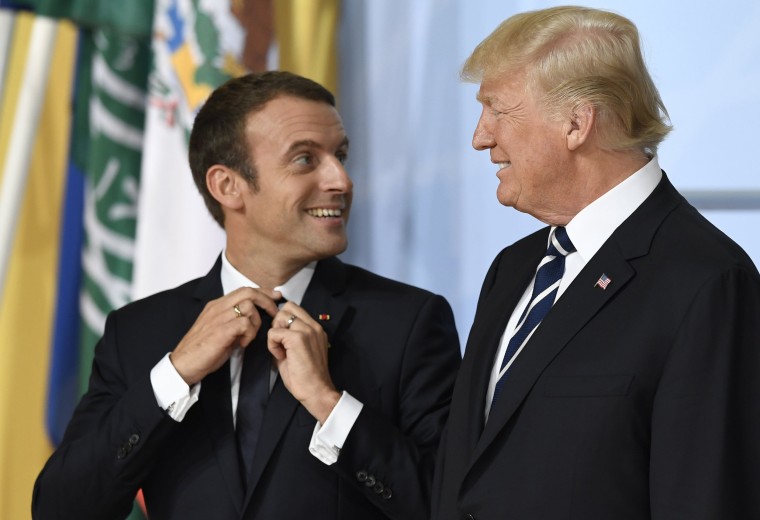 According to the official Élysée Palace itinerary, Macron and his wife, Brigitte Macron, will host the president, first lady Melania Trump, and their delegation for a dinner Thursday night at the famous Le Jules Verne restaurant, which is on the second level of the Eiffel Tower.
As well as the parade itself, they will also hold several meetings and a press conference.
Despite the pair being at the fledgling stage of their presidencies, they have already endured a somewhat fractious relationship on several issues.
Macron has criticized Trump's decision to withdraw from the Paris Climate Agreement, and launched his own "Make Our Planet Great Again" campaign — a reference to Trump's "Make America Great Again" mantra.
He also invited American scientists, academics and entrepreneurs who disagreed with Trump policies to move to France.
This frosty relationship culminated in series of confrontational handshakes between the pair.
After one of them, a prolonged, white-knuckle exchange at the NATO summit in April, Macron told a French newspaper: "My handshake with him wasn't innocent."
Nancy Ing reported from Paris and Alexander Smith reported from London.