The battle for control of Congress this fall will be more closely fought than many Republicans had predicted in the heady days following their 2010 midterm landslide victories, according to those most closely involved in the campaign.
House Speaker John Boehner's comments this week that the GOP has a "one-in-three" chance of losing the House sent shockwaves through the political establishment. "We've got a fight on our hands and our hands need to be prepared," Boehner told reporters on Capitol Hill on Wednesday, doubling down on his warning.
While the Ohio Republican's admonition was mostly meant to guard against complacency among donors and lawmakers, it reflects a more grim assessment of the GOP's chances in the House and Senate.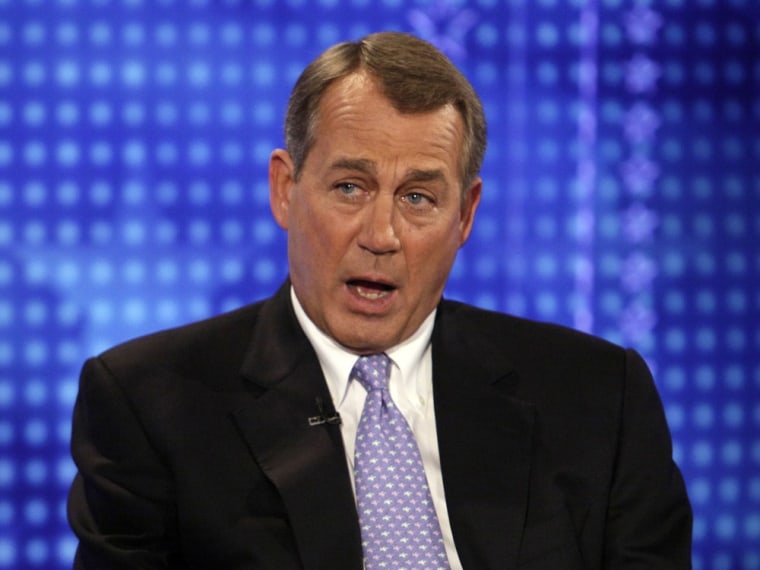 Republicans now privately expect to suffer a handful of losses in the House, expected partly to be a natural outgrowth of the receding Republican wave from 2010. And while the party remains optimistic in its chance to regain the Senate, Washington Republicans believe it wouldn't be by any commanding margin.
"This is going to be an election that comes down to jobs, the economy and pocketbook issues. This is going to be a referendum on the president's economic policies and how it translates down to congressional districts," said Brad Dayspring, a former spokesman for House Majority Leader Eric Cantor , R-Va.,  who now works for the Young Guns Action Fund, the super PAC founded by former aides to Cantor and GOP Whip Kevin McCarthy.
"It's going to be whether Republicans can be trusted again to govern in a responsible manner," he said.
Forty-six percent of registered voters in April's NBC News/Wall Street Journal poll said they would prefer a Democratic Congress as the outcome of this fall's elections, versus 44 percent who said they'd prefer a Republican one. That's a closer margin for Republicans than in previous months, but general anti-incumbent fervor is running high, too.
"Fairly or unfairly, House Republicans have become the face of Congress, and right now a root canal is more popular than Congress," said Doug Thornell, a former aide on the Democratic Congressional Campaign Committee.
Gone is the optimism from Texas Rep. Pete Sessions, the Republican in charge of his party's campaign efforts in the House, from early 2011, when he predicted an expanded majority in November's elections.
One Republican veteran of the party's past campaign efforts pointed to two moments from the intervening 15 months that tarnished the party's brand: the impasses associated with raising the debt ceiling and extending an expiring payroll tax cut.
"I don't think that Republicans have had the opportunity to showcase what they are capable of doing; it's hard to do with only one house in Congress," said the Republican. "But when they did have opportunities, they didn't necessarily make the most of them."
The GOP entered the 2012 cycle with some built-in advantages. Down-ballot victories in 2010 helped the party shore up some seats through Census-mandated redistricting efforts, and Democrats must defend more seats (23) than Republicans in the Senate.
But Democrats argue that they have made inroads over the past year in recruiting top-flight candidates and defining Republicans, especially in reference to the controversial GOP budget in 2011.
"Nobody would have thought after we lost 63 seats in the House that we would fast-forward 18 months that we would have the candidates we have on 'Red to Blue,'" said one House Democratic campaign operative, referring to the party's initiative to flip Republican seats in November.
Maryland Rep. Steny Hoyer, the second-ranking Democrat in the House, pegged the odds of retaking the House even higher. "I think it's 50-50," he told reporters on Capitol Hill on Tuesday.
To accomplish that feat, Democrats must win a net of 25 seats to retake control of the House. (Republicans caution that, because they expect to win at least a few seats, their opponents must win 35-40 seats to have a real chance of re-taking the House.)
By contrast, Republicans need a net gain of just four seats to win back the Senate.
Republicans are eager to stress the plethora of opportunities that could allow the party to accomplish its goal of winning the upper chamber. But they caution that the early projections last year that saw the GOP as competitive in over a dozen races were irrationally exuberant.
"The expectations were out of whack a year ago, and conversely, people's perspectives were out of whack, too," said one GOP strategist familiar with the party's campaign efforts in the upper chamber.
Republican candidates have struggled to get traction in states like Michigan, and few good GOP candidates have emerged in battlegrounds like Florida, Ohio, or Pennsylvania — despite potentially vulnerable Democrats facing re-election this fall.
"I think that after 2012, people will look back and see there were missed opportunities not only in 2012 but in 2010, as well," said the veteran GOP operative of the party's campaign efforts, alluding to the instances last cycle in which Tea Party-affiliated candidates failed in winning competitive races.
Maine Sen. Olympia Snowe's decision to retire complicated Republicans' efforts to stymie losses, and Massachusetts Republican Sen. Scott Brown's re-election campaign is a virtual toss-up.
"We were not handed a friendly map at the beginning of this cycle but we went out and aggressively recruited great candidates in open and Republican-held seats, our incumbents built strong campaigns, and we are now more bullish than ever about keeping the majority," said Matt Canter, the spokesman for Senate Democrats' campaign arm.
At the same time, though, Republicans point out they could still lose a number of contests and still wrest the majority from Democrats if they're able to score victories in places like Missouri, Nebraska, North Dakota and Montana — states traditionally friendly to Republicans.
For all of presumptive Republican nominee Mitt Romney's talk of shrinking the size of government and repealing the president's health reform law, much of it depends on whether the GOP can retain control of the House and win back the Senate. On the flip side, Republican control of one or both chambers could also grind to a halt President Barack Obama's attempt to restructure taxes in a manner that shifts more burden to the wealthy.
To that end, both parties expect the presidential race to affect these downballot races. The Obama campaign's sophisticated turnout efforts in states like Virginia, Nevada and Ohio — to name a few — could help propel Democrats' House and Senate candidates to a margin of victory.
In the same manner, Boehner's admonition this week focused partly on minimizing losses in so-called "orphan" states and districts, where the presidential race isn't being fought tightly. The GOP made gains in three such states — New York, Illinois and California — last cycle, and their ability to keep control of the House might hinge in part on their effectiveness of holding onto some of those seats.
Another major variable involves the full advent of super PACs, the unlimited campaign funds on both sides which can spend millions to pummel candidates whom they oppose. American Crossroads and its non-profit arm, Crossroads GPS, spent with great effectiveness in 2010, and have already gone on the attack in 2012, most recently announcing a $1.2 million blitz against five Democratic Senate candidates.
"My biggest fear at both the House level and the presidential level is all of these outside groups coming in and spending tons of money," Thornell said. "There are clearly now more of them, and they're going to have millions of dollars. That's going to be a huge challenge."