DOUMA, Syria — It is hard to keep a business open when your town is being besieged, but Yassin Koubbieh managed to do it.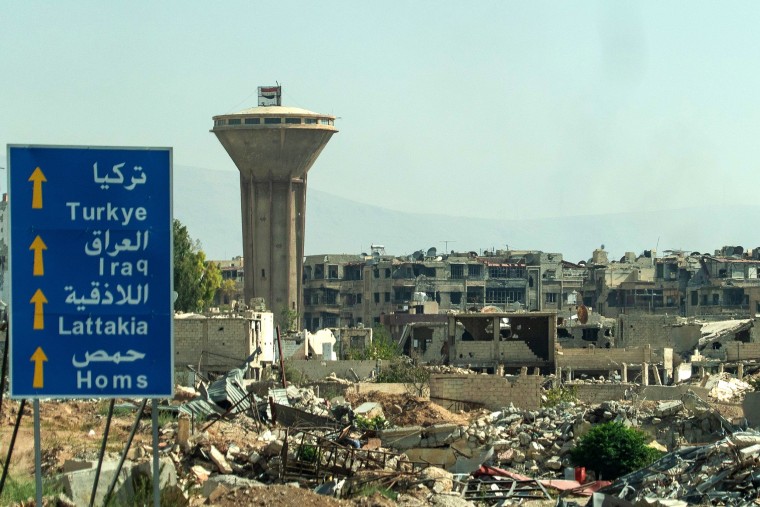 The five-year government blockade of Douma meant there was hardly anything to sell in his corner store.
When fighting broke out among the different rebel factions, or government jets dropped bombs, his whole family fled to the basement.
"We suffered — no food, no security, no safety," Koubbieh told NBC News during a visit to recaptured Douma accompanied by a Syrian army press officer. Comments interpreted by an employee of the Information Ministry were reviewed by NBC News translators.
The battle for Douma ended in the spring after an intense government bombing campaign that the U.N. says killed 1,700 people.
The U.N. has accused the Syrian military of indiscriminate attacks on civilians to break the rebels hold on the city. Douma was also the site of a suspected government chemical attack in April, which triggered punitive strikes by U.S., British and French forces.
Now forces loyal to President Bashar al-Assad and their Russian backers have their sights set on Idlib, Syria's last major rebel enclave.
While Assad has publicly called for reconciliation and vowed to target only "terrorists" in Idlib, some aid groups fear a massacre is looming.
Nearly 3 million civilians live in the rebel stronghold. Many are refugees from other war-torn parts of Syria.
Rebels — including thousands believed to belong to powerful extremist groups — live among the population, prompting fears that civilians will be caught up in the violence.
Those awaiting the assault told NBC News they are afraid that they have nowhere left to flee.
Secretary of State Mike Pompeo last week said Syrians "who have already been forced out of their homes ... will suffer from this aggression."
And Nikki Haley, the U.S. ambassador to the U.N., on Monday tweeted that "all eyes" were watching "the actions of Assad, Russia, and Iran in Idlib."
Turkey, which has backed some rebel groups, is trying to avert an attack by Syrian forces.
"What I fear is that Idlib could be the battle like no other battle," said Jan Egeland, special adviser to the U.N. special envoy for Syria. "There are 100 armed opposition groups ... several of them have been labeled terrorists," he said. "But 10 times more babies [are] in the same place."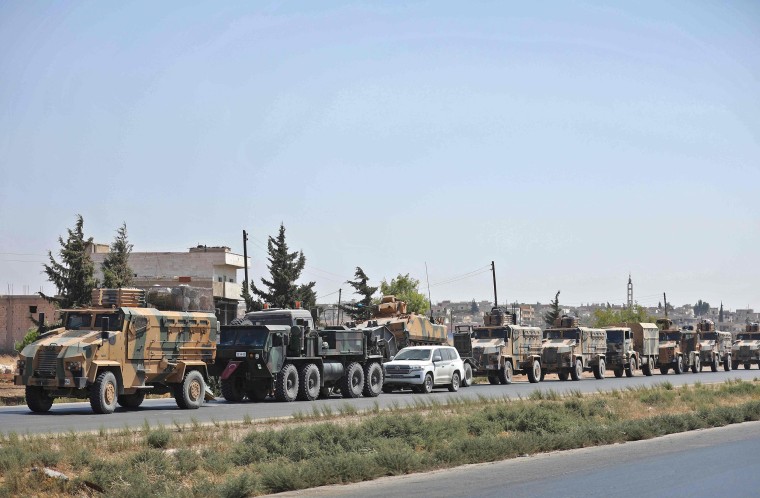 The United Nations Children's Fund (UNICEF) estimates more than a million children are at risk in the event of a government assault and has drawn up contingency plans to provide clean water and nutritional supplies.
Egeland is pushing for negotiations to stop the expected offensive.
"This war has to end in talks in Idlib, not in a bloodbath," he said.
But some on the streets of Douma are demanding retribution.
For his part, Youssef Kareem, 21, whose family owns a spice store in Douma's bazaar, says he hopes rebels will be punished for the pain they have caused his family.
"We suffered," Kareem said, repeating an often-heard refrain as he stood among brightly colored piles of paprika, sumac and cumin. "They were looting the shops, that's why they were fighting each other, for the money and the goods."
Kareem said he watched as rebels who controlled his neighborhood battled other factions and feels little sympathy for them.
He said he was injured trying to hide from the clashes, struck in the throat by shrapnel from mortar fire. Kareem's 14-year-old brother died from his wounds, he said.
While Kareem worries about what might become of the innocent civilians in Idlib, the scars on his neck serve as a stark and constant reminder of what he lost.
"The fighters who did bad things to the country should be held accountable," he said.
Across the country, some 7 million people have been driven from their homes and around 400,000 are believed to have been killed during the seven-year revolt.
The Syrian government denies targeting civilians or using chemical weapons in Douma and elsewhere.
Koubbieh, the corner store owner in Douma, hopes that a solution can be found that doesn't involve more fighting.
"I would like everybody in Idlib to put pressure on terrorist groups and accept reconciliation," he said.
Kelly Cobiella and Gabe Joselow reported from Douma, and F. Brinley Bruton from London.