MARAWI, Philippines — No one saw it coming. Not the beheadings, nor the airstrikes, nor the 700 dead, nor the ruins of a lakeside city.
Three months ago, no one believed that a few dozen local Islamists pledging allegiance to ISIS would lead to the capture of a city in predominantly Roman Catholic Philippines. Once with a population of some 250,000, Marawi is now a ghost town. Those who remain live in evacuation centers and scattered tents.
NBC News has spent three days in the city and witnessed scenes reminiscent of the sieges of Aleppo in Syria and Iraq's Mosul, but previously unknown in Southeast Asia. The ISIS fighters holding Marawi have been bombed for three months by Philippine forces guided by American spy planes.
Philippine officials were convinced that they would recapture the city within weeks when the pro-ISIS militants swept through Marawi on May 23.
The government declared martial law throughout the province of Mindanao. In an effort to dislodge the hardened fighters dug into the city, the military deployed 3,000 troops and began bombarding Marawi daily with ferocious airstrikes and multiple attacks by helicopter gunships.
The U.S. is considering a plan to conduct airstrikes on targets in the area, two defense officials said. The Philippine military is already helped in the air by American P-3 Orion spy planes and on the ground by U.S. special operations forces, but the army concedes that it is struggling.
"Effectively, the ISIS fighters are surrounded but it's a house-to-house battle — building-by-building, floor-by-floor," said Lt. Col. Christopher Tampus, commander of the Philippine army's 1st Infantry Battalion.
"The battle for Marawi is almost over, but the broader war on terror has entered a new phase"
Spokeswoman Capt. Jo-Ann Petinglay was blunter.
"Philippine soldiers are good in jungle fighting, not in urban operations," she said. "The [ISIS] snipers are very good — they do head shots all the time."
So far, 122 soldiers and 528 militants have been killed, according to the Philippine army.
Most of the ISIS fighters are thought to be local to Marawi, but U.S. experts said militants from neighboring Indonesia and Malaysia have swelled the ranks, as well as gunmen from as far away as Chechnya.
A former militant who spoke to NBC News but did not want to be identified, claimed to know more than 100 of the fighters from Marawi. He said they have been trained for two years in the urban warfare tactics of the Middle East and at least 12 of them having had direct bomb-making instruction in Saudi Arabia.
NBC News was not able to verify these claims.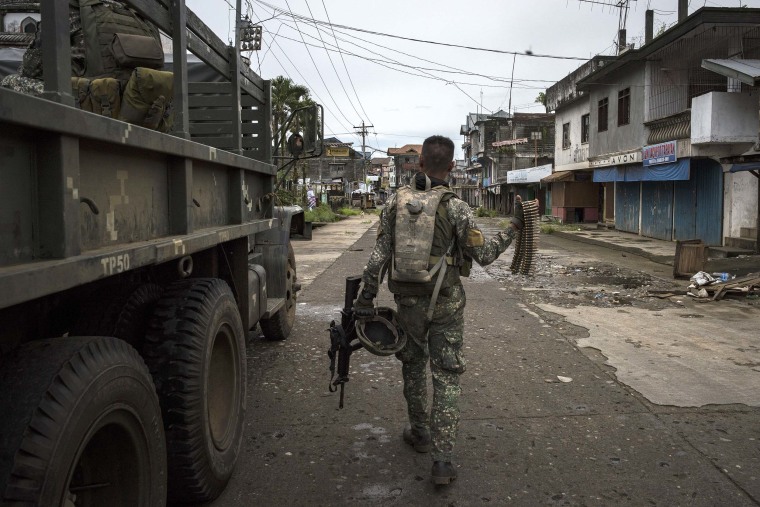 What is clear is that the battle over Marawi is already a propaganda victory for ISIS. The terror group has called on its supporters to travel to the Philippines to reinforce the ranks. It's also clear to counter-terrorism analysts in the Philippines like Rommel Banlaoi that ISIS leaders in Syria helped plan the operation.
"This is a group that had direct communications with Syria, receiving direct instructions from Syria for an operation directly ordered and financed from Syria," she said.
The real danger is that ISIS will use Marawi this as a springboard into Southeast Asia.
As it loses ground in Iraq and Syria, ISIS is promising a pivot to Asia, opening up new battlegrounds.
And it isn't just targeting the Philippines. Neighboring Indonesia, where Islamists killed scores of foreigners in a bombing in the tourist resort of Bali in 2005, has the world's largest Muslim population.
Malaysia, another neighbor, has battled Islamists in recent years.
Southeast Asia has more Muslims than the entire Middle East and with its high levels of poverty and youth unemployment, it is a perfect breeding ground for an extremist ideology that pins the blame on central governments, Western influence and lax morals.
"The battle for Marawi is almost over, but the broader war on terror has entered a new phase," said analyst Richard Heydarian. "The ISIS message is 'we're not just confined to one geographic area — we have tentacles all over the world.' This is not the end of ISIS; this is just a new chapter."
But the Philippine army is fighting an enemy which has taken civilian hostages so it is treading warily.
The U.S. is offering more help. Secretary of State Rex Tillerson met President Rodrigo Duterte and although the record of the Philippine leader appalls many in the U.S., they share a common enemy in ISIS. So Duterte will receive more American planes and drones.
Marawi is an embarrassment for Duterte, who boasted the takeover would be defeated within days. Nearly 80 days on it is still wreathed in smoke, pockmarked by bullets, strewn with rotting corpses and a vision of a new ISIS hell, thousands of miles from the Middle East.