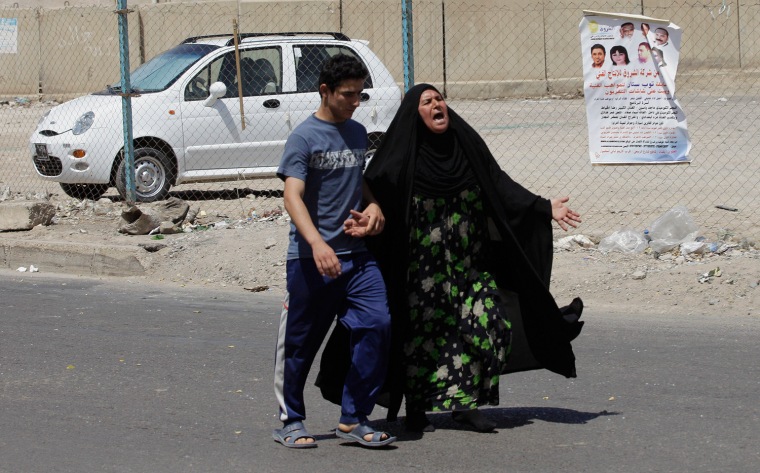 A major uptick in sectarian violence which has killed about 2,000 people since April 1 has sparked fears that Iraq is heading for a full-scale civil war that could draw in powerful regional rivals Iran and Saudi Arabia.
There are already signs that the current conflict is starting to merge with the bitter fighting in Syria, creating a war zone from the Mediterranean Sea to the Persian Gulf.
The United Nations envoy in Iraq, Martin Kobler, has issued repeated warnings in the last few weeks, pleading with Iraq's leaders to take urgent action.
"Small children are burned alive in cars. Worshippers are cut down outside their own mosques. This is beyond unacceptable," he said on May 17; "Systemic violence is ready to explode at any moment," was his message on May 30; and on June 16, he complained of "another round of deadly and remorseless acts of terrorism."
Speaking by phone from Baghdad on Thursday, Kobler said: "Sectarianism is on the rise in the region and this is something that has to be reversed."
"If this trend is not stopped, I'm very concerned. Civil war is always on the horizon. On the other side, I'm confident because everybody remembers the horrible times of 2006/07, when everybody fought with … everybody. Nobody wants those times back," he added.
According to the U.N., 1,045 people were killed in Iraq in May - making it the deadliest month since the sectarian slaughter of 2006 and 2007 – up from 712 in April. A separate preliminary tally from June 1-19 by the Iraq Body Count project recorded 333 civilian-only casualties.
Kobler called for competing factions to respect human rights -- saying that torture was widespread in Iraq -- support the rule of law and work together to create a stable state.
He stressed the fighting in Iraq was part of a wider conflict.
"The problems in Iraq cannot be separated from the problems in the region. The battlefields are merging," Kobler said.
"It's very important the international community concentrates on Syria, but without neglecting the region. It's here in Iraq where the fault line of the Sunni and Shia world is."
Ken Pollack, a former military analyst with the CIA who specialized on Iraq and Iran, said there was a real danger that a full-scale, Syria-style civil war would break out along that fault line in the next year.
"I think anyone would be a fool to bet against it," he said. "What's interesting to me is Iraq hasn't gone down that route already or isn't further along. By any definition, what's going on in Iraq is a civil war."
Pollack, now a senior fellow at the Brookings Institution's Saban Center for Middle East Policy, said the country might "go off a cliff" or suffer a "longer period of more gradual security decline."
"The one sure thing is Iraq is not going to get better," he added.
Hamit Dardagan, principal analyst with Iraq Body Count, which has been documenting civilian casualties since the war began, said the death toll was alarming, but still some way off the mass slaughter of 2006-07 when several thousand people died on a monthly basis.
He said the death toll had dropped dramatically from mid-2008 to a plateau of a few hundred a month.
"This year is the first time we've seen a really steady trend that's reversed the direction on 2008," Dardagan said. "It's been a steady, low-level war. It's just that recently … it's actually started to worsen in a way that's not just a single-month blip. It seems to be a continuous trend."
The Shiite-Sunni fault line extends from Iraq into Syria.
Iraq is led by a Shiite Muslim, Prime Minister Nouri al-Maliki, who is opposed by Sunni militants and the Sunni extremists of al Qaeda in Iraq among others.
In Syria, President Bashar Assad is a member of the Alawites, an off-shoot of Shiite Islam, and his forces are fighting against Sunni-dominated rebels.
Sunni fighters from Iraq have gone to help the opposition in Syria, while Iraqi Shiites have joined Lebanese Hezbollah militants to help Assad.
Pollack said that if the low-level war in Iraq returned to an all-out struggle for survival, Sunni Saudi Arabia and Shiite Iran would find themselves drawn deeper and deeper into the conflict, along with other neighbors such as Turkey and Jordan.
"There will be a very powerful set of dynamics at work, sucking them into exactly this kind of conflict," he said. "It will be hard for them to stay out."
They could find themselves picking over the bones of a failed state.
Former Iraqi Prime Minister Ayad Allawi warned this week that the sectarian conflict - exaggerated by "spillover" from Syria – could threaten the future of his homeland.
"If it continues and it looks like continuing … it will dismember the country," he told the BBC's HARDtalk program.
"We're not at the point of no return yet, but we will reach this if things continue as they are now," he added.
In an interview with Reuters this week, Iraq's Foreign Minister Hoshyar Zebari said his country was struggling to "maintain a neutral position" toward the war in Syria.
"But the pressures are enormous and for how long we can hold really is a matter of further developments in Syria," he said. "Iraq is in the most difficult position in this regional turmoil and the conflict in Syria has become a regional conflict by all standards."
Despite his protestations, Mahmoud Osman, an independent Kurdish lawmaker, said "everybody knows the Iraqi government is pro-Bashar" Assad.
But while he acknowledged the Sunni/Shia split in Iraq mirrored that in war-torn Syria, Osman retained some optimism.
"I think the Iraqi situation is a difficult one. If the conflicts between the political blocs are not solved possibly this will lead to more conflicts, but I don't think it will go to a full-scale civil war," he said.
"I cannot foresee exactly what will happen … [but] I think things could go in a good way," he said. "Iraq is a rich country, it has a lot of resources and it could be a lot more prosperous."
This vision of Iraq as a peaceful, prosperous democracy was shared by those involved in trying to create a new society after the fall of Saddam.
Paul Bremer, an American diplomat who ran the country from May 2003 to June 2004 when an interim Iraqi government was formed, said U.S. troops had left the country without finishing the job.
"The uptick of violence in Iraq I think was a foreseeable and indeed predicted outcome from the premature withdrawal of our troops in 2011 and that is really what's driving this," he said.
"I think we left too soon. I think leaving in 2011 was a mistake."
Bremer, who is now an artist in Maryland, said "you cannot exclude it will become more violent" in Iraq, with much dependent on events in Syria.
He said the idea of a full-scale civil war "goes too far," but added "I don't think you can exclude it."
If it does happen, a civil war would be the latest in a long tale of woe for the people of Iraq, stretching back to Saddam Hussein's tyranny and the brutal, eight-year Iran-Iraq War of the 1980s.
"Iraqis are a remarkably resilient people," Bremer said. "They take casualties on a scale that at least for Americans are unimaginable."
Related: