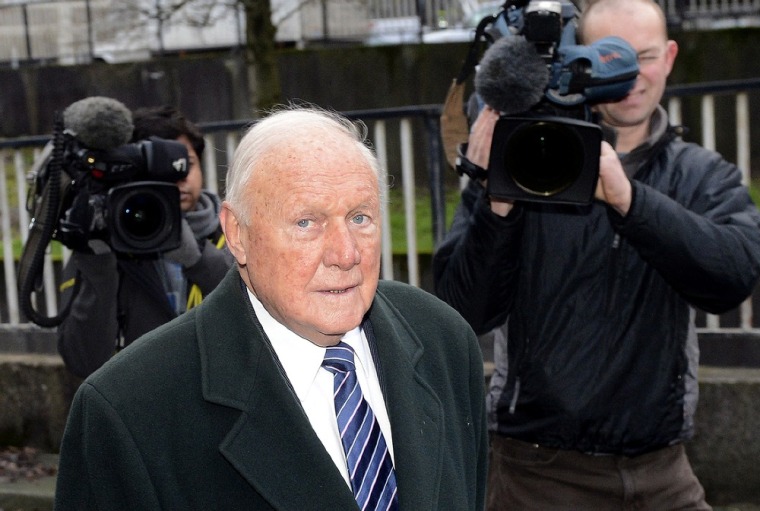 LONDON -- A BBC sports commentator and entertainer -- so popular that members of Britain's royal family once took part in his game show -- has been charged with raping a woman and indecently assaulting girls as young as nine, according to police.
Stuart Hall, 83, who was made an Officer of the Order of the British Empire by Queen Elizabeth in 2012 for services to broadcasting and charity, was arrested Tuesday morning after going to a police station voluntarily. He had covered soccer for BBC Radio 5 Live until recently.
The Associated Press noted the allegations had deepened "concerns about sex abuse by top BBC personalities decades ago."
In 1999, more than 50 British lawmakers signed a motion in parliament to congratulate Hall for 40 years in television with one, Tom Pendry, describing him as an "icon with the youth of today."
Hall, famed for laughing hysterically, has commentated on soccer matches since the 1950s. He is known for his off-the-wall approach to covering the sport.
He also hosted the comedy game show "It's a Knockout" in the 1970s and 1980s.
In 1987, four members of the U.K. royal family – Prince Andrew, Princess Anne, Prince Edward and Sarah, Duchess of York -- took part in a one-off version of the show for charity, which was hosted by Hall. Stars such as Meatloaf, John Travolta and John Cleese also participated.
In a statement Tuesday, Lancashire Constabulary said Hall, of Wilmslow in Cheshire, England, was alleged to have raped a 22-year-old woman in 1976.
"The indecent assault offences are alleged to have been committed between 1967 and 1986 and to involve 10 girls aged between 9 and 16 years," the statement said.
Hall was given bail Tuesday and is due to appear before a court in Preston on Feb. 7.
In December, police said Hall had been charged with three counts of indecent assault.
The charges against Hall come amid a string of claims that famous Britons committed sexual offenses, mostly during the 1960s and 1970s.
These came to light after it emerged that the late Jimmy Savile, who was one of Britain's top entertainers for decades, was a prolific sex offender.
Earlier this month, police released a report cataloging more than 50 years of rapes and indecent assaults, saying he had committed at least 214 sex crimes against victims as young as 8.
Like Hall, Savile was also honored by the British queen, receiving a knighthood.
A number of other high-profile figures have been questioned by police, including former glam rock singer Gary Glitter and comedian Freddie Starr, who both deny any wrongdoing.
Related:
BBC legend Jimmy Savile committed at least 214 sex crimes, police say
'A steep fall' for BBC as child sex abuse scandal rocks the UK