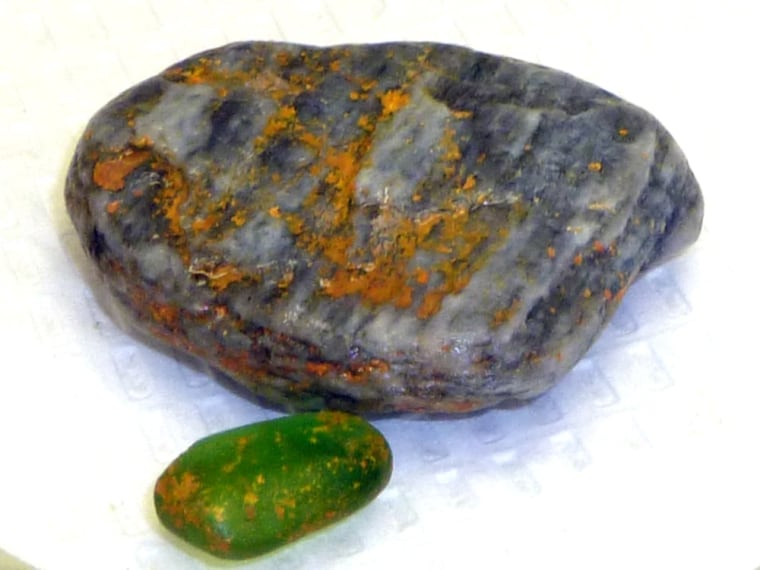 Updated at 2:40 p.m. ET: SAN CLEMENTE, Calif. -- Rocks that a woman was carrying in her cargo shorts caught fire after a trip to a California beach, leaving her with severe burns,  and authorities are investigating whether phosphorous on the stones is to blame.
Authorities say the woman was carrying stones that her children picked up during a family trip to Trestles Beach at San Onofre State Beach on Saturday.
As the 43-year-old woman stood in the kitchen about an hour after returning her San Clemente home, her shorts caught fire, the Orange County Register reported. Here's the Register's description of the panicked scene, citing Orange County Fire Authority Capt. Marc Stone:
The woman tried to stop, drop and roll but was unsuccessful in getting the flames out, Stone said.
Her husband also tried to help and got second-degree burns when he tried to pull the shorts off, Stone said. The rocks, described as small, the size of a hamburger patty, smooth and orange and green in color, fell from the shorts onto the floor and continued to burn the wood floor and fill the house with smoke.
The man got the shorts off his wife and was hosing her down outside when firefighters arrived. The woman suffered second- and third-degree burns on her right leg from her thigh to her knee and on her right arm, the Register report said. The husband had second-degree burns on his arm.
"I talked to the paramedic who treated her, and in his 27 years in responding to calls near the beach, he's never seen this," Stone told the Register. "The rocks were still smoking when firefighters took them to the hospital." 
The rocks were given to the Orange County Health Care Agency for testing, Stone told NBCLosAngeles.com.
Denise Fennessey, assistant director of environmental health at the agency, told the AP that initial tests indicated that two rocks had phosphorous on them but they'll be sent to a state lab for verification.
Watch the most-viewed videos on msnbc.com
San Onofre State Beach is in San Diego County near Camp Pendleton, a Marine base. A military spokesman told the AP that the base is trying to determine whether military material might have contaminated the area.
"There is phosphorous that naturally occurs on the sand at the beach, but no one has ever heard of pants catching fire," Stone told the Register.
This article includes reporting by NBCLosAngeles.com and msnbc.com staff.
More content from msnbc.com and NBC News: