It's the news fans of the Fab Four thought they would never see: The Beatles will release a new song this year featuring vocals from John Lennon, with a little help from artificial intelligence, Paul McCartney said Tuesday.
Speaking to BBC Radio 4, the 80-year-old McCartney confirmed that the band — whose cultural influence may have been unmatched in the 20th century — will release "the final Beatles record" this year, having used cutting-edge technology to extract Lennon's voice from an old demo recording.
"We just finished it up and it'll be released this year," he said.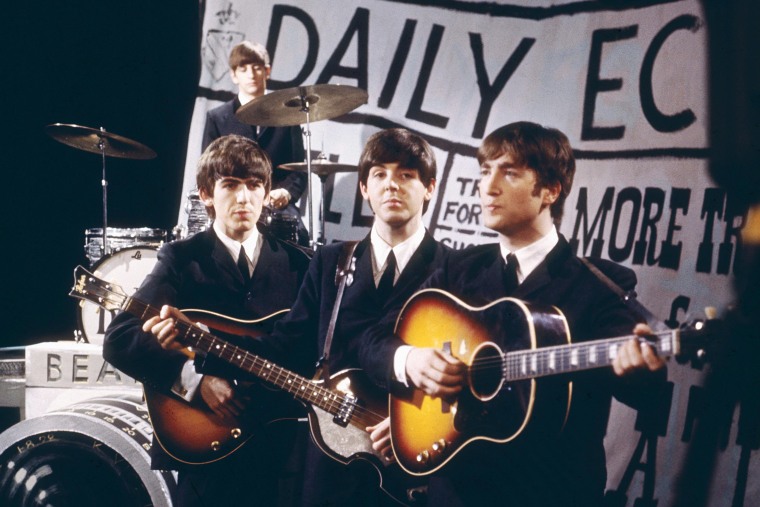 The so-far unnamed song will be the band's first original material since the release of "Free as a Bird" and "Real Love" in 1995 and 1996, both of which were painstakingly constructed around crackly demos recorded at home in New York City by Lennon in the late 1970s.
Ringo Starr and George Harrison collaborated with McCartney and producer Jeff Lynne on both songs, with Lennon's voice reduced to a whispery echo due to the deterioration of the tape and the low quality of the recording, which was never intended to be released.
Both songs appeared on the band's career-spanning "Anthology" compilations and were considered to be the final original material from a band that — with an estimated 600 million album sales — is thought to be the bestselling musical act of all time.
But now, movie director Peter Jackson has used cutting-edge tools to restore the aging audio track and make what could be a much-improved sound.
He pioneered audio-visual AI technology to turn faded, distorted film footage into the epic eight-hour "Get Back" TV series following the making of the "Let It Be" album and the band's legendary final performance on the top of Apple Corps headquarters in London's West End in January 1969.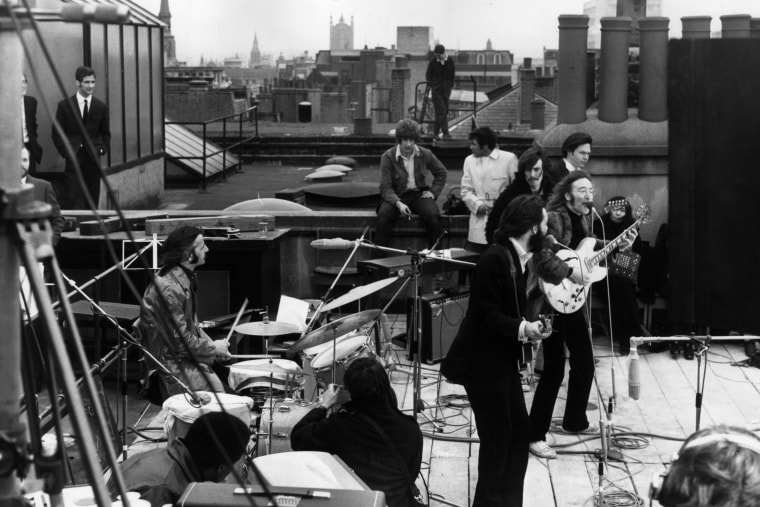 AI is one of the most controversial topics in the music industry. AI tools have been used to re-create or expand on the work of many bands, including the Beatles, and a song featuring the digitally created voices of The Weeknd and Drake was taken off streaming services in April.
"All that is kind of scary but also exciting because it's the future," McCartney said of the way AI is changing music.
"And [Jackson] he was able to extricate John's voice from a ropey little cassette that had John's voice and a piano. He could separate them with AI — he could tell the machine, 'That's the voice, that's the guitar, lose the guitar.' And he did that, so it has great uses.
"So when we came to make what will be the last Beatles record, it was a demo John had, that we worked on and just finished it up. It'll be released this year. We were able to take John's voice and get it pure through this AI so then we could mix the record as you would normally do."
While the song name has yet to be confirmed, the band's many obsessive fans expect it to be "Now and Then," a Lennon composition made around the same time as his "Free as a Bird" and "Real Love" demos and likely to have been on a cassette Lennon's widow, Yoko Ono, sent McCartney in 1994.
McCartney has said that Harrison disliked "Now and Then," so it wasn't included in the "Anthology" project despite being considered. Fans have claimed it has since appeared on bootleg CDs, although this has not been confirmed.
"The song had a chorus but is almost totally lacking in verses. We did the backing track . . . a rough go that we didn't really finish," Jeff Lynne said in 1995, according to a 2005 Washington Post article.
McCartney told Q magazine in 2006: "There was one more that we didn't do, which was a pity. It didn't have a very good title, it needed a bit of reworking, but it had a beautiful verse and it had John singing it. But George didn't wanna do it."
It is unclear whether the song will feature any contribution from Harrison, who died in 2001 but may have worked on the song before it was abandoned in 1995.
The song has preyed on McCartney's mind. "That one's still lingering around," he told a documentary on Lynne in 2012, the BBC reported. "So I'm going to nick in with Jeff and do it. Finish it, one of these days."
Jackson's pioneering technology allowed McCartney to "duet" with Lennon live at Glastonbury music festival in June 2022, singing along to an isolated vocal track from 1969.
McCartney remains busy in his ninth decade and is promoting an exhibition of candid photographs of the Beatles in their 1963-64 heyday, currently on show at the National Portrait Gallery in London.
The photos were considered lost or stolen but were recently rediscovered.
CORRECTION (June 13, 2023, 2:39 p.m. ET): A previous version of this article misattributed a quote. It was producer and musician Jeff Lynne who described working on the song with the Beatles in the 1990s, not Paul McCartney.