Monks who had been brewing beer to raise funds to rebuild a historic earthquake-damaged basilica have suffered a huge setback after the ancient building was destroyed by another temblor.
The monks of the Monastery of Saint Benedict in Norcia in central Italy announced via Twitter that the strongest earthquake to strike the country in 36 years had "flattened" the Basilica of St. Benedict on Sunday.
The monks were safe, according to a statement on the monastery's website.
"The entire monastic community is together again at our mountain monastery which overlooks a now fractured Norcia," a statement signed by Fr. Benedict said. "Messages are pouring in from all over the world, and we are grateful for your prayers for us and for the people affected."
Three American monks took over the Norcia monastery in 2000 and helped build a brewing business to raise funds to repair and restore the ancient facility. The monks were not available for comment on Monday.
However, Fr. Benedict's statement added that "we are doing everything possible to help to our suffering neighbors. Please continue to pray Norcia."
Although it was bigger than an Aug. 24 earthquake that killed almost 300 people, no-one died Sunday.
Nuns rushed out of their church in Norcia as the clock tower appeared about to crumble In Rieti, hospital patients fled into the street and and huddled outside under blankets.
The U.S. Geological Survey initially measured the quake at 7.1 but revised it to 6.6.
The country's civil protection agency said the epicenter was between Macerata and Perugia, close to the towns of Castelsantangelo, Norcia and Preci, which were most affected by Wednesday's quakes.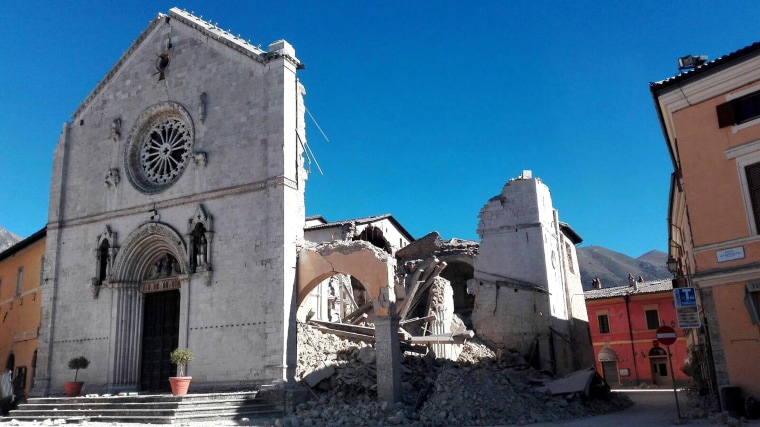 The quake hit the same central regions that have been rocked by repeated tremors over the past two months.
Weakened by repeated powerful jolts in recent weeks, many of Norcia's churches, monasteries and chapels were wrecked.