BEIJING — A day after White House Press Secretary Sean Spicer vowed that the United States would stand up to China's military expansion in the South China Sea, officials here are firing back.
"There might be a difference" of opinion regarding who has sovereignty over the islands in the South China Sea, "but that's not for the United States" to get involved in, Lu Kang, a senior official with the Chinese foreign ministry, told NBC News in an exclusive interview on Tuesday.
In other words, he was suggesting the U.S. should butt out of China's relationship with its neighbors.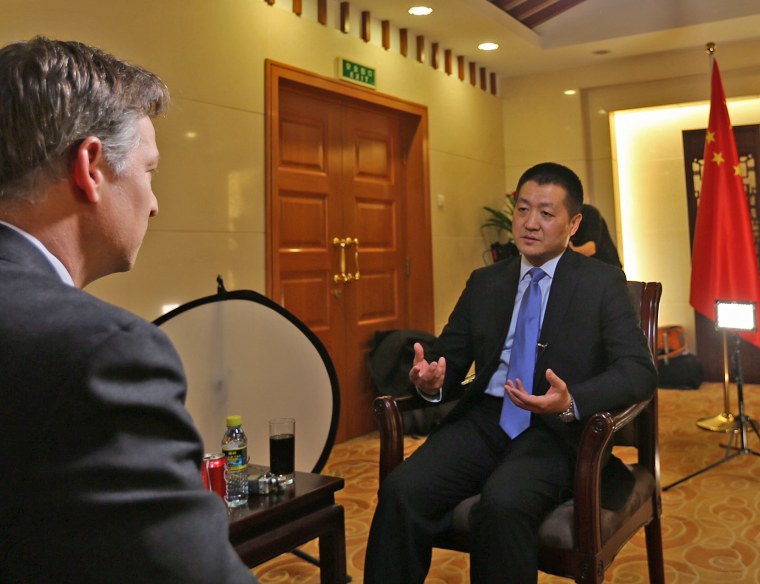 But the new Trump administration has made it clear it has no intention of doing so.
Rex Tillerson, Trump's pick for secretary of state who is widely expected to receive full Senate backing, said during his confirmation hearing that the U.S. would block China's access to the disputed Asian islands.
"We're going to have to send China a clear signal that, first, the island-building stops and, second, your access to those islands also is not going to be allowed," Tillerson said.
Chinese newspapers responded furiously.
Watch the full report at 6:30 p.m. Tuesday on the NBC Nightly News with Lester Holt
"China has enough determination and strength to make sure that his rabble rousing will not succeed. Unless Washington plans to wage a large-scale war in the South China Sea, any other approaches to prevent Chinese access to the islands will be foolish," wrote the state-run Global Times.
Related: Trump Departs From U.S.-China Policy, Speaks With Taiwan's President
China is carrying out construction to fortify islands in the South China Sea in order to expand military bases there. China sees this expansion as its legal right and a vital way to protect one of the country's main shipping lanes. U.S. officials have described the island building project as an attempt by China to assert military dominance over the region.
"That's not international territory, that's Chinese territory,"Lu said, insisting that China has every right to build whatever it wants on the islands.
As the Trump administration moves quickly to make good on its campaign promises, China appears to be putting down markers and drawing foreign policy red lines not to be crossed.
China had previously avoided responding to many of Trump's campaign speeches and tweets in which he repeatedly accused China of predatory business practices toward the United States. Trump told a rally last May, "We can't continue to allow China to rape our country,"
But the government here clearly now wants to respond, and to do so with carefully crafted diplomatic language. Lu, who is the spokesperson and director-general for the Ministry of Foreign Affairs' department of information, spoke to NBC News at the foreign ministry headquarters in central Beijing and agreed to answer questions, in English, on a wide range of issues. Ordinarily, Chinese government officials refrain from granting such interviews to American reporters, preferring instead to read carefully prepared statements in Chinese.
Related: Beijing Says One China Policy 'Non-Negotiable' After Trump Comments
Lu was especially emphatic about President Trump's position on Taiwan.
"This issue touches upon China's core interests. By no means is this something that can be negotiated, or [used] as a bargaining chip," Lu said.
Before his inauguration, Trump broke with years of American protocol by receiving a phone call from the Taiwanese leader. For the Chinese, any recognition of Taiwanese independence is considered a break of its so-called "One China Policy" and is taken as a diplomatic affront.
Ever since president Nixon opened up China, the U.S. has avoided revisiting this delicate issue. But Trump has hinted that America's stance might be renegotiated, telling the Wall Street Journal in an interview published January 13 that "everything is under negotiation, including One China."
Not a chance, Lu told NBC News, echoing a statement he issued earlier this month in response to Trump's declaration. "That's not [up] for negotiation," he said.