This week, Beijing will become the first city in the world to have hosted both the Summer and Winter Olympics.  
The 2008 Summer Games were a spectacular celebration, a sort of coming-out party for communist China, and a chance for the rapidly rising powerhouse to woo the world. Thousands of regular citizens enrolled in state-run English and etiquette classes in an effort to make the crowds converging on China feel welcome. Then-President George W. Bush joined the crowds in Beijing to support Team USA. 
Almost 14 years later, the contrast is as stark as the difference between winter and summer. 
The country hosting the 2022 Winter Games is no longer rising — China has risen, confident in its place in the world as an economic and political power. Meanwhile, intense rivalry and distrust, not mutual curiosity, define relations between China and the United States. 
U.S. government officials won't even be attending the Beijing Olympics, after announcing a diplomatic boycott over China's human rights record. The Winter Games are also hampered by the pandemic caused by the coronavirus, which first appeared in the Chinese city of Wuhan in 2019.  Athletes and other personnel will be confined to a "closed-loop" bubble and subject to other Covid restrictions that are even stricter than those at the Tokyo Olympics last summer.
Here's what has changed from 2008 to 2022.
China's self-image
China is far richer and more powerful than it was at the time of the 2008 Games. Its advance was accelerated by the global financial crisis, which began before the Beijing Olympics and worsened afterward. 
Powered by a massive stimulus package, China weathered the economic turbulence better than many developed economies. Its gross domestic product grew from almost $5 trillion in 2008 to $18 trillion in 2021, making China the world's second-largest economy after the U.S. 
The country has evolved from being primarily a global manufacturing hub to boasting some of the world's top tech companies and financial centers. Beijing is immensely proud of its economic achievements, as well as its authoritarian one-party political system, which it sees as more resilient than Western democracy. 
Since 2008, China has also tripled military spending to more than $200 billion in 2021, compared with $700 billion in the U.S. Beijing launched its first aircraft carrier in 2012, and continues to develop an ambitious space program.
"The Chinese people have never been as confident about their future as they are today," said Victor Gao, a chair professor at Soochow University in China, who was an interpreter for paramount leader Deng Xiaoping. "They do believe that China's peaceful rise is inevitable."
A different style of leadership
President Xi Jinping is on track to become the most powerful Chinese leader since Mao Zedong, the founding father of the People's Republic of China, and with him at the helm the nation has grown more assertive and ambitious. A constitutional change in 2018 and a "historical resolution" approved by the ruling Communist Party in November have paved the way for Xi, 68, to secure an unprecedented third term in office at a party congress later this year. 
"We will never allow any foreign force to bully, oppress or subjugate us. Anyone who would attempt to do so will find themselves on a collision course with a great wall of steel forged by over 1.4 billion Chinese people," he said in a speech last summer marking the party's centennial.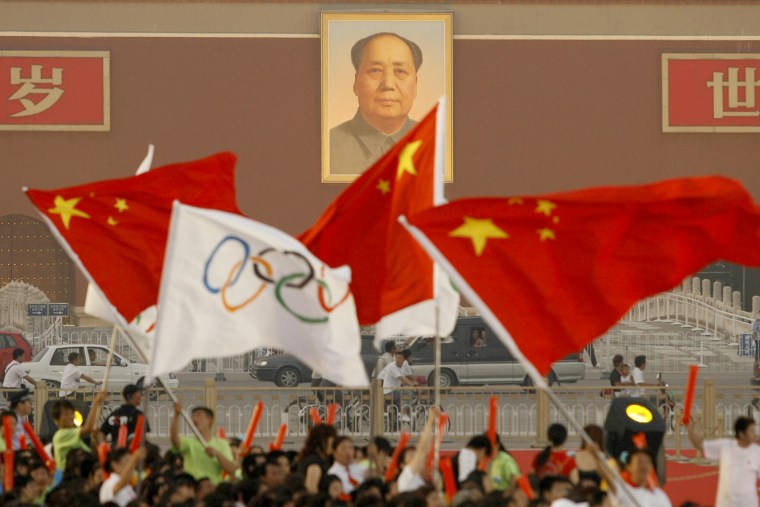 Xi's forcefulness contrasts with his more emollient predecessor Hu Jintao, who stepped down as president in 2013. 
Under Hu, China's government worked to be seen as a stakeholder in the U.S.-led global system, according to Zhao Ma, associate professor of modern Chinese history and culture at Washington University in St. Louis. But today's China rejects the liberal democratic order and takes a more skeptical view of the free market system as espoused by the U.S., he said. 
Shaping Beijing's worldview is the belief that the U.S. is doing whatever it can to contain the country's rise and weaken the Communist Party's rule, he added.  
The global context
The world feels very differently about China than it did 14 years ago.
Despite concerns about China's human rights record, the 2008 Olympics were greeted with an immense amount of global goodwill — and an intense interest in China's lucrative consumer market. There were sunny predictions that hosting the Olympics would bring China further into the international fold and perhaps even propel it on the path to democracy. 
But China did not turn out the way the Western world in particular expected. Over the years, global attitudes toward China have been hardened by its growing authoritarianism at home, its aggressive "wolf warrior" diplomacy overseas, and the pandemic. 
Its rights record has also caused friction with the West. In December, the White House announced the diplomatic boycott of the Olympics, citing human rights abuses including a campaign of repression against Uyghurs, a mostly Muslim ethnic minority in the western Chinese region of Xinjiang, that the U.S. government and others have described as genocide.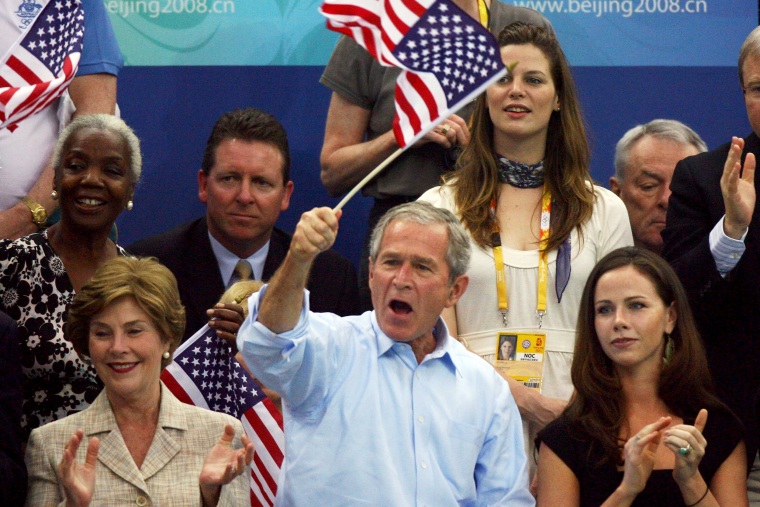 A recent report by Human Rights Watch detailed further abuses involving the autonomous region of Tibet, human rights defenders, religious freedom, "hostage diplomacy," mass surveillance and censorship. 
Last year, the Pew Research Center said unfavorable views of China were at or near historic highs in most of the 17 advanced economies it surveyed. Recognizing this, China is increasingly focusing its efforts and investment in the developing world, where it is seen as an alternative model of governance.
That shift is apparent in China's response to the diplomatic boycott, which has been joined by Australia, Britain and Canada. In a call with Secretary of State Antony Blinken on Jan. 27, Chinese Foreign Minister Wang Yi warned the U.S. to stop "interfering" with the Winter Olympics.
"Pressure will only make the Chinese people more united, and confrontation will not stop China from becoming stronger," he said, according to a statement from the Foreign Ministry.
The boycott is only one source of tension as the U.S. adjusts to China's changing role in the world.
"Chinese ambitious and expansionist foreign policy challenges the U.S. hegemony in the current international order," said Jung Woo Lee, who studies sport policy at the University of Edinburgh in Scotland. "The U.S. wants to preserve the existing power balance in world politics."
NBC News has contacted the Chinese Embassy in London for comment. In the past, China has said countries should not interfere in the domestic affairs of others and accused the U.S. of working to undermine its growth and power. 
Though the two countries' interests converge in some areas like climate change, the Biden administration has aggravated Beijing by keeping Trump-era tariffs in place, rejecting China's maritime claims in the South China Sea, and showing strong support for Taiwan, a self-governing democracy that Beijing claims as its territory.
"Beijing 2022 can turn out to be a theater where the clash between the U.S. and Chinese interests plays out," Lee said. 
The government's tightening grip 
When Beijing was awarded the 2008 Games, rights activists also raised concerns and called for a boycott. Officials from both China and the International Olympic Committee countered that hosting the Games could actually advance human rights in the country.  
As a show of good faith, Chinese officials loosened restrictions on foreign journalists and set up Olympic protest zones, though the latter were never used.
This time, no one is making any claims that the Olympics will benefit human rights; when Beijing was awarded the Winter Games in 2015, IOC President Thomas Bach simply described it as a "safe choice."
Rather than improving, China's rights record has worsened significantly since 2008, said Yaqiu Wang, a senior China researcher at Human Rights Watch. Most prominent is the internment starting in 2017 of an estimated 1 million Uyghurs and other ethnic and religious minorities at government "re-education" camps, where detainees have reported cruel and degrading treatment, including torture.
Chinese authorities maintain that their actions are aimed at stamping out terrorism and deny allegations of mistreatment.
Room for dissent is also shrinking rapidly in Hong Kong, particularly since Beijing imposed a national security law in 2020 after months of pro-democracy protests in the Chinese territory. Civil society groups have disbanded, newspapers have shut down and most of Hong Kong's democratic politicians are in jail, have resigned from politics or have moved overseas. 
Chinese authorities have said the security law was necessary to restore stability after the protests. 
Meanwhile, foreign journalists face "unprecedented" obstacles in covering mainland China, according to a new report from the Foreign Correspondents' Club of China. In the last two years, a number of American and other foreign journalists have been expelled.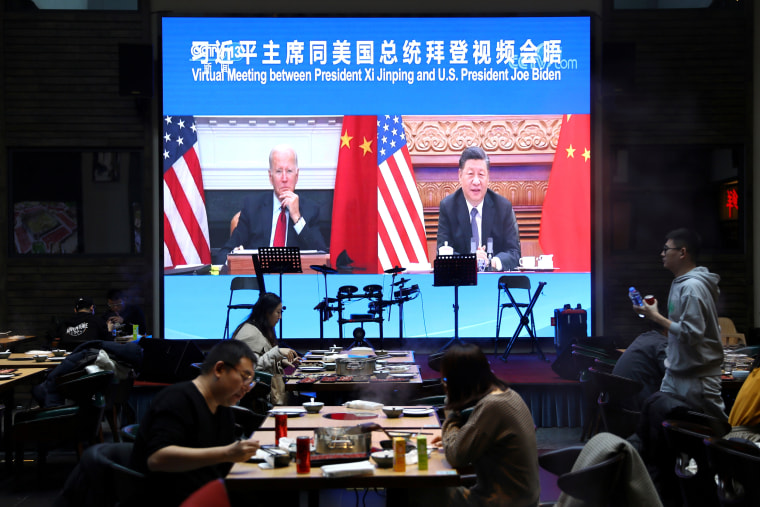 From Hollywood to the NBA to corporate giants, there is growing reluctance to comment on Chinese rights issues, even indirectly, for fear of the business impact. The Women's Tennis Association appeared to buck the trend last year with its persistent questions about Peng Shuai, a Chinese tennis star and former Olympian who disappeared for weeks after accusing a former top government official of sexual assault. (Peng later appeared to retract the allegation, in a video that was greeted with skepticism by supporters.)
Athletes have received conflicting advice from rights activists as to what, if anything, they should say while at the Olympics. Yang Shu, a member of the Beijing organizing committee, warned in January that they could face "punishment" over behavior viewed as "against the Olympic spirit." 
The IOC has said athletes are free to express their opinions on social media and at news conferences. However, Article 50 of the Olympic Charter says that "no kind of demonstration or political, religious or racial propaganda is permitted in any Olympic sites, venues or other areas."
IOC member Dick Pound also told TIME magazine that athletes must observe local law. 
"The Olympic Games are not about politics," Bach wrote in an Op-Ed for The Guardian newspaper in 2020. "The International Olympic Committee, as a civil non-governmental organization, is strictly politically neutral at all times."
NBCUniversal, NBC News' parent company, has paid $7.65 billion to the IOC for the rights to broadcast the Olympics from 2021 until 2032.
A transformed capital
Though the Winter Olympics are always smaller than the summer edition, the mood in Beijing ahead of the 2022 Games is still muted compared with the excitement in 2008.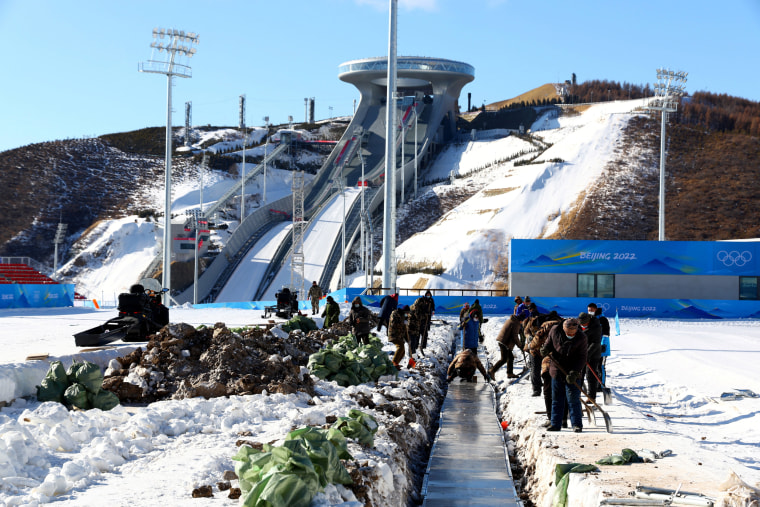 While the Olympics tended to dominate discussions in the lead-up to 2008, this year they are more likely to come up in the context of how they will impact Covid restrictions in Beijing, which is trying to stamp out a coronavirus outbreak as part of its "zero-Covid" strategy. Many people were concerned, for example, that the Games might disrupt their plans for the Lunar New Year, China's most important holiday, which fell this week. 
Enthusiasm has been dampened by the fact that, unlike the Olympics in 2008, ordinary Chinese won't be able to attend. In addition to barring international spectators, Olympic organizers have said they will not be selling tickets to the general public in China, instead giving them to "selected" spectators who must abide by strict anti-Covid measures. 
Beijing itself is also a dramatically different city than it was in 2008. The number of subway lines, for example, has tripled to more than two dozen, making it the largest metro network in the world.
Zhu Yugang, a project manager at an engineering firm, said the city had seen great improvements in air pollution, traffic, cleanliness and green spaces. 
"In the past, there were few leisure places like this, only in the center of the city," he said. "Now you can see them everywhere."
Though Beijing has become more sophisticated in many ways, critics say it has lost some of its unique character in the process. The city's famous hutongs, or residential alleyways — dozens of which were demolished as part of construction for the 2008 Games — have been further torn down or remade. Live music venues once popular with local rock bands have closed, and the grungy bars of the Sanlitun nightlife district have been razed in favor of more polished ones. 
But little of that will be seen by the thousands of foreign athletes, journalists and other personnel arriving in Beijing, as they experience the Winter Olympics without really experiencing the city hosting it.