A huge rescue operation and an international aid effort got underway Wednesday, less than 24 hours after much of Beirut was buried by rubble and choked by smoke in a colossal explosion Tuesday afternoon.
Lebanese health minister Hamad Hasan said 135 people have been killed and 5,000 injured in the explosion. Dozens of people are still missing.
Those figures look set to rise with hospitals overwhelmed and victims still trapped underneath debris.
"There is no word to describe the horror of the catastrophe that occurred in Beirut yesterday," Lebanese President Michel Aoun said during an emergency cabinet meeting on Wednesday, the Lebanese News Agency reported.
"I extend my heart and feelings to the families...and I ask God to heal the wounded, heal the broken hearts, and provide us with all the energy and determination to stand together to confront the painful burns that have scarred the face of Beirut."
Aoun thanked emergency workers and officials and vowed to conduct a full investigation into the cause of the deadly blast, which is still not clear.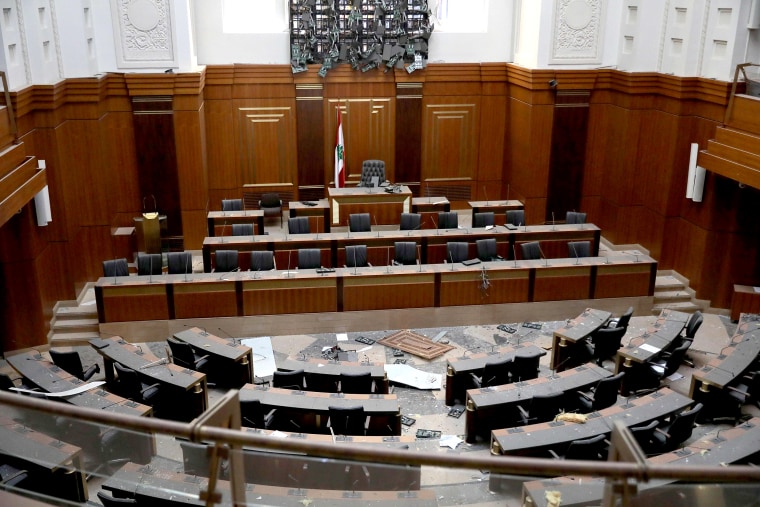 The governor of Beirut, Marwan Abboud, also said on Wednesday the cost of the damage to the capital, already under economic pressure, could be between $3 billion and $5 billion. The United Nations Children's Fund said that more than 300,000 people had been displaced by the disaster.
The explosion occurred at a port warehouse near the city center where an estimated 2,750 tons of ammonium nitrate were being stored, Prime Minister Hassan Diab said. The blast had the same explosive power as 1,100 tons of TNT and registered a 3.3 magnitude earthquake, according to the United States Geological Survey.
Local broadcaster LBCI reported that the Lebanese cabinet announced a two-week state of emergency in Beirut and put all port officials under house arrest until they determine who was responsible.
"Those responsible will be held accountable whomever and wherever he is," interior minister Mohammed Fahmi told reporters Wednesday, adding that the investigation will take a maximum of five days.
Many in Lebanon's capital saw their apartments destroyed and family members injured as the city was brought to its knees, with daylight revealing scenes of destruction not witnessed in the country since its devastating civil war, which ended in 1990.
Rescue workers were digging in the rubble, as plumes of smoke still rose above the city.
"This is a catastrophe for Beirut and Lebanon," Beirut Mayor Jamal Itani told Reuters while inspecting damage.
Lebanese army command asked city residents to evacuate areas surrounding the site of the explosion, where rescue operations were continuing.
Download the NBC News app for breaking news and politics
Hasan, the health minister, said they are looking into putting field hospitals in place to treat the wounded quickly.
The deadly blast came as the Middle Eastern country was dealing with an unprecedented economic crisis that has seen its currency lose 80 percent of its value and unemployment spiral, with fed-up citizens frequently taking to the streets in protests this year. The country is also grappling with the effects of the coronavirus pandemic.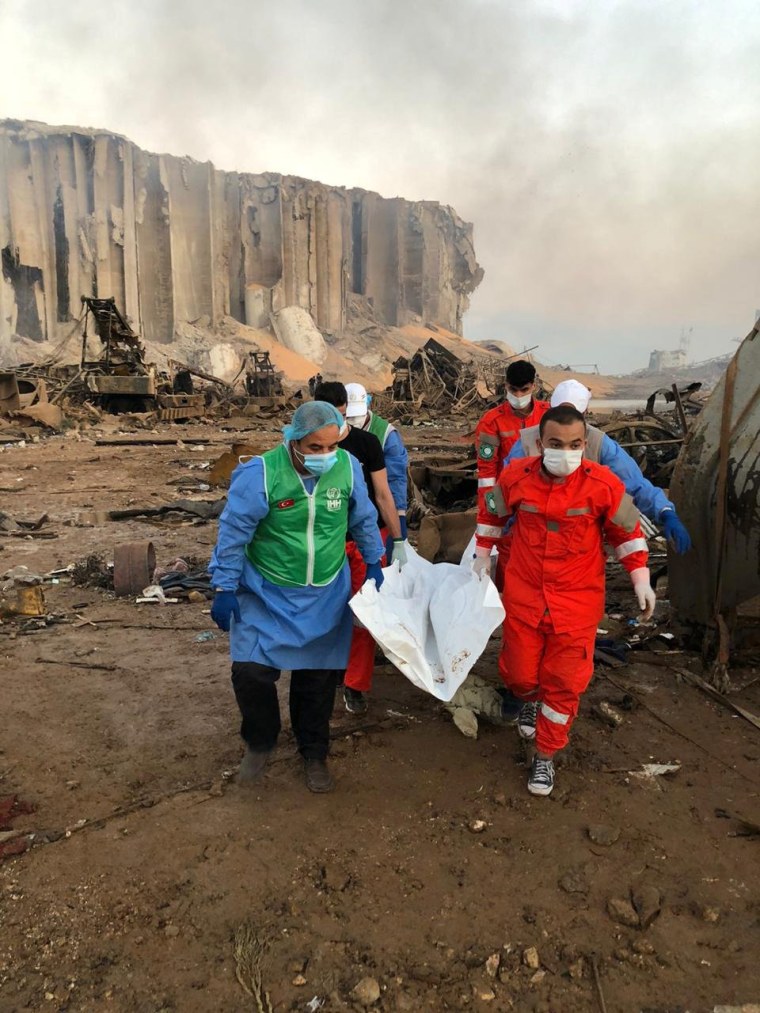 Messages of support poured in from world leaders, heads of state and religious leaders, including the UK's Queen Elizabeth II and the Pope.
Reflecting both the gravity of the disaster and France's special relationship with its former protectorate, French President Emmanuel Macron said he will travel to Beirut on Thursday to offer a message of "fraternity and solidarity from the French." He also said France was sending emergency assistance.
At least 21 French nationals were wounded in the explosion, the Paris prosecutor's office said in a statement.
Egypt, Iran, Greece, Germany and Russia were among dozens of countries that have offered humanitarian and medical aid.
"We are witnessing a real catastrophe," Prime Minister Diab told reporters, appealing for international aid and promising full accountability.
"This is the time for work," he added on Wednesday, urging government ministers to strive for the country.
Diab said it was "unacceptable" that the ammonium nitrate had been in a warehouse for six years without "preventive measures" to protect it. The chemical compound, which is commercially available, is often used in fertilizers and explosives.
It is still not clear what exactly ignited the shipment, but the blast could be felt and heard throughout much of the city and as far as the nearby island of Cyprus — about 145 miles away.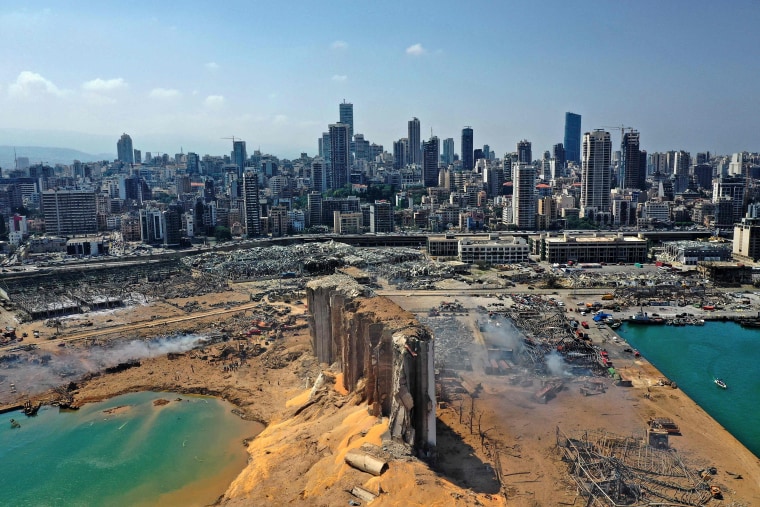 Images and videos were being feverishly circulated on social media with #PrayforLebanon trending on Wednesday, while the front pages of Lebanese newspapers depicted striking scenes of chaos and destruction.
At a White House briefing on Tuesday, President Donald Trump said the explosion looked "like a terrible attack," although he offered no evidence and said later that the conclusion was based on the presumptions of U.S. generals.
Speaking to the Aspen Security Forum about the blast, U.S. Secretary of Defense Mark Esper said Wednesday that "most believe it was an accident as reported, and beyond that [I] have nothing to report on that. It's obviously a tragedy."
Esper's remarks, made via Zoom, were the Pentagon's first official comments on the incident.
Asked about Esper's comments during a coronavirus task force briefing Wednesday, Trump said he'd heard about the explosion "both ways."
"It could have been an accident and it could have also been something that was very offensive and I wouldn't be very happy with that," he said.
A U.S. State Department spokesperson said Wednesday it was aware of at least one U.S. citizen killed, and several more injured, in the explosion.
"We offer our sincerest condolences to their loved ones and are working to provide the affected U.S. citizens and their families all possible consular assistance," the spokesperson said. "We are working closely with local authorities to determine if any additional U.S. citizens were affected."
Secretary of State Mike Pompeo also spoke with Prime Minister Diab on Wednesday, expressing his condolences and offering assistance with the aftermath.
The U.S. embassy in Beirut warned residents about reports of toxic gases released by the blast, urging people to stay indoors and wear masks.
Mustafa Kassem reported from Beirut, Charlene Gubash from Cairo, Adela Suliman and Yuliya Talmazan from London, and Tim Stelloh from California. Reuters contributed to this report.