Belgium launched a nationwide hunt Sunday for a lone gunman who walked into the Jewish Museum, unpacked a Kalashnikov rifle, killed three people with a short burst of fire, packed up and briskly walked away.
Saturday's attack led Belgian officials to immediately raise anti-terror measures and increase the protection for Jewish sites for what was widely seen as an anti-Semitic attack. It happened on the eve of Belgium's nationwide election and as voters across the continent picked a new European Parliament.
Video of the attack showed an athletic man with cap walking determinedly into the small Jewish Museum in the swank Sablon area, clearly bent on quickly carrying out a pre-planned attack. The whole assault took a minute at most.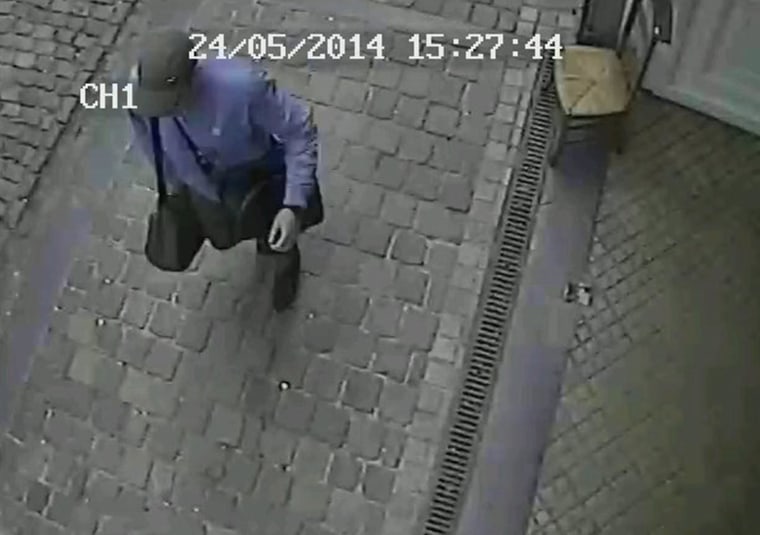 No one has claimed responsibility for the killings. Leaders from Belgium and France, Pope Francis, Israeli leader Benjamin Netanyahu and others condemned the cold-blooded attack.
"We call on the whole population to help identify this person," deputy prosecutor Ine Van Wymersch said Sunday before three separate videos and still photos of the attack were posted on the federal police web site. None have a clear view of the man's face.
She said the gunman who killed an Israeli tourist couple, a French woman and a Belgian man "probably acted alone, was armed and well prepared."
A fuzzy photo from inside the Jewish Museum showed the man standing with his legs apart and the Kalashnikov held in front of him during the spree.
Police detained one suspect late Saturday but he was released and is now considered a witness.
Van Wymersch said "all options are still open" regarding a motive for the shooting but the government says it has the hallmarks of an anti-Semitic attack.
On the heels of the Brussels attack, two Jewish men were attacked as they left a synagogue in the Paris area late Saturday. One of them was severely injured after being struck in the eye with brass knuckles. Interior Minister Bernard Caseneuve ordered police around France to increase security at Jewish houses of worship and other Jewish establishments.
Israeli Prime Minister Benjamin Netanyahu blamed the shooting on European incitement against Israel and criticized what he called the continent's "weak condemnation" of anti-Semitic acts.
"There are those in Europe that are quick to condemn every building of an apartment in Jerusalem, but do not rush to condemn, or condemn with weak condemnations, the murder of Jews here or in Europe itself," Netanyahu said at the opening of his weekly Cabinet meeting.
Belgian Prime Minister Elio Di Rupo swiftly condemned the attack and said the nation stands united with its Jewish community of 40,000. He also called Netanyahu on Sunday "to express the deep solidarity of Belgium with the Israeli population."
Afterward, Netanyahu was quoted as saying that Di Rupo was the "only European leader who called me about this matter."
At the airport in Tel Aviv, Pope Francis deplored Saturday's deadly shooting as a "criminal act of anti-Semitic hatred."
The European Jewish Congress President Moshe Kantor was meeting Di Rupo on Sunday.
"Attacks on Jewish targets in Europe do not exist in a vacuum, but are part and parcel of an overall climate of hate and incitement against Jewish communities," Kantor said.
— The Associated Press