An Iraqi refugee and his Belgian teacher are dismayed to have been given a French lesson book with references to bomb throwers and jails, suggesting that migrants might be extremists.
Raad Al Azzawi, 38, has been taking French lessons at a school in a Brussels suburb since September. He was given the book to learn and practice the language.
The text contained sentences such as: "Daddy throws a bomb and goes to prison"; "I am eating sandwiches in prison"; "He shows me the bomb and the prison."
Al Azzawi told The Associated Press Thursday that "in Iraq, there is a lot of misery, and I saw these writings and frankly, I was very sad."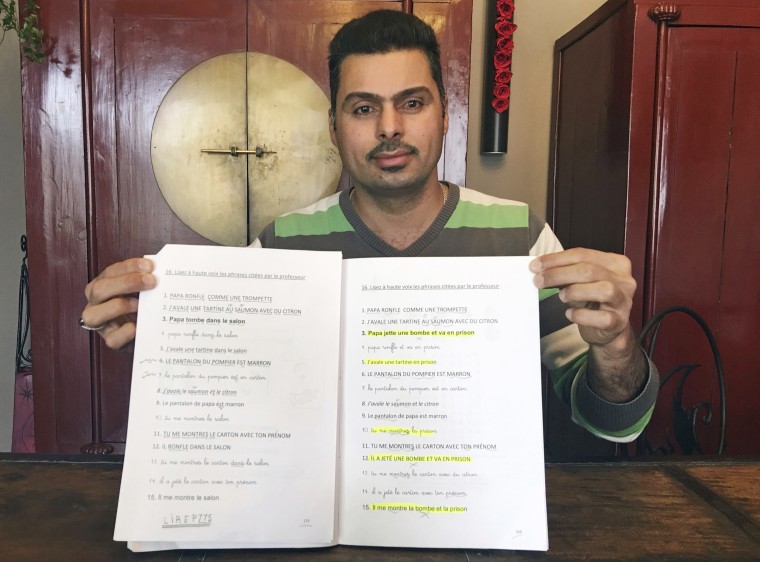 His teacher, Catherine Lemaire, said it suggests asylum-seekers are "considered either as stupid or as terrorists and for me this is unacceptable."
She took photos of the pages and published them on Facebook when she found out they were given to migrants and asylum-seekers to help them learn French.
Lemaire met Raad when she volunteered with the Red Cross to host refugees. Al Azzawi lived with her for four months before he found his own place, but he still visits her almost every morning to practice French.
Related: Texas Rejects Mexican-American Studies Textbook Seen As Racist
"At first I could not even dare to translate it to him, because it was very serious and I felt a bit shameful that Belgium could offer such material," said Lemaire, who does not work at the Erasme school in Anderlecht that handed out the book.
The school's director, Bernard Delecluse, has apologized for the "mistake," saying the offending pages had gone unnoticed for about three years. The "unfortunate sentences" have now been removed, Delecluse said.