Three people were charged with terror-related crimes Saturday in Brussels after police raided dozens of homes overnight, prosecutors said Saturday.
Initially, 12 suspected of planning new terror attacks were arrested after 40 people were taken in for questioning and 152 car ports were searched, the Belgium Federal Prosecutor's Office said in a statement.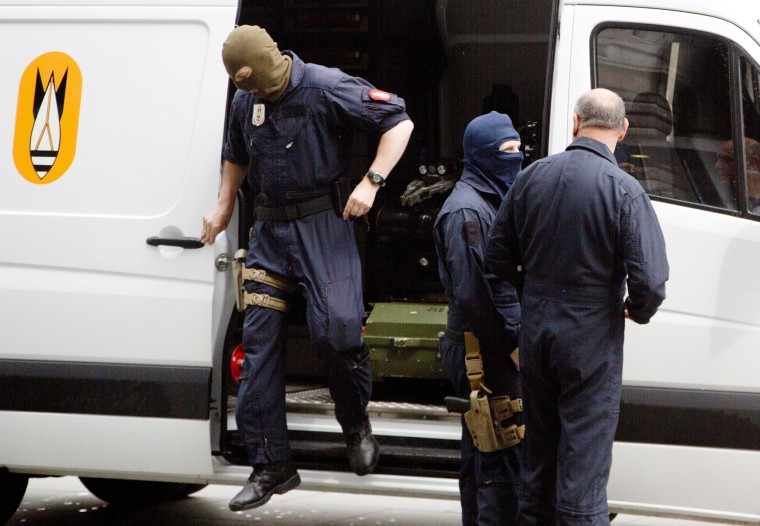 By late Saturday, three Belgian nationals were charged "as perpetrator or co-perpetrator, for having attempted to commit a terrorist murder and for participation in the activities of a terrorist group," a statement said. The nine others were let go.
The results of the investigation "necessitated an immediate intervention," an earlier statement said. "In the interest of the investigation, currently no further details can be given."
Belgium is still under a "level three" terror alert — the second highest — in the wake of the March 22 attacks on the Brussels subway and airport that killed 32 people.
The terror level implies a threat of an attack "is possible and likely." The maximum level indicates an imminent threat of attack.
Belgian Prime Minister Charles Michel said Saturday the terror level would remain where it was and said the situation was "under control."
"We want to continue to live normally, we are living normally," he said in French at a news conference. "We call on everyone to show calm and serenity."
Authorities are monitoring the developments and are being "extremely vigilant," he added.
Related: Belgium Charges Third Suspect in Foiled Terror Plot
Four top ministers, including Michel, have received special protection following unspecified threats, according to The Associated Press.
ISIS claimed responsibility for the March suicide bomb attacks in Brussels and for last November's massacre across Paris that killed 130 people.
So far, investigators haven't found any link between Saturday's arrests and the investigation into the March airport and metro station attack.
The latest arrests come amid high security in Europe due to the ongoing Euro 2016 soccer tournament in France.