U.S. Special Operations Forces captured wanted terrorist Abu Ahmed Khattala when he unwittingly presented himself as a golden target of opportunity, NBC News has learned.
After months of planning, Delta Force commandos along with FBI agents captured the man suspected in the Benghazi consulate attack late Sunday night on a desolate stretch of desert highway just outside Benghazi, U.S. sources tell NBC News.
Sign up for breaking news alerts from NBC News
According to the sources, a U.S. surveillance drone tracked Khattala as he drove alone out of the city and right into the arms of the Americans.
In the late-night darkness, with no witnesses or other vehicles in sight, Delta Force soldiers and FBI, driving nondescript vans and other vehicles so as not to raise suspicions, closed in and forced Khattala's vehicle to a halt.
The heavily armed commandos piled out of their vehicles and quickly surrounded Khattala, who surrendered without resistance. No shots were fired.
Khattala was quickly hustled into one of the U.S. vehicles and driven to an undisclosed location, where he was loaded onto a helicopter for a flight to the American amphibious ship USS New York, in the Mediterranean Sea off the shores of Libya.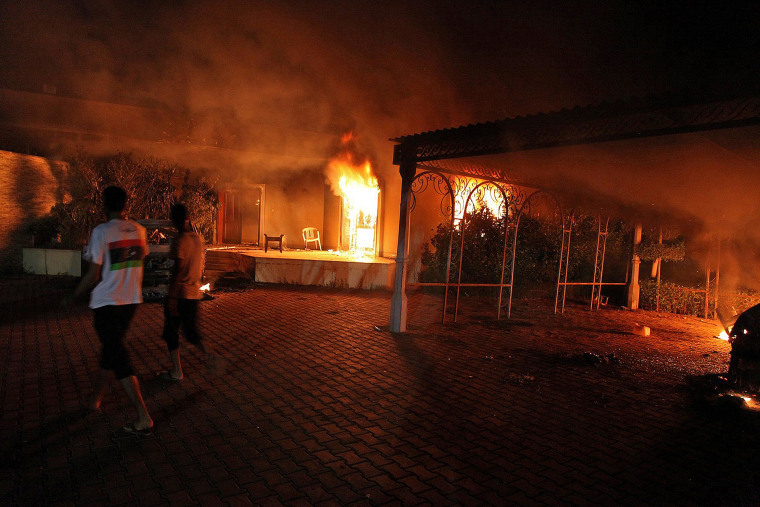 As of Wednesday, Khattala remained aboard the U.S. Navy ship, where he is undergoing interrogation by FBI and Justice Department officials.
Khattala has been wanted in the assault that killed Ambassador Chris Stevens and three other Americans since shortly after the Sept. 11, 2012, attack. His capture marks the first apprehension of one of the alleged perpetrators in the attack.
The Obama administration has been criticized for not making any arrests up until this point, especially because Khattala was not in hiding. He told Reuters in an interview in October 2012 that he had heard he was a suspect only through media reports and was surprised that officials had told journalists he was at large.
"These reports say that no one knows where I am and that I am hiding," he said. "But here I am in the open, sitting in a hotel with you. I'm even going to pick up my sister's kids from school soon."
—Jim Miklaszewski, Courtney Kube and Elizabeth Chuck