YOUNGSTOWN, Ohio -- Vice President Joe Biden launched a deeply populist argument for the president's re-election on Wednesday, deriding Mitt Romney's tenure at Bain Capital and countering the GOP argument that Democrats hope to sow "envy" between the middle class and the wealthy.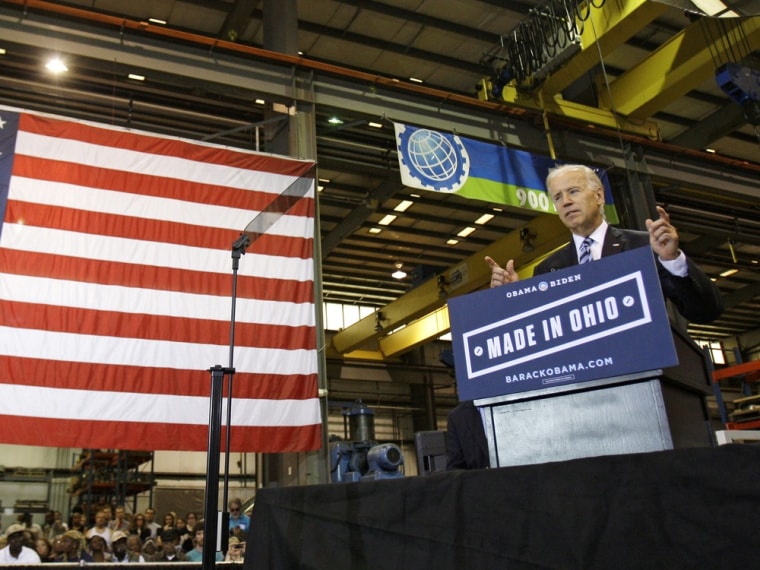 "I resent when they talk about families like mine that I grew up in. I resent the fact that they think we're talking about envy, that's it's job envy, it's wealth envy. That we don't dream," he told a crowd of about 600 at a Youngstown manufacturing facility, deep in the nation's Rust Belt.
"My mother and father dreamed as much as any rich guy dreams!" he said to mounting applause. "They don't get us! They don't get who we are."
Echoing the campaign's new TV ad hitting Romney's record as the head of Bain Capital, Biden accused the GOP nominee of gutting companies without regard for hundreds of employees who lost their jobs and benefits when they were shuttered.
"Romney made sure the guys on top got to play by a separate set of rules, he ran massive debts, and the middle class lost," he  "And folks, he thinks this experience will help our economy? Where I come from, past is prologue, man. So what do you think he'll do as president?"
The facility where Biden spoke, M-7 Technologies, conducts high-tech manufacturing as well as research and development. It was originally founded in 1918 as a producer of castings for the steel industry.
Biden argued that jobs in eastern Ohio are returning, highlighting the campaign's focus on revitalizing the manufacturing industry. "You know the difference between an economy that's built on making things rather than on collateralized debt, creative credit default-swaps, financial instruments subprime mortgages," he said. "That's not how you grow an economy."
Before his repeated criticisms of Romney's business record and a philosophy of letting workers "fend for themselves," Biden praised the Republican's character, including a reference to Romney's charitable giving to his church. (A Romney spokesman present at the event said he did not view the comment as a swipe as Romney's faith. Romney is a member of the Church of Latter-Day Saints.)
"He's a patriot, a generous man, he gives to his church, he has a beautiful family," Biden said of Romney. "But he doesn't get it."
Speaking to reporters after the event, Democratic former Gov. Ted Strickland was more blunt about Romney's ability to relate to the middle class.
"I sometimes feel sorry for Mitt Romney because I think he desperately tries to relate to ordinary people and he simply does not have the capacity to do so," he said of Romney's place among the "1 percent."
"He does not understand people who have to worry about putting gas in the car, or food on the table, or helping care for their families," he said. "Those aren't challenges that he has ever had to face. And consequently I think he is incapable of really showing empathy to average people.
Romney campaign spokesman Ryan Williams told reporters that Biden and Strickland's criticisms would fall on deaf ears, particularly in light of Obama's attempts to raise cash from wealthy Wall Street types.
"They're attacking industries that are creating jobs, that he himself is raising money from," he said. "So people can see the dishonesty of the attack."