President Joe Biden convened a meeting of the National Security Council on the escalating crisis in Ukraine on Sunday, the White House said, amid a spike in violence that has heightened fears that Russia is planning to invade.
Defense Secretary Lloyd Austin and Secretary of State Antony Blinken, both newly back from Europe, were spotted entering the West Wing shortly before noon.
A photo tweeted by the White House shows that the meeting in the Situation Room was also attended by CIA Director William Burns and Treasury Secretary Janet Yellen, whose agency would play a key role in imposing sanctions against Russia if it were to invade Ukraine.
A White House official said Vice President Kamala Harris would participate remotely from Air Force Two as she flies back from Germany, where she met with Ukrainian President Volodymyr Zelenskyy at the annual Munich Security Conference over the weekend.
The U.S., NATO, allies and partners have scrambled in recent weeks to find a diplomatic solution in the escalating crisis along Ukraine's borders. Blinken said earlier Sunday that Russia's recent decision to extend military drills in Belarus "suggest that this is dead serious, that we are on the brink of an invasion."
Referring to Russian President Vladimir Putin, Blinken said on CNN's "State of the Union": "We will do everything we can to try to prevent it before it happens, but equally we're prepared, if he does follow through, to impose massive consequences, to provide for Ukraine's ongoing defense and to bolster NATO."
Blinken indicated on NBC's "Meet the Press" that his scheduled meeting with Russian Foreign Minister Sergey Lavrov this week would be canceled if Moscow invades. Asked whether it would mean a "war has begun" if the meeting is canceled, Blinken told host Chuck Todd, "That's a pretty good summary."
"Yes, look, we're doing everything we can," he said. "And it's my responsibility to do everything I can to try diplomatically to prevent a war."
Monitors from the Organization for Security and Cooperation in Europe recorded a significant rise in cease-fire violations Saturday in eastern Ukraine, where the Moscow-supported separatists have been fighting government forces since 2014 despite a series of shaky cease-fires.
It said late Saturday that 975 cease-fire violations were recorded in the Luhansk region Friday and 591 in the Donetsk region. The numbers are significantly higher than the ones it reported earlier last week; as a policy, the organization does not tend to attribute blame.
Officials in the separatist territories claimed that Ukrainian forces launched several artillery attacks over the past days and that two civilians were killed in an unsuccessful assault on a village under their control early Sunday.
A Ukrainian official insisted the country's forces were not responsible as his country's troops had been "instructed to refrain from any active action, realizing that the Russians are now looking for any excuse to invade."
The Ukrainian army said a soldier was injured as the result of further cease-fire violations by the separatists. The Ukrainian military also closed a key checkpoint leading to the separatist region Sunday after it came under repeated shelling.
Ukraine has repeatedly denied it would launch an offensive on the separatist-held region and has said it wants a diplomatic resolution to the conflict.
The U.S. and Western officials have also warned that the Kremlin could use the area to stage a "false flag" operation to create an excuse for a wider invasion, and Zelenskyy said Saturday that accusations that his forces were shelling in the region were "pure lies."
After separatist leaders called for people to evacuate Friday, warning of a possible attack by Kyiv, more than 40,000 crossed the border into Russia, Russia's state-run Tass news agency reported Sunday.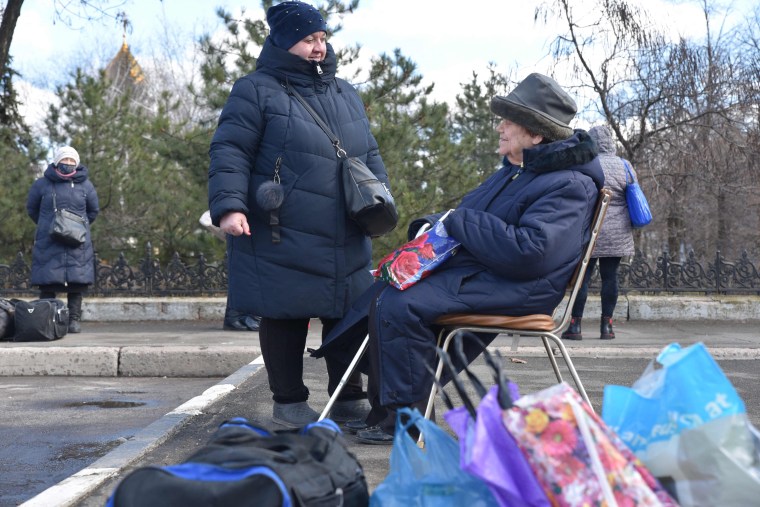 With tensions rising in eastern Ukraine, Kremlin spokesman Dmitry Peskov warned Sunday that "any spark, any unplanned incident or any minor planned provocation can lead to irreparable consequences" in an interview with the country's state-run Russia 1 TV channel.
To Ukraine's north, in Belarus, whose forces have been conducting massive military drills with the Russian military, the Defense Ministry said in a statement that the maneuvers had finished but that "readiness checks" would continue because of the rising tensions.
The U.S. and its allies had previously raised concerns that the drills could provide cover for an invasion by Moscow in what is quickly becoming Europe's gravest security crisis since the Cold War.
Russia has insisted that the drills are purely defensive and that its troops, the number of whom NATO estimates at 30,000, will return to their stations once the exercises are finished.
Michael Carpenter, the U.S. ambassador to the Organization for Security and Cooperation in Europe, tweeted Sunday that none of Belarus' claims about the "unprecedented Russian military maneuvers on its territory" had been "credible" and said the justification for continuing them was "flimsy."
Moscow, even though it has amassed tens of thousands of troops around Ukraine's northern, eastern and southern borders, has repeatedly denied that it plans to invade.
Referring to Putin, Austin said Sunday that Russia's military buildup near the border has heightened fears of an invasion.
"If he employs that kind of combat power, it will certainly create enormous casualties within the civilian population, and so this could create a tragedy, quite frankly, in terms of refugee flow and displaced people," Austin said on ABC's "This Week."
Defense Department press secretary John Kirby said Sunday that diplomatic efforts by the U.S., NATO and its allies to curb an invasion mean Putin "will be responsible for casualties" if he moves on Ukraine. "They won't have an excuse that merits any sort of credibility," Kirby said on "Fox News Sunday," adding that Russia still has "diplomatic options left on the table."
Zelenskyy, meanwhile, asked Putin to meet him Saturday in a speech at the security conference in Munich.
"I don't know what the president of the Russian Federation wants, so I am proposing a meeting," Zelenskyy told delegates at the event, which was attended by Harris and other Western leaders.
The Kremlin has not responded.
In a speech at the conference Saturday, Zelenskyy called for immediate sanctions against Moscow. Blinken on Sunday defended the administration's decision not to issue sanctions ahead of a possible invasion.
"We're going to try everything we possibly can to get President Putin to reverse the decision we believe he's made and to dissuade him," he said, adding that "part of that is the prospect of massive sanctions."
Harris wrapped up a weekend of outreach to European allies with a push to bolster the West's resolve in confronting Moscow with severe sanctions.
"We're talking about the potential for war in Europe. I mean, let's really take a moment to understand the significance of what we're talking about," Harris told reporters before her return to Washington.