Vice President Joe Biden stressed unwavering U.S. support for Israel, saying Wednesday there should be "no doubt" America has its longtime ally's back.
Biden spoke after meeting with Israel's Prime Minister Benjamin Netanyahu in Jerusalem on the second day of a visit marred by a fresh spasm of violence.
There were at least four attacks by Palestinians in Israel on Tuesday, including a stabbing spree which killed a visiting American student shortly after Biden landed in the country.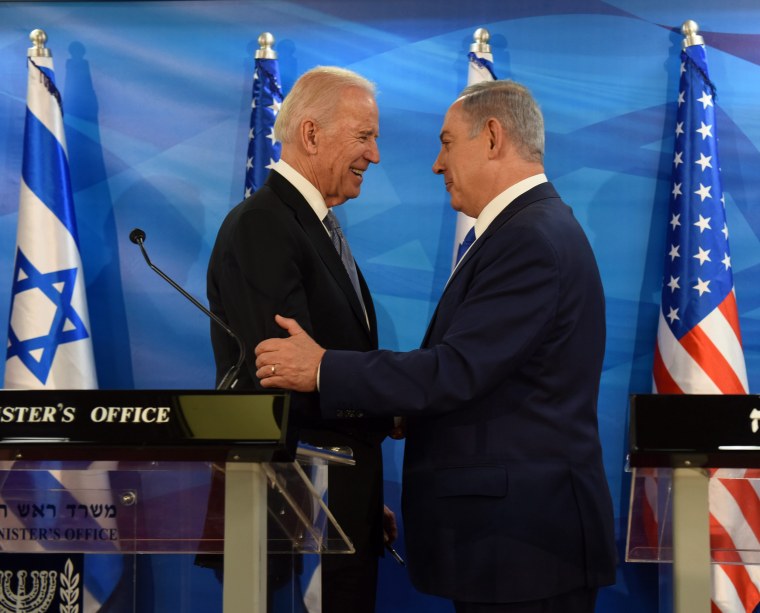 Biden told a press conference that his wife was not far from the spree which claimed the life of an American, saying it "brings home" how terror can strike "anywhere at any time."
"Let me say in no uncertain terms: The United States of America condemns these acts and condemns the failure to condemn," he said in apparent reference to Palestinian officials. "This cannot be viewed by civilized leaders as an appropriate way in which to behave… It's just not tolerable in the 21st century."
Netanyahu also criticized Palestinian authorities for failing to condemn the terror attacks, decrying how President Mahmoud Abbas' political party glorified an assailant as a "hero."
"This is wrong and this failure to condemn terrorism should be condemned itself by everybody in the international community," the Israeli leader told the joint press conference as violence continued unabated Wednesday morning.
Israel's military said two assailants opened fire near a public bus in Jerusalem, seriously injuring one person in the third attack to hit the city in 24 hours. Both attackers later were shot dead outside Jerusalem's old city, police spokesman Micky Rosenfeld said.
The terror attack took place shortly before Biden's meeting with Netanyahu — and the vice president repeatedly hit on the topic of security in his remarks to the press.
"There can be no justification for this hateful violence and the United States stands firmly behind Israel's right to defend itself," Biden said.
He repeated stressed the deep personal and professional friendship he shares with Netanyahu — and the "bond that can never be broken" between their two countries.
"It doesn't mean we don't disagree but you never need to doubt that the United States of America has Israel's back... and we know Israel has our back as well," Biden said.
Netanyahu also paid tribute to the decades-long personal friendship and said that Israel has "no better partner" than the U.S.
The last time Biden visited Israel was in 2014 — and since then tensions between the allies have mounted. The U.S.-led nuclear deal with Iran added particular strain to the relationship.
Biden referenced those tensions in his remarks on Wednesday and acknowledged Netanyahu's vocal opposition to the deal.
"A nuclear-armed Iran is an absolutely unacceptable threat to Israel, to the region and the United States," Biden stressed. "If in fact they break the deal, we will act."
The vice president said he and Netanyahu had discussed a range of issues in addition to Israel's security — including the threat of ISIS — and closed by saying he thinks there's "a lot we can get done."
Biden later is expected to hold talks with Abbas.