LONDON — It's part of the most recognizable landmark on the London skyline, and Brits have relied on its chime for more than 150 years — but Big Ben has recently been telling the wrong time.
The iconic tower's bell has been fast by as much as six seconds in recent weeks, the BBC Radio 4's "PM" radio show revealed Monday.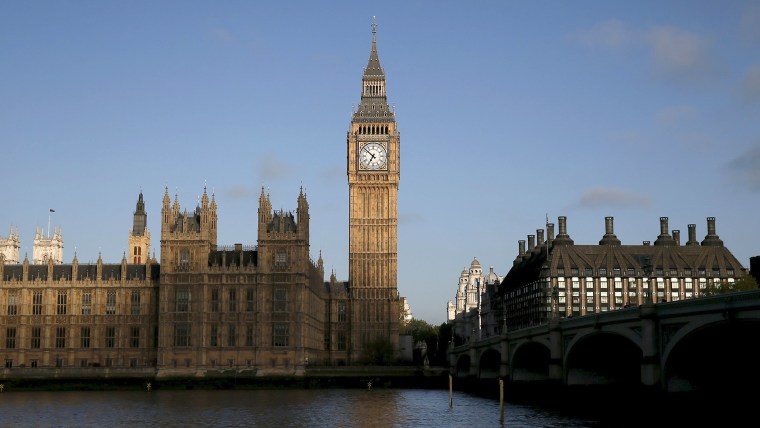 "If you set your watch by Big Ben, the bad news is that the first 'bong' signifying the hour has been off by five or even six seconds sometimes," host Eddie Mair told listeners.
The Elizabeth Tower that houses the Great Bell — which is commonly known as Big Ben — was built 156 years ago.
"We do carry out regular checks, as you can imagine, because this is a mechanical clock. It's not digital, it's not electronic, it does take a lot of love and care," said Steven Jaggs, who as "Keeper of the Great Clock" helps to maintain it.
"Imagine running your car 24 hours a day, 365 days a year, for the last 156 years"
The problem happened, according to Jaggs' fellow clock mechanic Ian Westworth, after the clock started running slightly slow.
The team attempted to rectify this through a painstaking process of climbing the tower's 344 steps each day and removing or adding coins to change the weight of the clock's pendulum.
But "when we started correcting it, it corrected itself at the same time," Westworth told the BBC, describing the "fluke" that caused the slowdown.
"To tell you the truth, we don't actually know why it happened," he added. "You're talking about a 156-year-old clock, and…it's a little temperamental. Imagine running your car 24 hours a day, 365 days a year, for the last 156 years."
Luckily — for a landmark that's as regular as English tea and bad weather — Big Ben has "settled down, telling you exactly the right time," Westworth said.