As China and Russia work to curtail American and Western influence on the global stage, the bloc of developing countries known as BRICS is debating a major expansion to increase its power and diminish the dominance of the U.S. dollar.
Yet the three-day summit of the BRICS nations — Brazil, Russia, India, China and South Africa — is also exposing deep divisions among some of the members about whether, in the course of increasing their own global clout, they are willing to align themselves even more closely with an ascendant and assertive China.
The leaders of the bloc have converged on Johannesburg for the summit, with the exception of Russian President Vladimir Putin. He faces war crimes charges from the International Criminal Court and could have been arrested in South Africa, an ICC member, so he is attending virtually instead.
Chinese President Xi Jinping, who flew to South Africa during a tumultuous period for his nation's economy, surprised delegates Tuesday by skipping a business forum where he was scheduled to speak.
Instead, Wang Wentao, China's commerce minister, took the stage to read Xi's prewritten speech, in which his leader insisted the summit was "not an exercise of asking countries to take sides, nor an exercise of creating bloc confrontation."
"Hegemonism is not in China's DNA," the speech said.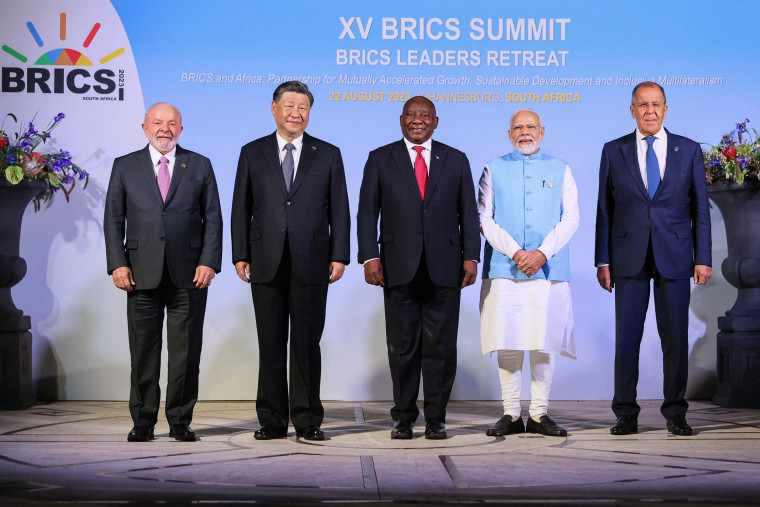 China's government offered no explanation for Xi's unexpected absence from the forum. But by Wednesday, he was back in person at the summit, urging members to "let more countries join the BRICS family and pool wisdom to make global governance more fair and reasonable."
Already, the five members of BRICS collectively make up some 40% of the global population and more than 30% of the global economy, according to the International Monetary Fund. As it fashions itself into an alternative to the U.S.-dominated G7 and other Western-led international groupings, BRICS has become a major platform for developing nations in the Global South that have long complained they've been left behind.
Yet as Saudi Arabia, Argentina, Indonesia and more than a dozen others seek to join BRICS, India and Brazil have voiced concerns. Both are democracies with close U.S. ties who worry an expanded BRICS could dilute their own influence in the elite club while leaving China — the group's most powerful member — at the helm of a powerful anti-Western axis.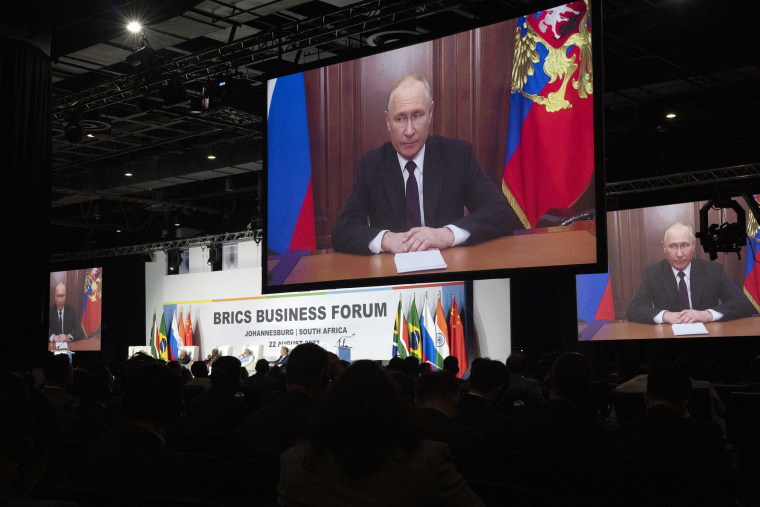 "There's no question that China would like to see this evolve into a pro-China bloc," Daniel Bradlow, a professor of international development law at the University of Pretoria, told NBC News in an interview Tuesday.
India, Brazil and South Africa "don't want to be part of either a Western bloc or a Chinese bloc. They would like to preserve their options and be as close to nonaligned as they can possibly be," he said.
Aiming to expand their economic options, BRICS members have also discussed creating a currency that could offer an alternative to the U.S. dollar for global trade, a push known as "de-dollarization."
Hung Tran, a former IMF deputy director now at the Washington-based Atlantic Council, called that idea "unrealistic" in an interview this week and said there was "no other currency which really enjoys all the attributes and the convenience and the ease of dealing like the dollar or the euro at the moment."
Short of a new currency, BRICS nations are pushing to conduct more trade between their countries in local currency, rather than in dollars.
Jake Sullivan, the U.S. national security adviser, pushed back Tuesday on the notion that an evolving BRICS threatened the U.S., saying that the U.S. will continue to "have relationships with all of these countries," albeit better with some than others.
"We are not looking at the BRICS as evolving into some kind of geopolitical rival to the United States or anyone else," Sullivan told reporters at a briefing. "This is a very diverse collection of countries."
With Putin unable to attend the summit in person, the war in Ukraine has formed a tense backdrop for the gathering in Johannesburg.
In recent months, Ukraine has been trying to split the other BRICS nations, especially China, away from Russia, but with little success. The other members have generally sought to stay neutral and avoid condemning Russia outright, while China and India have actually increased their trading relationship with Moscow since the war started.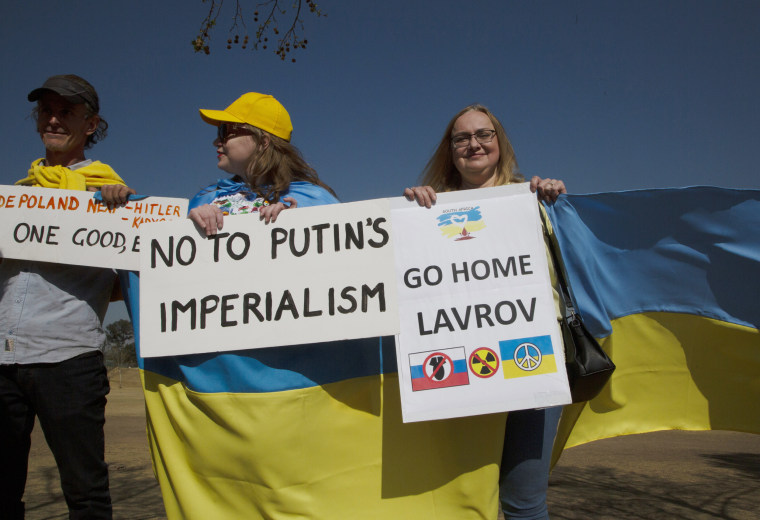 For Russia, which sent Foreign Minister Sergey Lavrov in person, in lieu of Putin, the summit is a rare chance to show it's still a diplomatic heavyweight with close allies despite its increasing global isolation. Yet the war has had major economic implications for BRICS countries, increasing food and energy prices that have hit poorer nations particularly hard.
Putin, in his remarks to the summit Tuesday by video link, sought to blame Western countries for fomenting the war, casting his invasion as a bid to defend Russian speakers in eastern Ukraine "who struggle for their culture, their traditions, their language, their future."
"We are grateful to our BRICS colleagues who actively participate in attempts to end this situation and reach a fair settlement by peaceful means," Putin said.