ROME — Rome's Spanish Steps are set to be unveiled to much fanfare Thursday after a year-long refurbishment that returned the stairway to its original splendor.
But one of the main figures paying for the $1.7 million project is ruffling feathers by suggesting officials keep "barbarians" from getting too close to the iconic tourist site.
Built in 1725, the stairway was immortalized by Audrey Hepburn and Gregory Peck in the movie "Roman Holiday."
Millions of people have sat on them to eat, drink and smoke while canoodling and enjoying the view over Via Condotti, the Italian capital's most exclusive fashion street. But that left behind a coating of filth that slowly darkened the once shiny marble.
Paolo Bulgari, the chairman of the luxury jewelry house and nephew of its founder, wants to make sure that doesn't happen again.
"Restorers have done a great and difficult job. The steps were coated with anything from coffee, wine, chewing gum," he told the Italian daily La Repubblica earlier this month.
"But now I am worried. If we don't set strict rules, the steps will go back to being used as a camping site for barbarians," the billionaire reportedly said, adding that a gate or a Plexiglas barrier "doesn't seem like an impossible task."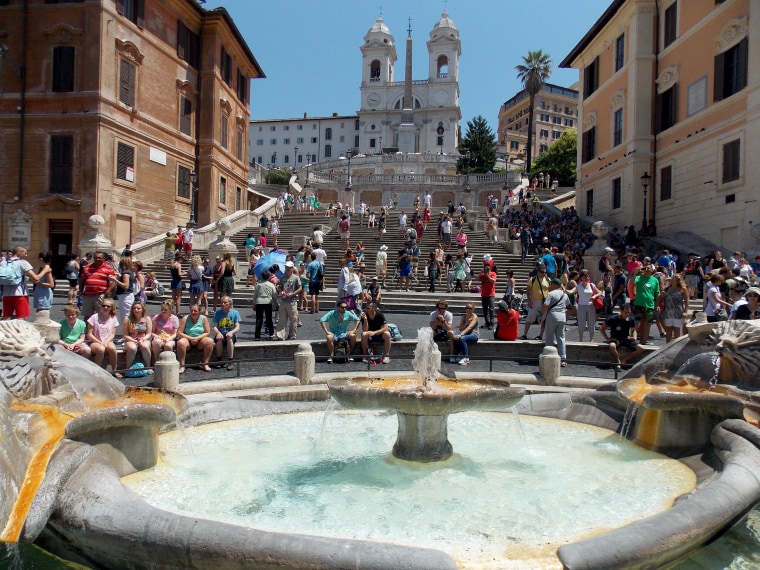 What Bulgari says matters because his company paid for the restoration as part of a government tax break plan. He has also suggested erecting a fence to prevent people from hanging around on the tourist hot spot at night.
A temporary fence erected during the restoration prevents people from walking up and down the Spanish Steps until the official reopening, which was rescheduled from Wednesday to Thursday due to poor weather.
"At night the steps are often full of drunks and people partying"
Italy's Culture Ministry declined to comment on whether a more permanent barrier would replace it, saying it would answer questions at this week's event.
Tourists visiting the site told NBC News they understood Bulgari's worries but disagreed with his solution.
"He calls them barbarians, I call them slobs," Lynn Godfrey, 73, from New Jersey. "You wouldn't litter your house floor with food, why would you do that in such a beautiful place?"
She added: "They should just add more guards and signs telling people it's prohibited to drink and eat on the steps."
Mario, a local policeman who has patrolled the monument for years, agreed a fence was unnecessary.
"It's true, at night the steps are often full of drunks and people partying, but we only guard the monument until midnight, and then come back at 7 a.m.," he said. "We should have overnight guards, [surveillance cameras] and signs warning people that they shouldn't drink or eat on the steps."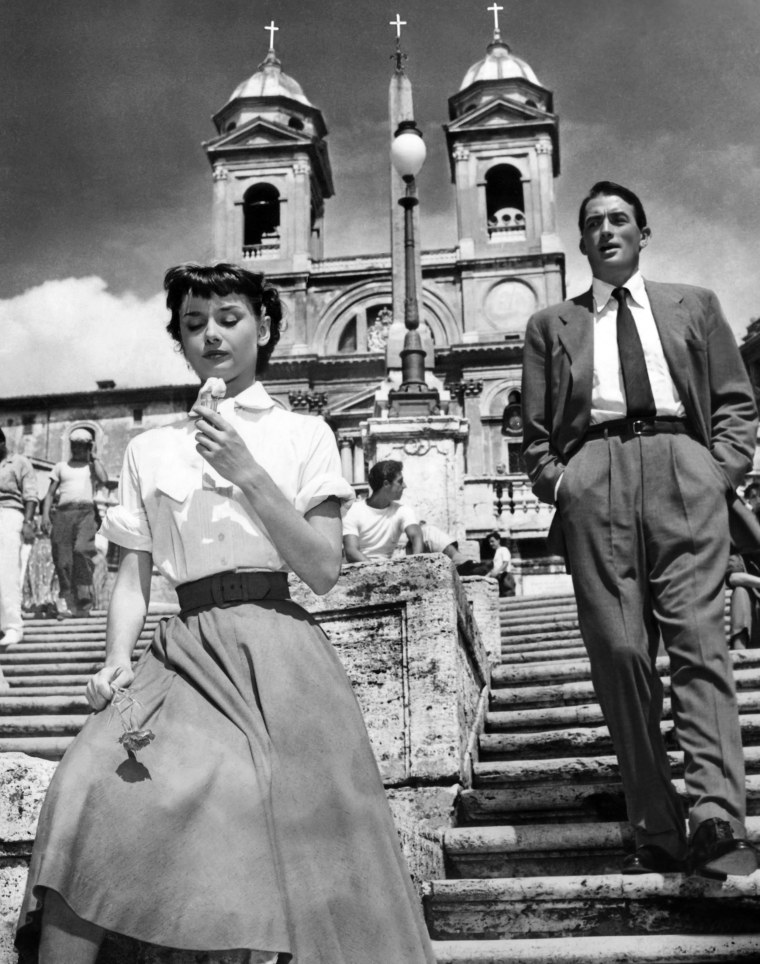 Another tourist, Tom Dabrowski, 63, also from New Jersey, told NBC News: "They are steps, at the end of the day, and they should be used as such at all times — even at night. It's part of the experience."
Bulgari's idea was also met with skepticism within the company itself.
"As with every monument there is always the risk of vandalism and lack of respect," Bulgari CEO Jean-Christophe Babin told Italian media after its chairman's proposal. "I have faith that the local administration will be able to preserve the stairway after the restoration."
The Spanish Steps are only the latest restoration of Rome's monuments and landmarks funded by Italy's famous fashion houses in exchange for tax breaks.
Luxury shoemaker Tod's paid 25 million euros ($28 million) for the five-year cleanup of the Colosseum's exterior facade, which had been blackened by decades of pollution. Until recently, cars drove around the monument like a glorified intersection.
Fashion house Fendi paid 2 million euro ($2.2 million) for the cleaning and restoration of the Trevi Fountain as well as three others in the city.