NORCIA, Italy — American monks have been raising money to fix up their centuries-old Italian monastery by brewing their own beer — a European monastic tradition that goes back to the Middle Ages.
The ale produced at the Monastery of Saint Benedict at Norcia has become so successful that it will be available for sale in the United States from next month.
The first shipment of Birra Nursia, a Belgian-style brew, is already on its way across the Atlantic.
The tradition of monastic brewing goes back to a time when monks drank it during Lent to help them fast. But this beer, which comes from the birthplace of St Benedict, has a financial purpose.
"Me and two other Americans came here in the year 2000, fresh out of college, and took over the abandoned monastery in Norcia," Father Benedict Nivakoff, from New Canaan, Connecticut, told NBC News.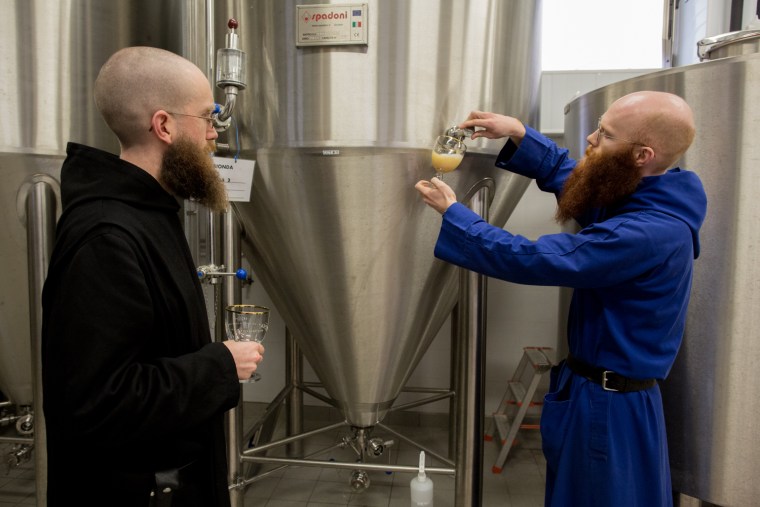 "But soon we realized we really needed a source of income to support the monastery's maintenance, repair work and restorations. So we thought: what do monks do well? The answer in Europe is: good quality beer."
The monks initially relied on the experience of Brother Francis, 40, who had done some home brewing in his native Dallas, Texas. But they knew they were starting a business on a wing and a prayer.
"It was a neat idea but we are a pretty small monastery inside a medieval town," recalled Father Francis, Birra Nursia's master brewer. "The question was: 'Where are we going to put a brewery in a monastery that has been around for hundreds and hundreds of years?'"
The Benedictine monks restored an old barn annexed to the monastery and filled it with industrial-size fermentation tanks, and placed the filling and bottling machines in a disused basement.
The Benedictine monks' motto is "Ora et Labora" — "work and pray."
"And that's exactly what we do," said Brother Augustin, from Charleston, S.C. "We pray hard, and work hard. During a typical day, we pray four hours and brew and bottle for another eight. Sometimes we do the two things together."
These monks are not new at finding entrepreneurial ways to make ends meet. In 2015, they recorded their Marian chants on a CD that topped the Billboard classical chart in the U.S. for 10 weeks. "For a while we even beat Taylor Swift," Father Benedict joked. Now their beer has also become a hit, especially among locals.
"Norcia has been famous for centuries for its food, for its prosciutto, dried ham, truffles and wine, but not beer," Brother Augustin said. "The townspeople weren't sure about it at first but even in a country where wine is the most popular drink, the beer has become very successful, the townspeople are able to sell it in their shops, so it helps with the local economy."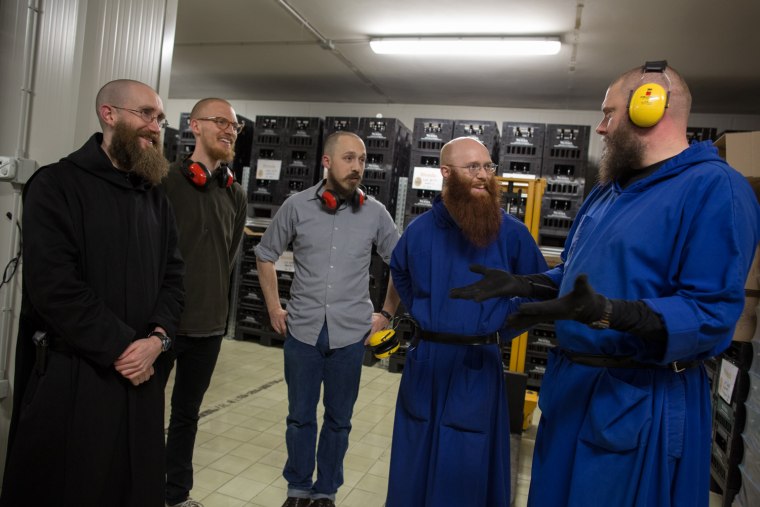 In fact, the beer has sold well across Italy, but now Father Benedict's thoughts are all for an international shipment.
"A container of Birra Nursia is in the middle of the Atlantic now, on its way to the U.S., where it will be on sale from March," he said. "We can't go home, we can't see friends and family as much as we'd like, but we'd like to give them something we make, something we spend our time and energy on every day."
The success of Birra Nursia has been a minor miracle. But does it compare to the wedding of Cana, in which Jesus turned water into wine?
"There is a bit of a stretch in the miracle, one might say," Father Benedict said. "Jesus turned water into wine, not beer. But the similar principle is that things that are created are good, and we should try to make them into something that is pleasing both to the taste and to the spirit."