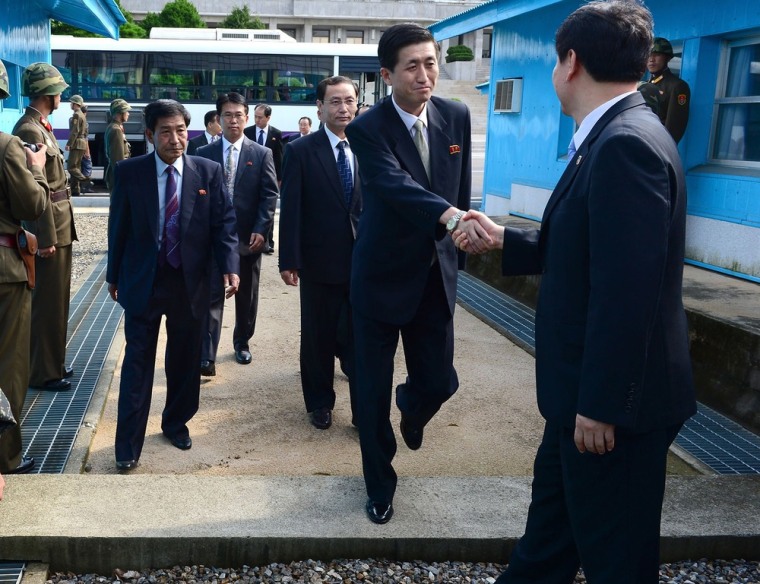 SEOUL, South Korea -- North and South Korea agreed Friday to allow reunions next month of families separated by the 1950-53 Korean War, the first such meetings in three years and the latest conciliatory gesture from the North after a spring that saw it threaten Seoul and Washington with missile strikes and nuclear war.
A hundred people from each country will be allowed to meet family members from Sept. 25 to 30 at North Korea's Diamond Mountain resort, South Korea's Unification Ministry, which is responsible for relations with the North, said in a statement.
Forty people from each side will also be allowed to hold talks by video conference on Oct. 22 and 23, and the countries agreed to meet later to discuss possible November reunions.
There was immense relief in Seoul that people who have often languished for decades with little or no word about loved ones in North Korea will at last have a chance to meet and that Pyongyang's threats and warlike rhetoric have died down — but also wariness and deep mistrust.
Analysts say North Korea often follows provocations with charm offensives meant to win much-needed aid and diplomatic concessions.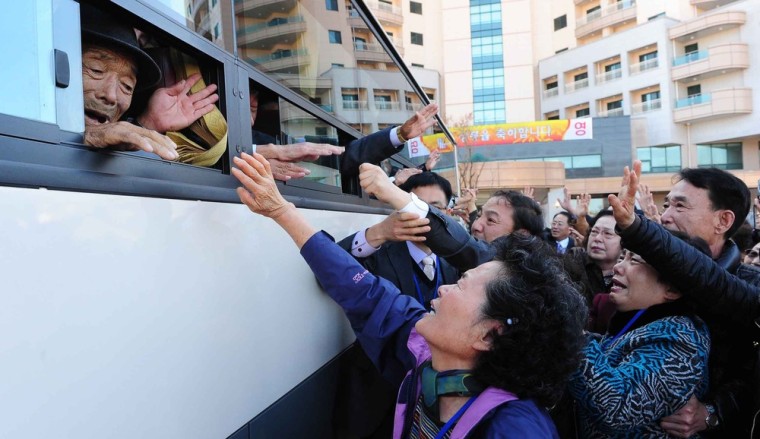 Millions of families have been separated since the Korean War, which saw huge movements of refugees in both directions. Most don't even know whether their relatives are still alive because the two countries bar citizens from exchanging mail, phone calls and email.
South Koreans who want to meet relatives must apply for a permit, and a lottery is used to decide who will meet their relatives. Most of the people applying for permits are over 70, and nearly 56,000 of the roughly 129,000 applicants have died.
Each of the past reunions brought together weeping family members who embraced each other, desperate for details and news. They were separated again a few days later. No Korean has received a second chance to meet their relatives, according to South Korean Red Cross officials.
The two Koreas also agreed Friday to work toward a "fundamental resolution" of the issue of separated families by making the reunions regular events, allowing families to exchange letters and allowing them to find out whether their loved ones are still alive, the Unification Ministry said.
As North Korea has toned down its animosity in recent weeks, the rival Koreas have also pushed closer to reopening a jointly run factory park in the North that Pyongyang pulled out of in April as part of its weeks-long furious response to U.N. sanctions over its February nuclear test and to annual military drills by Seoul and Washington.
North Korea has proposed another set of talks on resuming lucrative, jointly run tours to Diamond Mountain.
Analysts in South Korea have said that North Korea's concessions are an attempt to resume tours to Diamond Mountain, which would bring the impoverished nation a crucial source of legitimate hard currency. The mountain tours were suspended after the 2008 shooting death of a South Korean tourist at the resort.
The president of the International Committee of the Red Cross, Peter Maurer, is visiting the two Koreas to discuss the family reunions and other humanitarian issues. He was in Pyongyang for a four-day trip and is to travel to Seoul on Sunday after a visit to China.
The Korean Peninsula remains technically at war because the two sides signed an armistice, or truce, but there's no formal peace treaty.
Related: