LONDON — When Bukayo Saka, Marcus Rashford and Jadon Sancho missed their penalty kicks for England in the Euro 2020 soccer final on Sunday, many fans sensed a grim inevitability about what would happen next.
These three gifted young Black men were among those who stepped up during a moment of huge pressure — England's first major final in 55 years — only to have their social media accounts flooded with racist abuse after the team's defeat to Italy at London's Wembley Stadium.
The city's Metropolitan Police have opened an investigation into the abuse, which was condemned by England's Football Association, Prince William and Prime Minister Boris Johnson, who said the "team deserve to be lauded as heroes, not racially abused."
Widespread revulsion dominated trending topics Monday, including the phrase "no to racism," and the players' feeds were inundated with positive messages that soon drowned out the slurs.
But for many fans it was a depressing coda to a tournament in which this modern, multicultural English team played great soccer while displaying a social conscience. Some commentators believe the racist abuse has been fueled in part by an ugly culture war that's surrounded the players — one that critics say Johnson's Conservative government and others on the right have stoked.
"When we get racist abuse after a football match at the end of a tournament, I expect it," the former England player Gary Neville said Monday on NBC News' British partner Sky News, where he now works as a leading sports commentator. "Because it exists, and it's actually promoted by the prime minister, I knew as soon as Marcus Rashford, Jadon Sancho and Bukayo Saka missed last night, I knew we would be waking up this morning to stories of racist abuse."
Neville questioned how Johnson can condemn racism when, in his previous job as a newspaper columnist, he described citizens of the Commonwealth — which includes former British colonies in Africa, Asia and the Caribbean — as "piccaninnies" with "watermelon smiles."
Johnson has previously claimed his words were taken out of context and said he was "very sad that people have been so offended." NBC News has contacted the British government for comment but not received a reply.
Download the NBC News app for breaking news and politics
Critics in the worlds of sport and politics have also questioned whether the government is guilty of double standards and even dog-whistle racism.
The players began each game at Euro 2020 by taking the knee, an anti-racism gesture inspired by the NFL's Colin Kaepernick that was first adopted at English soccer games last year after the murder of George Floyd.
Seven of England's starting 11 players against Italy had a parent or grandparent born overseas, according to the U.K.'s Migration Museum. The parents of Saka, 19, are from Nigeria, and those of Sancho, 21, are from Trinidad and Tobago. Rashford, 23, has grandparents from Saint Kitts.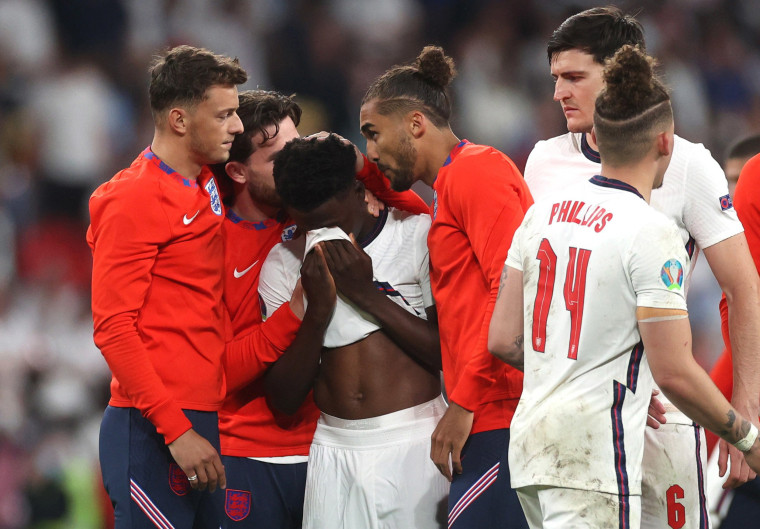 On other issues, captain Harry Kane wore a rainbow-colored armband in support of the LGBT community during a previous game against Germany. And Rashford spent last year forcing the British government into a series of U-turns, allowing children from low-income families to receive free school meals during the summer recess.
But some England fans have started booing the players taking the knee, believing it shows support for the political goals of the Black Lives Matter organization. The England team says it is an anti-racism statement unrelated to BLM.
Minister Priti Patel, the British Home Secretary known for her hard-line immigration policies, said she was "disgusted" that the players had received "vile racist abuse on social media." However, last month she declined to condemn the booing fans, saying it was their choice, while criticizing the BLM movement as "gesture politics."
That prompted the former Conservative Party chairwoman, Baroness Sayeeda Warsi, to tweet directly to Patel on Monday, saying that the Conservative Party needed to "think about our role" in fueling abuse.
Warsi said, "If we 'whistle' and the 'dog' reacts we can't be shocked if it barks and bites. It's time to stop the culture wars that are feeding division. Dog whistles win votes but destroy nations."
The Home Office, the government department Patel leads, declined to comment.
This abuse isn't just online. The morning after the final, a mural honoring Rashford in his home city of Manchester was found vandalized with graffiti.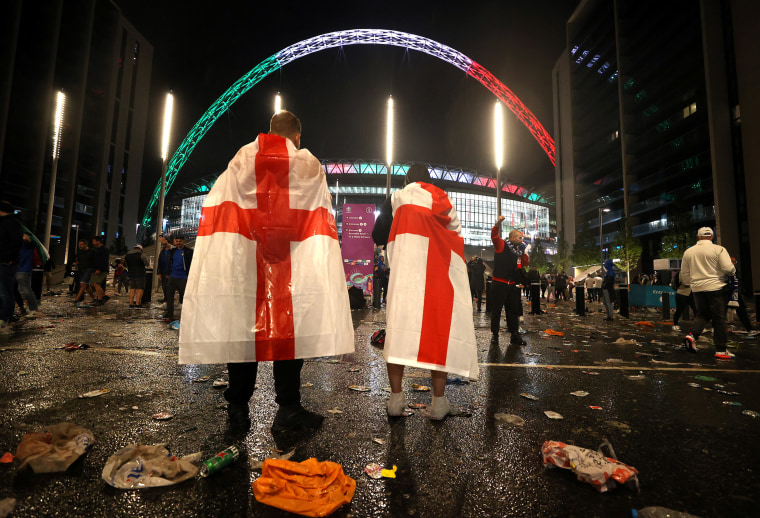 Racism in English football is not new. But some soccer-watchers say it's worse than at any time since the hooligan heyday of the 1980s, when Black players faced monkey chants and bananas tossed onto the field.
"In the past 10 years it feels more like the '80s in terms of the abuse the players are getting — and the government and the tabloid press are 100 percent to blame for that," said Kehinde Andrews, a professor of Black studies at England's Birmingham City University. "The way we talk about race in this country is so poisonous, and you can't divorce that from the racism of the government."
The violence common in the 1980s also reared its head this tournament, with some ticketless England fans storming Wembley Stadium on Sunday and fighting with others inside. In the semi-final against Denmark, members of one Danish family said they were surrounded by a dozen England fans and assaulted.
In Europe, players are openly abused from the bleachers to such an extent that some have walked off and abandoned the game in protest. In 2019, the Italian newspaper Corriere dello Sport was widely criticized for teasing a game between Inter Milan and Roma by using pictures of two Black players alongside the headline: "Black Friday."
England's media is rarely that openly racist, but many still say it shoulders blame.
One of England's stars, the Jamaican-born Raheem Sterling, has previously made the link between abusive fans and newspaper headlines that are more critical of Black players than white ones, which he said "fuels racism and aggressive behavior."