A Pakistani teen who provoked an international outcry when she was falsely accused of burning Islam's holy book is finally out of danger and settling into a new life in Canada.
But while Rimsha Masih and her family have been granted asylum and were quietly relocated to southern Ontario, life for much of the Christian community they left behind in Islamabad remains bleak.
Fearing vigilante justice in the wake of her case, many fled their homes in the city's Mehrabadi district, according to lawyer Joseph Francis from the Centre for Legal Aid, Assistance and Settlement (CLAAS).
Although Rimsha, now 16, was cleared when Muslim cleric Hafiz Mohammed Khalid Khalid was accused of fabricating evidence, many remain too scared to return.
"They are living on a wasteland on the side of the city, without houses, with jobs, without water sources, without electricity," Francis said. "They are suffering, they are being persecuted. Pakistan is not safe for Christians and ethnic minorities."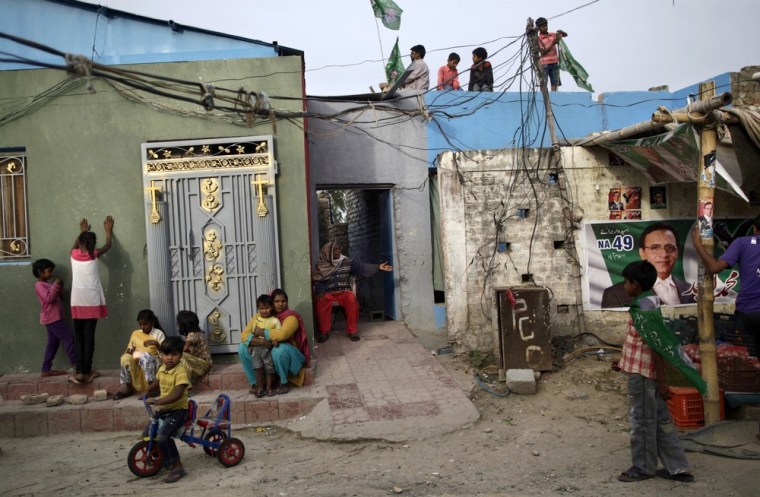 He said that the authorities either turned a blind eye to the attacks, or were unable to stop mob justice.
"We are not even being treated as second-class citizens, not even third, more like enemies," he said. "There is no critical leadership in Pakistan, no justice."
Although she was exonerated last autumn, Rimsha was also forced to flee the neighborhood with her family amid fear of reprisals.
"It was very dangerous for them," said family friend Xavier William, who helped them find a safe house on the outskirts of Islamabad.
"The authorities can't protect people accused of blasphemy in Pakistan," William added. "Even though she was cleared, she remained at risk."
Before Rimsha was cleared last November, Muslims enraged by the accusations gathered at the police station were she was being held, demanding the girl be turned over to them, so she could be burned alive.
After a Pakistani contact alerted Canadian Immigration Minister Jason Kenney to the family's plight, the politician felt compelled to act.
"This was an extraordinary example of brutal persecution," Kenney told the Canadian Press, adding that he agreed to allow the family to move if they could get out of Pakistan.
"A lot of people did some very dangerous, delicate work to extricate her and her family and we provided the necessary visas," he said.
The family touched down in Toronto on March 19, before settling into a small town in southern Ontario. Her new start was only revealed when a the wife of a Pakistani-Canadian journalist spotted the teen at a shopping mall, the Toronto Star reported.
Peter Bhatti, chairman of International Christian Voice, has helped the family adjust.
"Rimsha and her family are doing wonderfully," he said. "In the beginning it was difficult. They were excited but they had a new life, a new culture. But now they are getting integrated, learning English and learning how to do things in Canada."
He added that Rimsha was going to school and is receiving medical treatment for unspecified mental health issues.
Back in Pakistan, the attacks on Christians and ethnic minorities continue.
Last month, the Asian Human Rights Commission reported that three Christian women were attacked and paraded naked by a mob in the Punjab province.
In March, almost 200 buildings were set ablaze in a predominantly Christian neighborhood of Lahore, the country's second-largest city.
In December, an angry mob broke into a police station in Sindh province and beat to death a blasphemy suspect, who had been accused of burning pages of the Quran.
Last July, a man accused of throwing pages of the Quran on the streets of Ahmedpur East was dragged by crowds from a police cell and killed, after being pulled through the streets behind a motorcycle.
Baseer Naweed, a senior researcher at the Asian Human Rights Commission, said that attacks on all ethnic minorities were rising in the country.
"They are much more persecuted than in the past," he said. "Generally political parties are appeasing the fundamentalist forces. That's why the police always go against these people."
He added that a lot of the time there were more sinister motives behind the attacks, including the seizing of property and land.
"Some people have benefitted economically with the land grabs and looting," he said. "But the hatred is also there."
He added that that pressured from the international community was needed to stop the attacks against the ethnic minorities.
"It all depends on the rule of law," he said. "In Pakistan there no rule of law. The courts, particularly the lower courts are working on the behest of the fundamentalist and criminal groups. Until that stops they stand no chance."
While members of the Christian community in Pakistan face danger, Bhatti now believes Rimsha is safe.
The Taliban continue to threaten fellow Pakistani schoolgirl, Malala Yousafzai, who was taken to Britain for medical treatment after being shot in the head for promoting girls' education. But Bhatti is convinced Canadian authorities will protect Rimsha.
"It has a good system here," he said. "No one could get to her." 
Related: