A powerful explosion hit a Shiite Muslim mosque in northern Afghanistan on Friday, killing dozens of people and wounding many others, according to a Taliban official and a United Nations agency.
The Islamic State terrorist group has claimed responsibility for the blast, which happened during a weekly prayer service in Kunduz, the capital of the province of the same name. 
ISIS has a history of launching attacks against the country's Shiite Muslim minority.
Download the NBC News app for breaking news and politics
Taliban spokesman Bilal Karimi told NBC News Saturday that 47 people were killed in the blast and more than 100 others were injured.
The death toll is the highest in an attack since U.S. troops pulled out of Afghanistan.
In a statement published on Twitter on Friday, the United Nations Assistance Mission in Afghanistan (UNAMA) had said that "initial information indicates more than 100 people killed and injured" in the blast.
"The UN family in #Afghanistan is deeply concerned by reports of very high casualties" it said.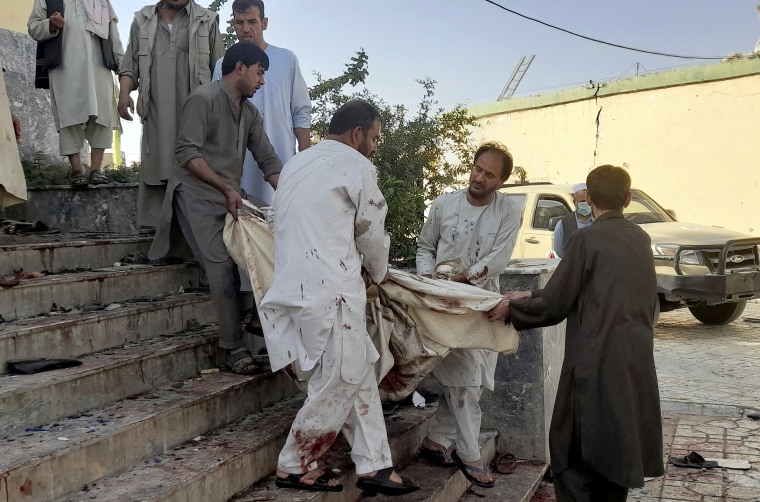 Doctors Without Borders "implemented a mass casualty plan" for its Kunduz trauma center, the medical charity's United Kingdom spokesperson, Dalila Mahdawi, told NBC News on Friday.
"As of now, 90 wounded and 20 dead have been brought to the hospital and the team are working tirelessly in the emergency room and operating theaters," she said in the hours after the blast.
Mahdawi added that further casualties were being received at the nearby regional hospital.
Dost Mohammad Obaida, deputy police chief for Kunduz province, said the "majority" of attendees at the prayer service were killed, according to The Associated Press.
He said the attack may have been carried out by a suicide bomber who would have entered the mosque among worshippers.  
"I assure our Shiite brothers that the Taliban are prepared to ensure their safety," Obaida said, adding that an investigation was underway.
Witness Ali Reza told AP he was praying when the blast hit the mosque. He said he saw many casualties.
Former Afghan President Hamid Karzai condemned the attack on Twitter. He said it stood contrary to all human and Islamic principles and values.
It comes as the Taliban leadership contends with a growing threat from the Islamic State Khorasan group, or ISIS-K. 
Taliban fighters have been targeted in a series of deadly attacks by their rival militants, including shooting ambushes and an explosion at a mosque in the nation's capital, Kabul.
ISIS has also declared war on Afghanistan's minority Shiites and has taken responsibility for some of the worst attacks targeting the community, including attacks on their mosques in Kabul and the western province of Herat.