Powerful explosions rocked the Chinese port city of Tianjin on Wednesday, killing at least 17 people, officials and state media said.
Nine firefighters were killed, Chinese state broadcaster CCTV reported. It is not clear if the nine were counted among the 17 dead. The broadcaster reported that 283 people are in the hospital, and 32 people are in critical condition.
Xinhua, the state news agency, reported that the blast occurred at around 11:30 p.m. Wednesday at a warehouse storing "dangerous goods" and that the explosion and fire touched off other blasts nearby. Local media reported that the strongest was the equivalent of 21 tons of TNT.
Windows in buildings more than a mile away were blown out by the force of the blast. A fireball appears to have swept through a parking lot of 1,000 new Renault cars, with the paint burned off and the cars left charred. Videos posted on social media showed great flashes of light in the night sky.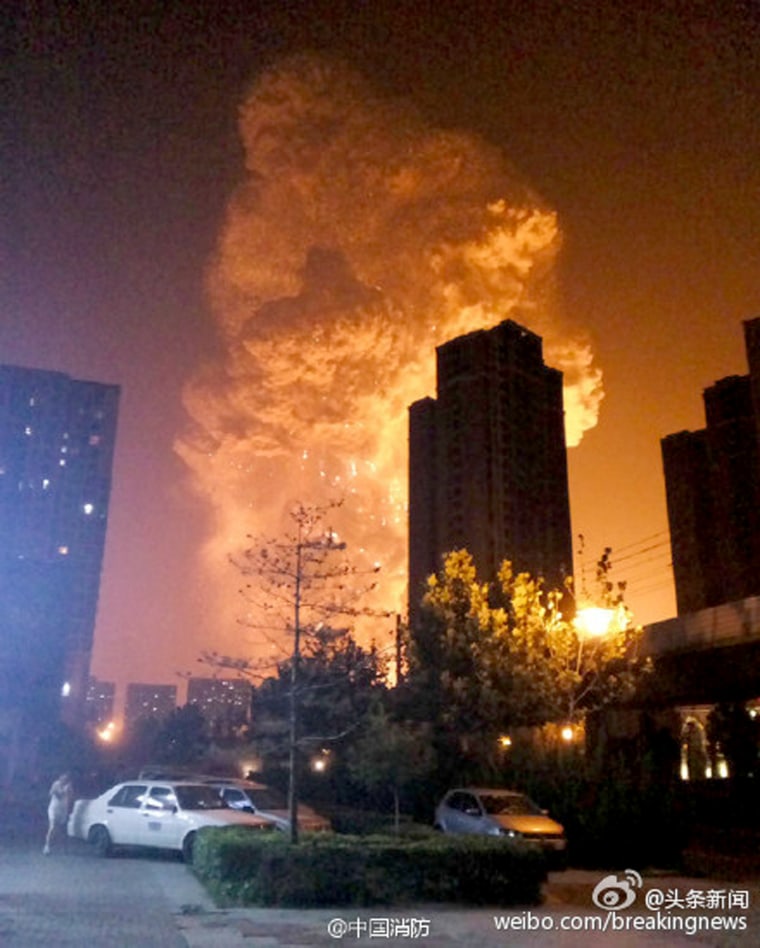 "I thought it was an earthquake, so I rushed downstairs without my shoes on," Tianjin resident Zhang Siyu, whose home is several kilometers from the blast site, told The Associated Press in a telephone interview.
"Only once I was outside did I realize it was an explosion," she said. "There was the huge fireball in the sky with thick clouds. Everybody could see it."
Xinhua reported that firefighters were called to the warehouse at 10:50 p.m., and the explosion occurred around 40 minutes later.
Chinese President Xi Jinping ordered a comprehensive and rapid search and rescue operation and a thorough investigation. A special task force led by the Public Safety Minister was tasked with directing both efforts.
UK Foreign Secretary Philip Hammond is currently in China on a visit and said he was at an Airbus factory in Tianjin just hours before the blasts.
"I express my deep condolences for the tragic loss of life and the hundreds injured in the Tianjin explosions," Hammond said in Beijing Thursday. He saluted emergency workers fighting fires and treating the wounded.
Tianjin is a city of about 15 million people in northeast China, about 75 miles southeast of Beijing.