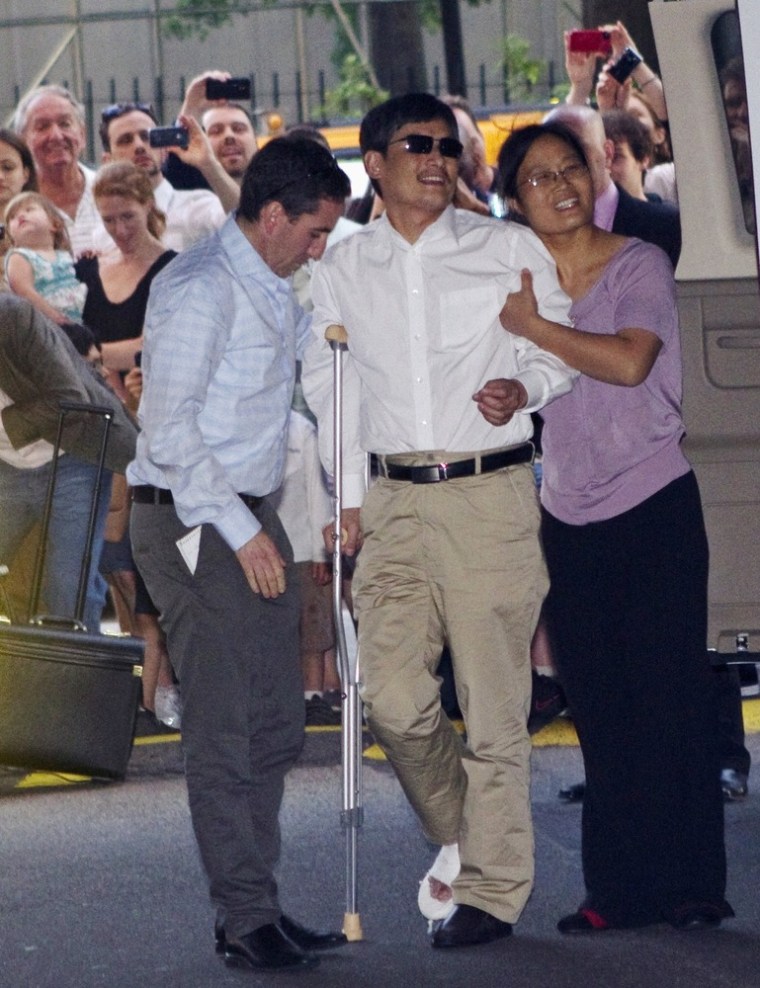 Updated at 11:15 p.m. ET: Blind Chinese dissident Chen Guangcheng arrived in the United States on Saturday after China allowed him to leave a hospital in Beijing in a move that could end a diplomatic tussle between the two countries, NBC News reported. 
Chen's escape from house arrest in northeastern China last month and subsequent stay in the U.S. Embassy was a huge embarrassment for China and led to a diplomatic rift while U.S. Secretary of State Hillary Clinton was visiting Beijing for talks to improve ties between the world's two biggest economies.
A United Airlines plane carrying Chen, his wife and two children, landed in at Newark Liberty International Airport in New Jersey shortly after 6 p.m. Saturday, said NBC News' Bo Gu, who was on board the flight.
During his flight out of China, Chen told Gu that he had to escape because his health was deteriorating quickly. He had a cast on his right leg but said he is recovering from an injury sustained during his escape.
He said he believes China's central government is good-willed and all the evil done to him and his family was by the Shandong authorities. He said he hopes the central government will investigate.
Chen was promised he could return to China anytime he wants, he told Gu. He said his children were not happy to leave China, though.
He also said he is concerned about his nephew, charged with attempted murder for injuring officials who broke into his house on the night Chen escaped.
He expressed concern that "acts of retribution may not have abated" in his hometown. The village of Dongshigu, where Chen's mother and other relatives remain, is still under lockdown.
Chen said after going on to New York that he was gratified the Chinese government had been dealing with his situation with "restraint and calm," Reuters reported.
"I hope to see that they continue to open discourse and earn the respect and trust of the people," Chen, speaking through a translator, told reporters outside a New York University housing building in Manhattan's Greenwich Village neighborhood.
"I'm very grateful for the assistance of the American Embassy and also (for) receiving a promise from the Chinese government for protection of my rights as a citizen over the long term," he said. "I believe that the promise from the central government is sincere and they are not lying to me."
"I believe that no matter how difficult the environment nothing is impossible as long as you put your heart to it ... I hope everybody works with me to promote justice and fairness in China," he said. "Equality and justice have no boundaries."
Chen is going to study as a fellow at the NYU School of Law, the institution said Saturday. 
Earlier: Blind Chinese activist Chen leaves Beijing on flight to US 
More world news from msnbc.com and NBC News:
Follow us on Twitter: @msnbc_world