Secretary of State Antony Blinken will visit China this weekend, a high-stakes step in the U.S. push to improve ties between the world's fractious superpowers.
Blinken will travel to Beijing on Friday to hold talks with senior Chinese officials, the State Department announced Wednesday, a long-awaited rescheduling of a visit that was canceled after an alleged Chinese spy balloon was found flying over sensitive American military sites.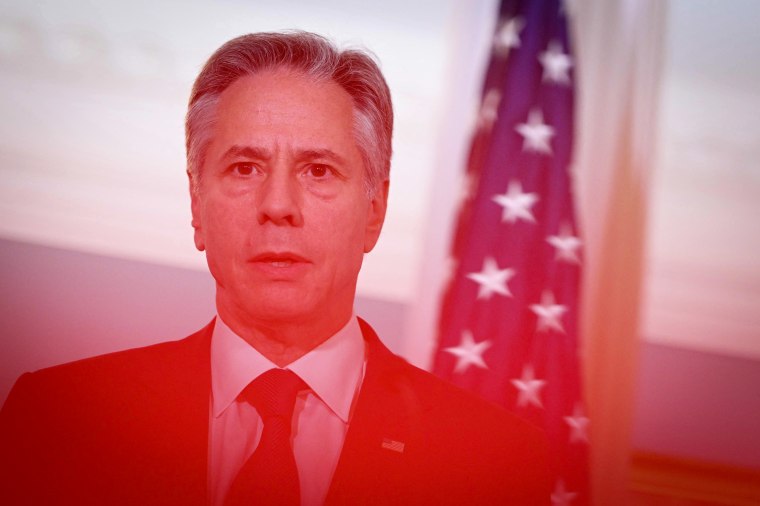 China's Foreign Affairs Ministry confirmed the trip, saying Blinken would visit Sunday to Monday, state media reported.
But if that sounds like evidence of a "thaw" between Washington and Beijing, which President Joe Biden predicted after months of deepening tensions, the signals from China appear less encouraging.A call between Blinken and his Chinese counterpart appeared to be interpreted in vastly different ways by each side.
The State Department issued a neutral statement after the call that talked about keeping open lines of communication, while the Chinese Foreign Affairs Ministry openly lambasted the U.S. 
"Since the beginning of the year, China-U.S. relations have encountered new difficulties and challenges," Chinese Foreign Minister Qin Gang said, according to his government's readout of the telephone conversation. "The U.S. side should respect and stop interfering in China's internal affairs, and stop harming China's sovereignty, security and development interests in the name of competition."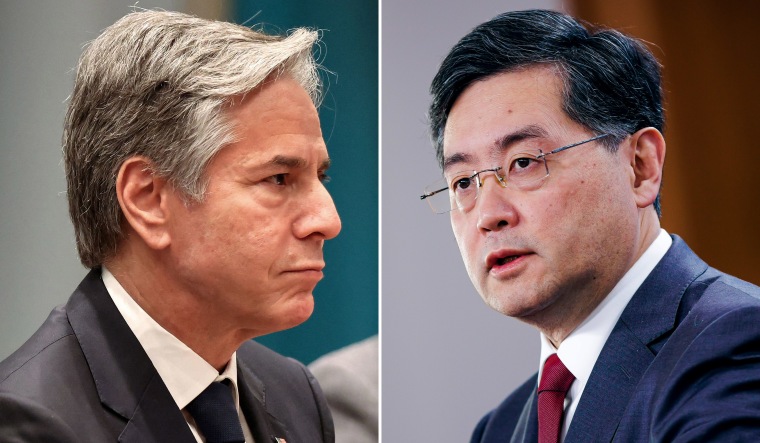 U.S. officials have downplayed the Beijing broadsides. White House Indo-Pacific Coordinator Kurt Campbell told reporters on a call that "we've seen other signals that they recognize that diplomacy with Washington is still important."
The differing tones of the statements nonetheless highlight how far apart the U.S. and China still appear to be.
"What China is pursuing is maximum clarity, exactly opposite to the 'ambiguity' endorsed by the U.S.," said Lu Xiang, a Hong Kong-based professor at the Chinese Academy of Social Sciences, a top Chinese government-affiliated think tank.
The U.S. readout of the call showed its "desire to truly improve U.S.-China relations," Lu said. Even with Blinken's visit, "the divergence between these two countries will continue for quite a long time."
The already contentious relationship has sunk to a decades-low nadir since the spy balloon saga, with ties frayed further by Taiwan, Russia's war in Ukraine and recent news of a Chinese spy base in Cuba. Beijing has blamed Washington, arguing public U.S. efforts at conciliation are undermined by sanctions and other moves to contain its rise.  
There is evidence the animus is not just between governments, too.
On Tuesday, police in Hong Kong arrested a man from mainland China on suspicion of spray-painting anti-U.S. graffiti on the city's U.S. Consulate. Video from local broadcaster TVB showed the wall of the building sprayed white with Chinese characters meaning "double standards," alongside the English word "hegemony" — meaning the dominance of one country over others.
Both Biden and Chinese President Xi Jinping have shown some willingness to move on from the "silly balloon" incident, as Biden put it, and mend their tattered ties. But the Americans say their attempts to re-establish high-level diplomacy have been rebuffed.
China has continued to declare its unhappiness with the U.S. approach of trying to restrict certain high-tech exports to China over national security concerns and criticizing it on human rights — while trying to protect their $600 billion trading relationship.
There have been meetings between senior officials. But China declined a rendezvous between the two countries' defense chiefs, and a long-awaited telephone call between Biden and Xi has not happened. 
Blinken's visit to Beijing, the first by a secretary of state since 2018 and the first Cabinet-level trip there by a Biden administration official, will raise hopes of a breakthrough.
He will meet with senior Chinese officials "to discuss the importance of maintaining open lines of communication to responsibly manage" the relationship with Washington, State Department spokesperson Matt Miller said. "He will also raise bilateral issues of concern, global and regional matters and potential cooperation on shared transnational challenges."
The U.S. says it wants to keep open communications with the aim of "reducing the risk of miscalculation," Assistant Secretary of State Dan Kritenbrink told reporters.
There have been a number of recent close calls between U.S. and Chinese aircraft and ships in the South China Sea. Beijing fiercely declares ownership over the resource-rich shipping hot spot, a claim contested by its neighbors and not recognized by international law.
Blinken will also travel to London to meet with his counterparts from the U.K., Ukraine and elsewhere and to attend the Ukraine Recovery Conference, the State Department said.
The U.S. wants to "de-risk" its relationship with Beijing — newfangled jargon that essentially means trading with China while restricting certain exports, such as technology that can be used for military purposes. Meanwhile, the U.S. wants to continue calling out China on issues such as human rights, Taiwan and Beijing's growing assertiveness in the South China Sea.
Campbell, the White House's Indo-Pacific coordinator, said the Biden administration is for "de-risking but not decoupling." China "will take provocative steps, from the Taiwan Strait to Cuba, and we will push back," he added, "but intense competition requires intense diplomacy if we're going to manage tensions."
For many in and around the Chinese government, that is unacceptable, and it looks like the U.S. is trying to have it both ways.
"Every time it talks about meeting, the United States is keen to play games with China and create the false illusion that they are eager to communicate," Yuyuan Tantian, a prominent social media commentator affiliated with China's government-controlled broadcaster, CCTV, said Tuesday. "But at the same time, they are repeatedly testing and provoking on issues of China's bottom line and principles."