Coverage on this live blog has ended, please click here for the latest developments.
Ukrainian President Volodymyr Zelenskyy said he was willing to discuss his country's neutrality in order to end the war "without delay."
But in a video address Sunday, Ukraine's embattled leader said he would not sacrifice his country's territorial integrity ahead of a new round of peace talks with Russia set to take place this week in Turkey.
The Kremlin offered little hope for an imminent end to the devastating conflict, with Moscow's military growing more focused on defeating Ukraine's forces in the east and fears rising that it may try to split the country in two if it succeeds.
President Joe Biden on Monday said he stood by the remarks he made over the weekend — interpreted by many as tantamount to calling for a regime change in Russia — as the fallout continued to reverberate.
Biden had said Russian President Vladimir Putin "cannot remain in power," although Secretary of State Antony Blinken was among the U.S. officials to try and clarify the statement.
The Kremlin said Biden's comments were "alarming."
All Mariupol residents face 'humanitarian catastrophe' if they are not evacuated out of city, mayor says
The mayor of Mariupol has said that all residents must be evacuated out of the besieged city or there will be a "humanitarian catastrophe."
Speaking on national television Monday, Mayor Vadym Boichenko said the situation in Mariupol "remains extremely difficult" with 160,000 civilians still trapped in the southern port city on the Sea of Azov. He said it was "impossible to live" in the besieged city with no heat, power, or communication after weeks of Russian bombardment.
Boichenko said the city has been under blockade since March 1 and said Russian forces had "systematically and methodically" destroyed public transport, making it more difficult for residents to flee. 
He said 26 buses were waiting to evacuate civilians from Mariupol, which normally has a population of about 400,000 people, but Russian forces had not agreed to give them safe passage. 
Kremlin says Russia-Ukraine talks could start in Turkey on Tuesday
The Kremlin has said that a new round of peace talks between Russia and Ukraine may get underway in Turkey on Tuesday and it was important that they would take place face-to-face.
Russian President Vladimir Putin and his Turkish counterpart Tayyip Erdogan agreed in a call on Sunday for Istanbul to host the talks, which follow recent negotiations held via video link.
Turkey said the talks could begin as early as Monday, but Kremlin spokesperson Dmitry Peskov said that was unlikely as the negotiators would only be arriving in Turkey on Monday.
"We cannot and will not talk about progress yet. But the very fact that it was decided to continue the talks in person is certainly important," Peskov told reporters on a conference call.
"So far, unfortunately, we cannot state any significant achievements or breakthroughs" in talks, he added.
Biden comment that Putin 'cannot remain in power' was 'alarming,' Kremlin says
The Kremlin has expressed alarm over President Joe Biden's comments about the leadership of his Russian counterpart, Vladimir Putin.
"For God's sake, this man cannot remain in power," Biden said of Putin on Saturday during a speech in Warsaw.  The White House sought to clarify Biden's remark and the president said Sunday he had not been calling for regime change.
Asked Monday about Biden's comment, Kremlin spokesman Dmitry Peskov said: "This is a statement that is certainly alarming."
"We will continue to closely monitor the statements of the U.S. president," Peskov said. "We are carefully recording them — and we will continue to do so."
"As for the essence of these statements, I already commented on Saturday," he said, referring to his immediate response in the wake of the speech that the future of Russia's leadership was "not for Biden to decide."
Russian forces near Kyiv 'trying to break through' Ukrainian defense, Ukraine says
Russian military forces near Kyiv are "still trying to break through" the Ukrainian defense in order to take control of key roads and settlements, Ukraine's ministry of defense said Monday in a statement on operational updates.
"The grouping of Ukrainian forces and means of defense of the city of Kyiv is deterring the Russian enemy," the ministry said.
The Ukrainian defense forces continued operations in eastern, southeastern and northeastern directions across the country, it said.
In the south, defense forces were mainly focused on the cities of Kryvyi Rih, Zaporizhzhia and Mykolayiv in an effort to maintain parts of the coast and to protect critical infrastructure, it added.
Heineken exits Russia in response to Ukraine war
Dutch beer company Heineken has announced it will be exiting Russia in response to Moscow's invasion of Ukraine.
The decision comes following an exodus of Western brands from Russia in response to the Ukraine war. 
Heineken had previously said it would only stop new investments and exports to Russia. 
In a statement, Heineken said the company had "concluded that Heineken's ownership of the business in Russia is no longer sustainable nor viable in the current environment."
It said the company would not benefit from any transfer of ownership and expected an impairment charge and other non-cash exceptional charges of around 400 million euros ($438 million). 
Heineken said it would guarantee the salary of Russian employees until the end of the year.
A Russian tank destroyed following a battle in the town of Trostyanets, Sumy region, in an image released by the armed forces of Ukraine on Sunday.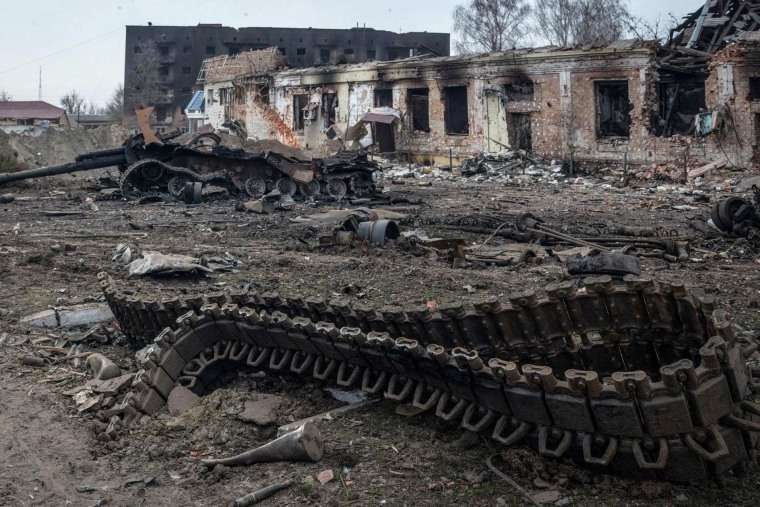 Russian gas flows to Europe remain stable
Russian gas deliveries to Europe on three main pipeline routes were stable on Monday morning, despite threats from Moscow that they would retaliate for Western sanctions imposed after the invasion of Ukraine. 
Russia's Gazprom said on Sunday it had continued to supply gas to Europe via Ukraine in line with requests from European customers. Gazprom, the world's biggest natural gas company, supplies 40 percent of Europe's gas.
Facing its gravest economic crisis since the years following the break-up of the Soviet Union, Russia on Friday warned that billing in roubles for billions of dollars of natural gas exports to Europe could be just days away, its toughest response yet to crippling sanctions imposed by the West.
Russian President Vladimir Putin said the West had declared economic war by freezing Russian assets, and so Russia saw no point in receiving dollars or euros for Russian exports anymore.
Russian forces have made no progress in past 24 hours, U.K. says
Britain's defense ministry said Monday morning that Russian forces had made no significant progress over the last 24 hours amid continuing supply issues and aggressive resistance from Ukrainian fighters. 
A continued "lack of momentum and morale" among Russian military members has compounded the ongoing logistical shortages, the ministry said in an intelligence briefing on the situation in Ukraine posted on Twitter.
Meanwhile, it said heavy fighting continues around Mariupol as Russian forces try to capture the port on the Sea of Azov, which connects to the Black Sea.
In a previous post, the ministry had said Russia was maintaining a blockade of Ukraine's Black Sea coast, "effectively isolating Ukraine from international maritime trade." It said Russian naval forces were also "continuing to conduct sporadic missile strikes against targets throughout Ukraine." 
American pastor allegedly kidnapped by Russian forces has been freed, family says
Dmitry Bodyu, an American pastor allegedly abducted in Ukraine earlier this month, has been freed, his family said on Monday.
The family was "relieved" after Bodyu's release, his daughter Esther Bodyu-Ogana told NBC News.
Bodyu, 50, a well-known pastor in Ukraine who had invited people to seek shelter in his church, was taken by about eight to 10 Russian soldiers in the Russian-controlled city of Melitopol on March 19, his wife Helen had told NBC News last week. 
"They just came in in the morning," wife Helen Bodyu said. "They took our phones, gadgets, computers, documents — and took him somewhere. I don't know where," she said at the time.
Ukrainian forces capture Russian equipment near Kyiv
A Ukranian serviceman stands on top of a Russian tank captured after fighting in the village of Lukyanivka outside Kyiv on Sunday.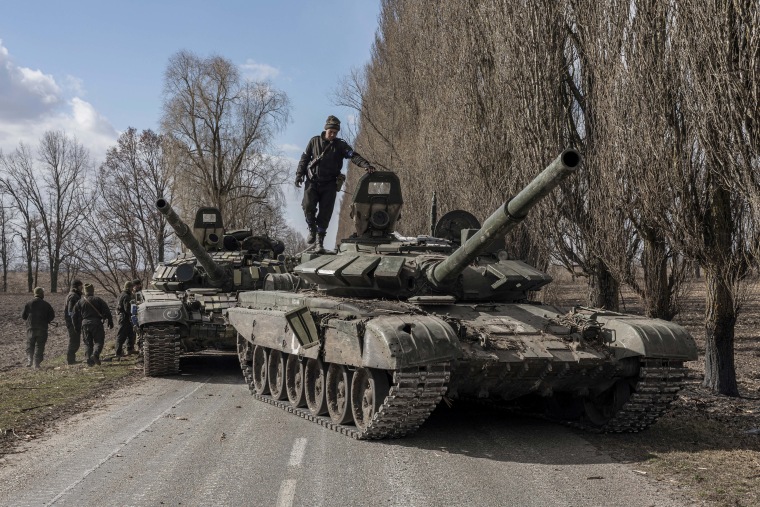 Ukraine opens no new humanitarian corridors, cites fears of Russian attack
Ukraine announced that it would not seek to open so-called humanitarian corridors on Monday, citing the possibility of Russian attacks on civilians trying to flee frontline areas. 
"Our intelligence reported possible provocations by the occupiers on the routes of humanitarian corridors. Therefore, for reasons of public safety, we do not open humanitarian corridors today," Ukrainian Deputy Prime Minister Iryna Vereshchuk said via Telegram. 
Humanitarian corridors intended to help civilians escape the fighting have come under fire since the war began. Following several attacks on humanitarian corridors, Secretary General at Amnesty International Agnès Callamard has condemned the "deliberate targeting of civilians" during the conflict and called for all "unlawful attacks to cease."
Oscars holds a moment of silence for Ukraine
The Oscars held a moment of silence acknowledging the war in Ukraine.
Up until the moment, which featured slides with a message of support, the only other official acknowledgment of the conflict came from actor Mila Kunis, who was born in Ukraine.
Here's the text of the statement, which ran during the brief moment of silence:
"We'd like to have a moment of silence to show our support for the people of Ukraine currently facing invasion, conflict and prejudice within their own borders. While film is an important avenue for us to express our humanity in times of conflict, the reality is millions of families in Ukraine need food, medical care, clean water, and emergency services. Resources are scarce, and we — collectively as a global community — can do more. We ask you to support Ukraine in any way you are able. #StandwithUkraine"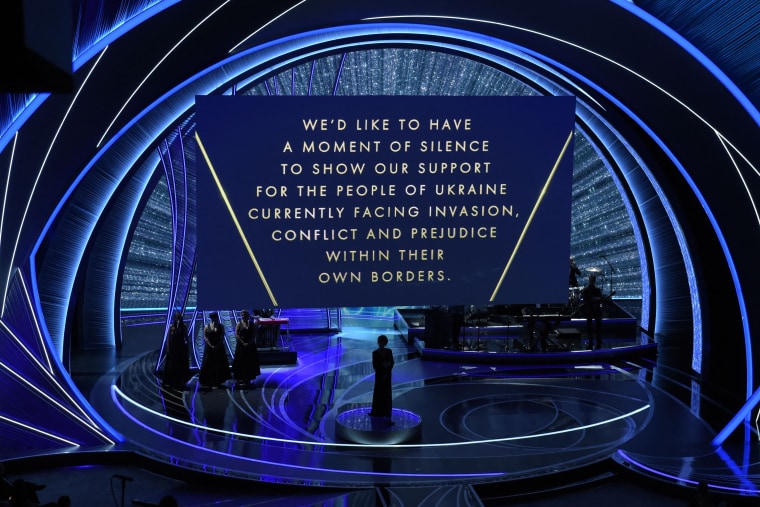 Russia shifts focus to try to grind Ukraine's army in east
KYIV, Ukraine — With its aspirations for a quick victory dashed by a stiff Ukrainian resistance, Russia has increasingly focused on grinding down Ukraine's military in the east in the hope of forcing Kyiv into surrendering part of the country's territory to possibly end the war.
The bulk of the Ukrainian army is concentrated in eastern Ukraine, where it has been locked up in fighting with Moscow-backed separatists in a nearly eight-year conflict. If Russia succeeds in encircling and destroying the Ukrainian forces in the country's industrial heartland called Donbas, it could try to dictate its terms to Kyiv and, possibly, attempt to split the country in two.
The Russian military declared Friday that the "first stage of the operation" had been largely accomplished, allowing Russian troops to concentrate on their "top goal — the liberation of Donbas."
Many observers say the shift in strategy could reflect President Vladimir Putin's acknowledgment that his plan for a blitz in Ukraine has failed, forcing him to narrow his goals and change tactics amid a disastrous war that has turned Russia into a pariah and decimated its economy.