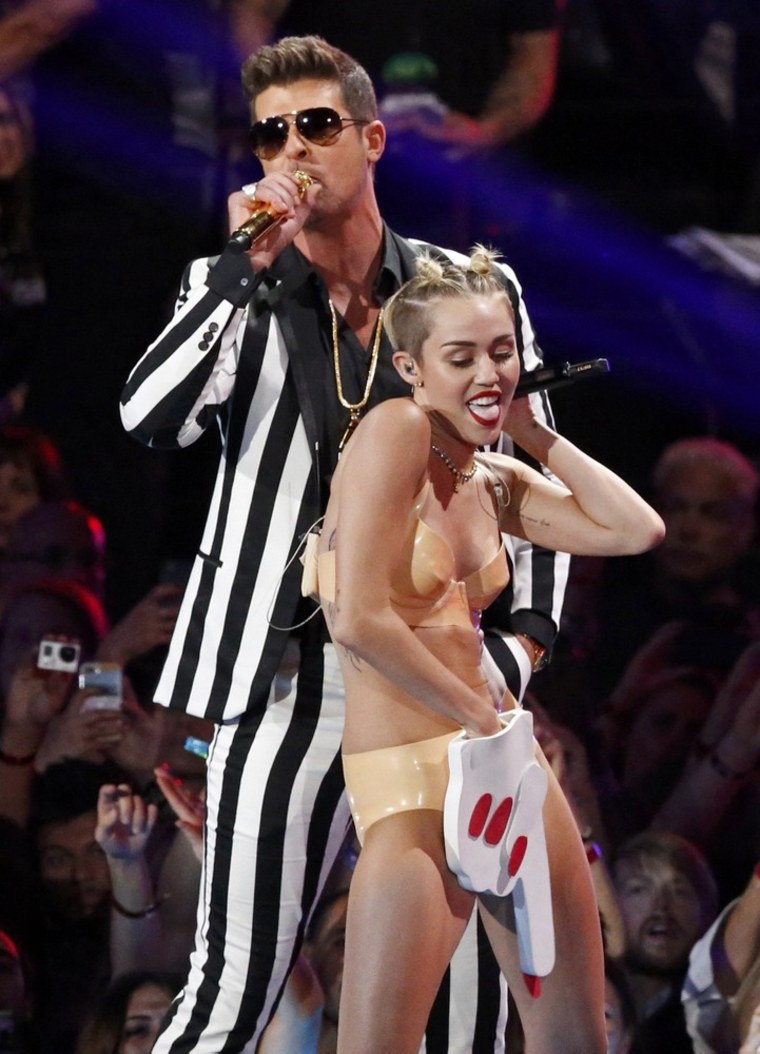 LONDON -- Five British universities have banned Robin Thicke's hit single "Blurred Lines" from campus bars, amid claims it "excuses rape culture."
The students' union at London's Kingston University has become latest to refuse to play the song. It had previously been removed from playlists at Edinburgh, Leeds, Derby and West Scotland universities due to its allegedly misogynistic lyrics.
"The song hugely objectifies woman and excuses rape culture," said Hollie O'Connor, president of the University of Derby Students' Union. "It is a man suggesting that there are 'blurred lines' when it comes to sexual consent and that is unacceptable. We felt we needed to take a stand."
O'Connor told NBC News that since banning the song she has received many emails of support and "not one which comes close to a complaint."
She added: "If I had 1,000 students in one of our bars and only 10 percent felt uncomfortable with the song being played then we'd have failed them."
"Blurred Lines" has reached number one in 14 countries. It is currently enjoying its 23rd week in the U.S. Billboard Hot 100, where it sits at number four.
However, the song has sparked controversy, with critics questioning the meaning of lyrics such as "I hate these blurred lines," "You're a good girl," and "I know you want it," the latter being repeated no less than 18 times during the 4 minute and 23 second track.
One version of the music video for "Blurred Lines" features Thicke, accompanied by the songs co-stars Pharrell and rapper T.I., dancing with three naked women.
The ban at Edinburgh University came as part of the students' association campaign to "end rape culture ... on campus."
The campaign says that "a significant proportion of students and the wider population hold dangerous victim-blaming views about women who experience rape and sexual violence."
Alice Smart, education officer at Leeds students' union, said "Blurred Lines" was banned there because "the lyrics of the song conflict with our core value of equality and our commitment to having zero tolerance of sexual harassment… we have asked our resident DJs to remove the song from their playlists."
Smart said she recognizes there are plenty of other songs with offensive lyrics "but 'Blurred Lines' was singled out in-particular due to its commercial success and the recent negative publicity surrounding it."
In an interview with NBC's TODAY in July, Thicke said he "had nothing but the most respect for women."
He added: "We were just trying to make a funny song and sometimes the lyrics can get misconstrued when you're just trying to put people on the dance floor and have a good time. We had no idea it would stir that kind of controversy, we only had the best intentions."
The "Blurred Lines" video spawned a parody by law students from Auckland, New Zealand, called "Defined Lines." It replaces the naked women with men, and the original lyrics with refrains such as "every bigot shut up."
Related: