LONDON — When scientists in the U.K. asked the public to name their new $290 million polar research ship, they expected the name of an explorer such as Sir Ernest Shackleton or a naturalist like David Attenborough to eventually be emblazoned across the vessel's bow.
However, they didn't factor in the Brits' oddball sense of humor.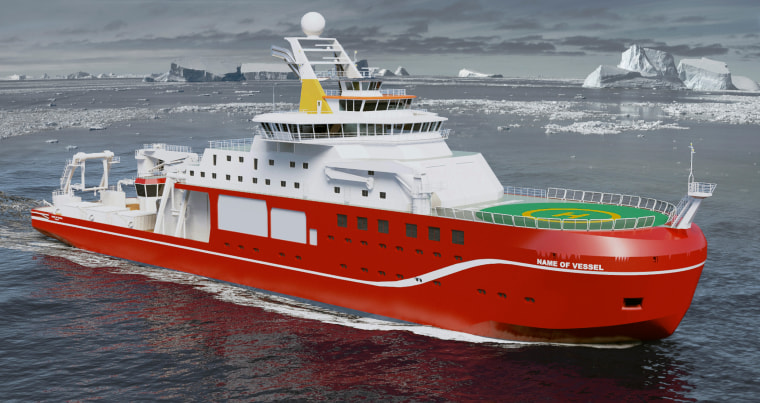 By 9 a.m. Monday (5 a.m. ET), more than 27,000 people had voted to name the ship "RRS Boaty McBoatface."
The poll was launched Thursday by the National Environment Research Council, the government-funded body building the ship in Cammell Laird shipyard, near Liverpool.
Expected to set sail in 2019, the 420-foot vessel will "provide the U.K. with the most advanced floating research fleet in the world," the NERC said.
Anyone can submit a suggestion to the online poll. By Monday morning, "RRS Boaty McBoatface" had almost 10 times the votes of any other name. The "RRS Henry Worsley" — after a British explorer who died in January — was second with around 3,000 votes.
The website has been crashing over the weekend under the weight of the unexpected increase in traffic.
When contacted by NBC News early Monday, a staffer at the research council said no public affairs officials were available to speak because they were all in a "crisis meeting."
NERC Director of Corporate Affairs Alison Robinson said in an emailed statement later Monday: "We are very much enjoying hearing everyone's ideas." But she pointed out that the poll was not binding, with the research council reserving the right to have the final say on naming the state-of-the-art vessel.
Lord West, a former British sea lord in charge of the U.K.'s navy, said the organizers had set up the voting system expecting voters to be "mainly marine research fans" who would come up with more serious names.
"I would probably plump for a rather more famous name," he told BBC Radio 4. "I would go for an Arctic or Antarctic explorer."