ZAPORIZHZHIA, Ukraine — The price of sunflower oil is soaring round the world, but Roman Tarasevich is stuck with a mountain of sunflower seeds he just can't move.
Ukraine is the world's biggest exporter of sunflower oil, but the Russian invasion has made farming, producing and shipping all but impossible, sending global prices higher and shoppers from London to New Delhi scrambling for limited bottles of the gold-colored liquid commonly used for cooking.
"We're definitely going to take a financial hit, but right now I just don't want to think about it and we're carrying on working," Tarasevich, 46, said, standing by the heap of unsold sunflower seeds at a farm warehouse in Zaporizhzhia in eastern Ukraine.
He appeared pained as he described how he had held onto last year's harvest to negotiate a higher price, but like many Ukrainians was taken by surprise by Russia's Feb. 24 invasion. Ports have since been blocked, fuel is scarce and insurance premiums are sky high.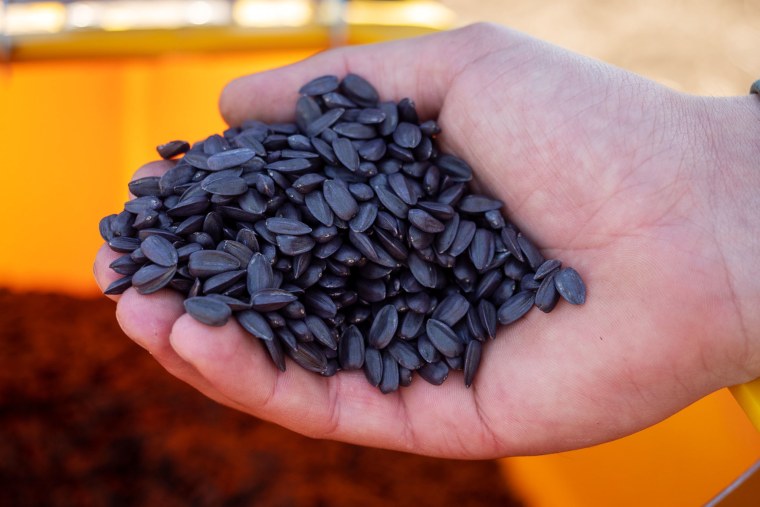 Similar problems can be found across the country's economy, which the World Bank has projected will contract by 45 percent this year due to the war.
"The main problem we have with driving our product to the border is that, as you know, the closest border to us is more than 1,000 kilometers (620 miles) away, and there are fuel shortages," Tarasevich said.
The world is also having to adapt. Supermarkets have rationed sunflower oil sales in the United Kingdom, Spain, Italy, Greece and elsewhere after average prices per metric ton jumped around 58 percent to $2,361 in March from a month earlier, according to the economic data website thelgobaleconomy.com.
Russia is also a key sunflower oil exporter, and Western sanctions have made the supply crunch even more acute. Together, exports from Russia and Ukraine account for 55 percent of the global supply, the United Nations food agency said.
The United States can meet domestic demand for sunflower oil with its own crops, but food experts warn that U.S. prices may also start to spike as global buyers look for alternative suppliers.
"It's not just a military war," Tarasevich said. "It's also an economic war, because the world depends on Ukrainian produce. So now, Russia creates problems not only for Ukraine, but also for the whole world."
For now, however, he has problems closer to home — Russian soldiers and rockets.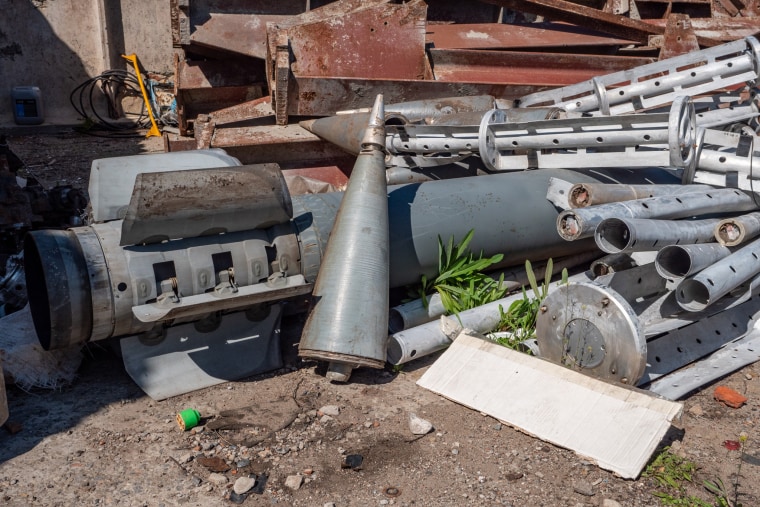 "Right now, 80 percent of the fields around the Zaporizhzhia region farmers aren't able to use, either due to the fighting or because they're occupied," he said, showing NBC News a photo of a crater ringed by rocket debris in one of his fields.
Tarasevich said he worried about the gleaming and expensive tractors and other farm equipment his 65 workers were using to plow the fields and plant this year's crop. Russian soldiers have stolen machines at other farms and sent them to Russia, he said.
It's equipment he can't afford to lose.
"Before the war, at the end of the season, the money we received from our crop we would spend on new vehicles, on upgrades at the factory, to increase salaries, to improve the business. At the moment, any money we make is just enough to cover the basics," Tarasevich said.
Still, he and other Ukrainians working in the agricultural sector said they are determined to continue farming under fire.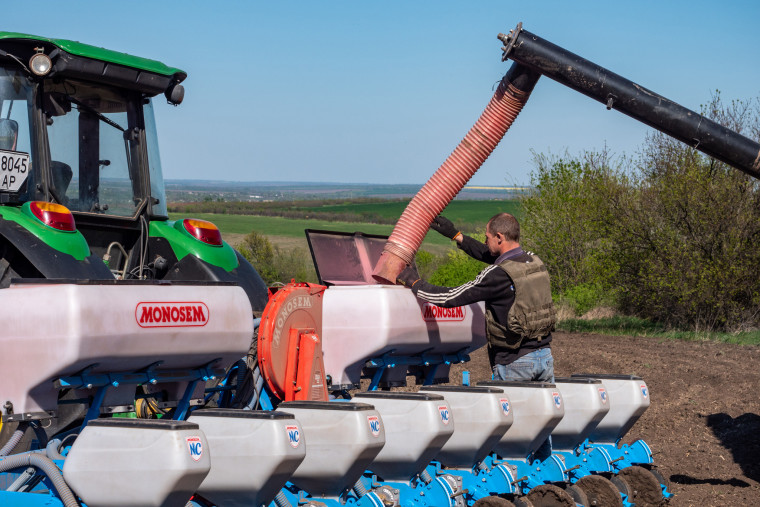 Working with his son Kirill, 24, Tarasevich also grows peas, barley, corn, rapeseed and millet.
"We can't stop because we're producing food for our people, for our army, for everyone," Tarasevich said.
At a Zaporizhzhia field less than 12 miles from the front line, farmworkers toiled in the sun while wearing body armor.
"There are guys fighting in the war and I'm fighting here in the fields," said Yuri, a 42-year-old tractor driver who declined to give his last name due to fear of being identified by Russian forces.
Russian rockets had dispersed bomblets around the fields and their empty cases were lying in a heap in a farm scrap yard. Ukrainian forces had since swept the area and dug trenches in fields nearby.
In Zaporizhzhia at least, there could soon be more soldiers than sunflowers.