House Speaker John Boehner (R-OH) demanded on Thursday that President Obama's re-election campaign reimburse the Treasury for the cost of a two-day trip to three swing states.
At his weekly press conference on Capitol Hill, the GOP speaker accused the president of essentially campaigning during his trip this week, which took him to three college campuses in three swing states to talk, ostensibly, about student loan interest rates.
"This week the president traveled across the country on the taxpayer's dime at a cost of $179,000 an hour insisting that Congress fix a problem that we already working on. Frankly I think this is beneath the dignity of the White House," Boehner said.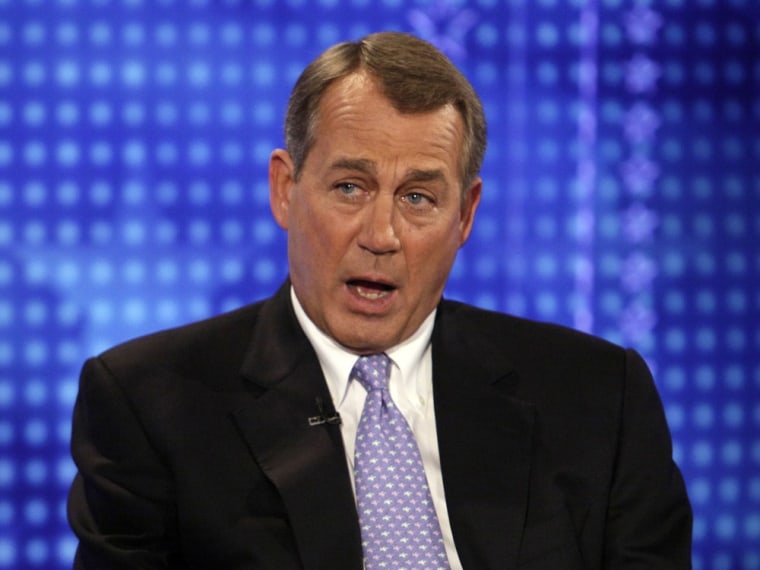 "And for the president to make a campaign issue about this and then to travel to three battleground states and go to three large college campus on taxpayer's money to try to make this a political issue is pathetic," he added. "His campaign ought to be reimbursing the treasury for the cost of this trip.  Our country is facing some major economic and fiscal challenges, yet here's the president wasting time on a fake fight to try to gain his own re-election."
The president's trip was directed toward student loan reforms, making it official White House travel. The Obama campaign reimburses the government for any of the president's political trip.
But Obama's journey, which took him to the three swing states of Colorado, Iowa and North Carolina, also held undeniable political significance. The president assailed Republicans during the speeches, and the trip was coordinated to push a weeklong outreach message to young voters, a key part of the winning Obama coalition in 2008.
"As in other administrations, we'll follow all of the rules and regulations to ensure that the committee pays for whatever is required for the president and the first lady to travel to political events," said Jim Messina, the Obama campaign manager, last night in a conference call. "These are very specific rules that are similar to what Bush and Clinton and other presidents have had to do, and they're very clear and we will abide by all of those in our usual way."
Republicans have been eager to drive a message of Obama as the "campaigner-in-chief." The president's campaign is unlikely to reimburse the government for the cost of the travel, but the Republican attacks, led by Boehner, mark the beginning of an effort to engage in the general election fight against Obama.